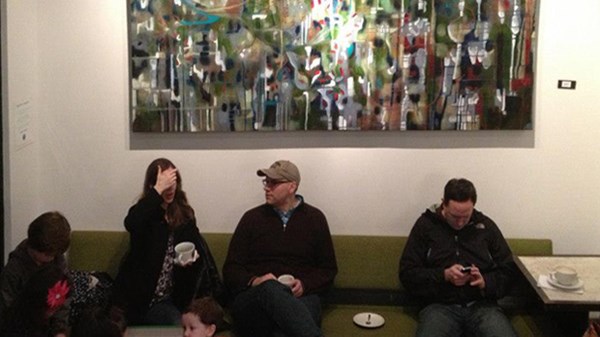 The Art of Art Collecting
Christy Tennant Krispin's show "Close to Home" aimed to take the elitism out of arts patronage.
4.5.13
Christy Tennant Krispin wears many hats as an actress, nonprofit administrator, journalist, arts advocate, leadership consultant—and, full disclosure, the director of engagement for This Is Our City. But in the past few years, she's also put on another hat: that of art collector.
Last month, in the heart of the White Center area of Seattle, the paintings that normally hang in the small house Christy shares with her husband, Karl, appeared on the walls of a local coffee shop and gallery. Calling the show "Close to Home," Christy shared the art she loves and her vision of patronage as something people of modest means can do to enhance their communities—and their own lives and homes.
The site of the month-long exhibition was Dubsea Coffee, whose name is a riff on the popular nickname of the area (from its initials WC). Art openings there are nothing new—the shop's tagline is "Where good neighbors and thoughtful art live side by side." Shop owner Sibelle Nguyen has featured a monthly rotation of local artists for several years, dispensing with the usual commission that galleries take from the price of works that sell, and keeping the shop open past its afternoon closing time for receptions at the beginning of each exhibit. There has been an implicit belief, in other words, that art, hospitality, and neighborliness belong together.
Still, White Center itself—an old streetcar suburb of Seattle now known for its diverse immigrant population and for being a little rough around the edges—seems an unlikely location to be talking about arts patronage. The term "art collector" conjures visions of well-heeled buyers perusing the tony galleries of Manhattan or Los Angeles, guided through the mysteries of contemporary art by equally sophisticated curators. Similarly, we expect "private collections" to appear in mansions whose expansive white walls and perfect lighting mimic the aesthetics of the museums where much of the art will eventually appear.
MORE FROM CHRISTIANITY TODAY