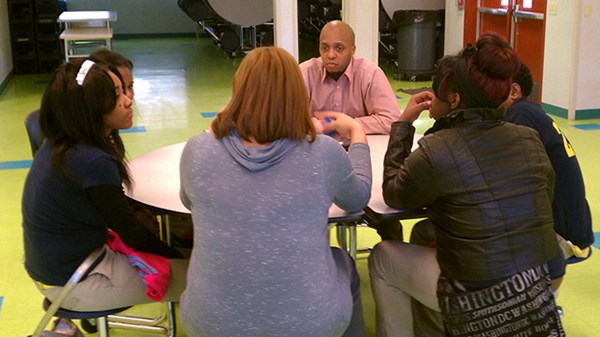 Detroit Students Restore Peace by Talking It Out
Some leaders say their city could become the first to practice restorative justice across the board.
4.5.13
It all started with Twitter.
Weekend tweets and re-tweets among two girls and their friends. She says she wants to fight her, he tweets it to others, word goes around. Come Monday, the threatened girl stays home from school.
By Wednesday, four of them sit around a cafeteria table in a charter academy in Detroit, facing each other. Talking, not fighting is the way things are worked out here.
It's called a "restorative circle," and it happens a lot at Plymouth Educational Center's 9th Grade Academy near Midtown. At this and other Detroit schools, these circles, part of a systematic program called restorative practices, are becoming a popular way to resolve conflicts among Detroit students.
"We're going to talk to one another, not at one another," Howard Webb Jr., a friendly but forceful facilitator, tells the students. "We're not yelling, we're not shouting."
So what happened? Webb asks the first girl. He rolls a rubber earth-ball to her, giving her the floor.
"I guess she didn't like me," says the ninth-grader, looking at the girl. "She wanted to fight me."
The ball rolls to that girl, who objects softly. "I didn't say I wanted to fight you."
Webb rolls the ball to the other two and back around. With each roll he poses questions: What were you thinking at the time? What have you thought about since? How could you have handled it differently?
About 20 minutes in, it's clear the truth doesn't travel well through cyberspace.
"How much of this is worth your education?" Webb challenges them. "Is it worth losing?"
Certainly not, academy director Kristin Woods tells the students: "It's okay to say, 'This might be a misunderstanding. Let's talk about it.'"
Talking things through with students, and getting them to say what they feel, is what makes circles and other restorative practices so effective, advocates say. Plymouth is one of 14 Detroit schools trained in the method, which proponents believe has the potential to help restore a whole city.
MORE FROM CHRISTIANITY TODAY