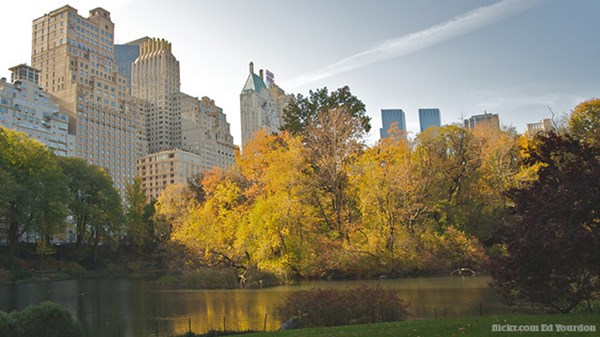 Why Every City Needs a Central Park
And why more Christians are needed in urban planning.
10.16.12
You are sitting with friends on a plaid blanket in a field. You've all brought drinks and food, creating quite the banquet for yourselves. You make sure to look over the maples and dogwoods encircling the field to see the rectangle of large buildings, famously called "twice as high as the Great Wall of China" by the park's designer 150 years ago. Instead of sirens and bus exhaust, you hear the violins and cellos of the New York Philharmonic Orchestra.
And you didn't even have to buy a ticket.
For many of us New Yorkers, Central Park is our shared backyard, a place where we sleep and read, play sports, and (illegally) barbecue. (But who'll tell the cops?) Residents and visitors alike have found in it an urban paradise that we couldn't imagine living without.
That word—paradise—comes from an Old Persian term for places that are "positive, harmonious and timeless." From pairi + diz, it means a "walled enclosure" or garden. As humans, perhaps especially as Christians, we are drawn to the idea of a walled garden, a sheltered escape from our daily lives and an invitation to renewal. Creating shared paradises like this, though, is a vocation that few Christians study or pursue. If they do, their pursuit takes place behind the scenes.
Central Park almost never happened. In 1811, when New York's commissioners established the grid design now considered a standard weave among city fabrics, the park wasn't included in the original plan for Manhattan Island. But surveyor John Randel Jr. eventually included the current Central Park to enable "the buying, selling and improving of real estate." When you are surrounded by water and have a cultural infrastructure that attracts elite professionals and artists, your greatest economic engine is the sale and resale of land. Parks, then, become an impediment to maximizing ROI.
In 1853, the city used eminent domain to acquire the 843 acres that is now Central Park, designed by Frederick Law Olmstead and Calvert Vaux. The citizens who created the park did so from the comfort of salons. They wanted it to be a venue where socialites could be seen, as well as where the poor could breathe clean air and not "lift the bottle."
MORE FROM CHRISTIANITY TODAY