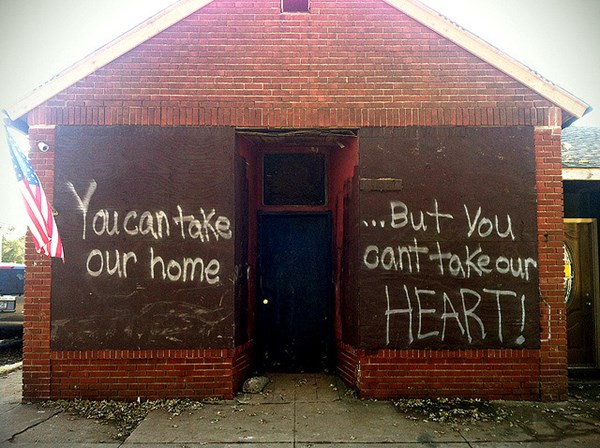 Image: Courtesy of H.L.I.T. / Flickr
How Church Unity Overcame Hurricane Sandy
A look at Staten Island one year after the storm.
10.28.13
If there's one thing Staten Island pastors know on the one-year anniversary of Hurricane Sandy, it's this: The day a natural disaster hits your community is not the day to get to know each other.
One year ago today, when category-three Sandy caused the Atlantic Ocean to flood Midland Beach and the South Shore of Staten Island, houses, churches, and businesses were heavily damaged and lives were lost. Twenty-three Staten Islanders died in the flood—over half of the Sandy-related deaths in all five boroughs.
As the water subsided, the carnage was quickly evident, and Island pastors were among the first responders. Within 24 hours, work boots were donned and clean up efforts commenced. Three days after the storm, the pastors—representing different denominations and traditions—had organized their Island into a grid, dubbing each section a "parish." Churches were then assigned to a specific parish, ensuring no area was neglected. By the time Red Cross and FEMA workers arrived, they found an organized relief effort in full swing, with donation and distribution centers operating and clean-up crews already working. The 22 pastors and their churches were leading the way.
'Ground Zero for the Storm'
This kind of quick response and effective improvisation would not have been possible with the bonds already formed through the Staten Island Association of Evangelicals (SIAE). Their friendships prepared them to face the biggest challenge to their borough since the World Trade Center attack on September 11, 2001, when more than 270 Staten Islanders were killed.
Pastors from 22 churches throughout New York City's "forgotten borough" have been intentional about building relationships with one another since 1984, when the SIAE was established. Setting aside denominational divides and the ambition that can sometimes keep pastors from collaborating, leaders from a variety of racially, ethnically, and theologically diverse churches have been meeting regularly to pray and encourage each other. They also occasionally collaborate on public events aimed at gathering "the church in Staten Island," including prayer and worship events and public service efforts.
MORE FROM CHRISTIANITY TODAY