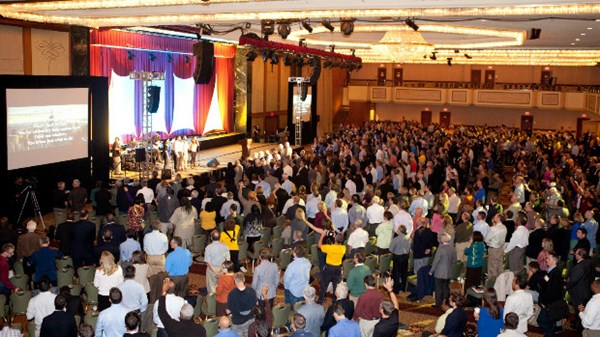 Image: Courtesy of nycleadershipblog.com
How to Pray for Your City
The story behind the prayer movement that ignited in New York City.
9.9.13
In 1983, my wife and I traveled to India on a short-term mission trip. We spent ten weeks in Bihar, a state the size of Nebraska, just below Nepal. Buddhism was founded in Bihar, and the state is a stronghold for both militant Hinduism and Islam. Bihar had 100 million people. The ratio of Christians to Muslims and Hindus was 1 to 100,000
I was part of a very passionate team there. We gathered each Friday for three to nine hours to pray. We believed God could do anything, even in a place as challenging as Bihar. In the 30 years since, it has been encouraging to see the progress from the strength of those prayers.
Following our trip to India, we moved to Flushing, Queens, a cross-cultural community that is home to over 100 language groups. Our plan was to stay only two years, then return to India. We then began to feel God had called us to remain in New York City. We accepted the call and have lived in Flushing ever since.
Similar to Bihar, we found tremendous challenges in New York City's urban landscape, most of which arose from unmet needs. I began to think of these challenges as "stubborn facts" and have come to realize that dealing with them takes both spiritual discipline and leadership.
The stubborn facts we face in New York City include tens of millions of people who still need the gospel; a graduation rate among high-school students hovering around 50 percent; an exploding prison population, in part because of the low graduation numbers; and enormous chasms between races and societal cultures, even in the faith-based community.
Bringing about meaningful change in any metropolitan community requires leaders who understand the stubborn facts peculiar to their city. It also requires an unwavering resolve to address those stubborn facts. Eventually the changes wrought can result in elevating an entire nation.
Praying in Agreement
It seems our prayer life is in direct proportion to the sense of desperation we feel. I believe there is power when people pray in agreement. When ministry, nonprofit, and marketplace leaders begin to sense that desperation and come together to pray, a movement is started. I call such movements "gospel movements." Rooted in Christ's passion to impact the world, gospel movements are critical to cities. It is such movements that change cities, and cities change nations. When the percentage of Christians in a city begins to grow faster than the general population, a vital and vibrant gospel movement is under way.
In February 1988, leaders from 75 regional churches met in Flushing, Queens, in a concert of prayer. Burdened by the division among churches and the great spiritual and social needs of New York City, we began to pray for change. Since then, 1,000 churches have joined us in prayer, including 100 that are part of our daily prayer vigil. And we've seen some remarkable changes:
Unity between churches in the past two and half decades has not only grown, but become visible, spanning racial, denominational and socioeconomic divides.
A 300 percent growth in the number of Christians living and worshiping in the center city of Manhattan, largely as a result of an effective church-planting vision anchored by Redeemer City to City.
A 70 percent drop in the murder rate from 1995-2000 (partially due to major anti-crime campaigns by the NYPD) has made the city the safest city of more than a million people in the United States.
This urban prayer movement continues to bring diverse leaders together, not just in New York but in other cities as well. In January, about 600 leaders committed to cover the Greater Dallas area in prayer for one year. Since the inception of "A Prayed 4 City," over 70 churches and organizations have signed up to pray one day a month for a gospel movement to sweep through Dallas.
Movements require leadership from all sectors: marketplace, religious, nonprofit, and government. Over the years I've identified three characteristics vital to the effectiveness of any city-wide gospel movement. I call them Leadership Axioms:
1. Spiritual leaders do what leadership requires. If you study the prayers of the Old Testament, you'll see that God answers prayers in the language in which they are prayed. Hannah prayed that God would remember her and give her a son. She promised to give the son back to God all the days of his life. God remembered her and through Hannah, gave Israel a spiritual leader who would revolutionize the nation. God is always the great initiator in these expressions of prayer.
In New York City in 1994, there were 2,400 murders in a single year. Desperation settled over the faith community. On February 1, 1995, a group of us launched a daily prayer vigil, coming together in prayer for an end to the violence. Those of us who lived through those days witnessed the amazing power that arises when God's people draw together.
2. Spiritual leaders value collaboration: Intelligent and visionary collaboration is by far the most effective and God-honoring way to change a city. Over the years, I have come to realize the greatest deficit in any city is never the lack of money, space, or programs, but a deficit of trust. Trusting that a common goal brought on by a common need will bring out the best in all concerned is key to any successful collaboration. What we do together is more important than what we do.
3. Spiritual leaders recognize the importance of unity: Jesus' prayer in John 17 teaches that unity in the church breeds an aroma of belief. Division within the church breeds atheism in the world. Our faith in Jesus needs to transcend all of the differences among us in order to affect change in our cities.
We believe God is working in cities today the way he worked in first-century Israel to connect people from all over the world. In cities like Dallas, for example, some 44 percent of the residents speak English as their second language. We see very similar trends happening in Los Angeles and Chicago.
A true gospel movement must be built on the unified desire of its leaders. Spiritual disciplines must be incorporated, and leadership that will energize and strengthen collaboration must be created.
Secure Foundation
Notice that I did not say either-or. I said must. Because only after such a foundation is in place can an alliance between churches with big ideas and their partners with world-class experience be secured. Once established, the walls of a world-changing gospel movement will stand the test of time. They will not and cannot be brought down by the shifting sands of circumstance and opinion.
Strong and foundationally secure gospel movements are possible. They have been and are now being forged in cities across the nation. Each begins at the intersection of desperation, understanding, and resolve.
Mac Pier is the founder and CEO of The New York City Leadership Center. He is the author most recently of Consequential Leadership (IVP, 2012). With Redeemer City to City and the American Bible Society, he will be cohosting Movement Day on October 10, 2013. More at MovementDay.com.
MORE FROM CHRISTIANITY TODAY