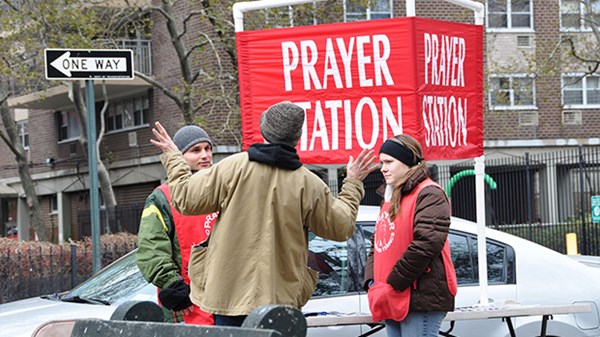 Hurricane Sandy Unites New NYC Churches
Pastor Pete Armstrong says his church's relief efforts are among many common-good decisions to bless the Lower East Side.
11.29.12
The night after Hurricane Sandy made landfall, New York City Mayor Mike Bloomberg tweeted that it was "maybe the worst #NYC has experienced."
The November 12 cover of New York magazine told the story: Most of the lower part of Manhattan, shaped like a bent elbow in a sling, looked like it had been dipped in ink; the upper part of the island still had light. Suddenly, the global center had become a place of haves and have-nots. Those of us who still had electricity, cell power, and internet connectivity gawked at photos online of cars in the East Village, submerged from a 14-foot surge from New York Harbor.
"Wait a minute!" we told ourselves, "This is New York!" While 9/11 shocked and devastated us, some of us could interpret that act of spectacular terror as legitimizing the City's exceptionalism. Hurricane Sandy, on the other hand, made us realize we were just another target of a mindless weather pattern.
That night, a little past midnight, as the storm swished its lizard's tail along the Jersey Shore and around greater New York, Trinity Grace East Village pastor Guy Wasko e-mailed colleagues and friends on Manhattan's Lower East Side:
I'm excited at the opportunity we, the church, have to respond in practical and real ways . . . to serve with the hands of Christ those who have been most hurt by this storm. . . . What if the church in the city rose up at this time to lead, serve, and respond? What if instead of each of us doing our own thing, we united together in a concerted effort to bring good news through practical service to the people of the East Village, Lower East Side, and all of Lower Manhattan?
Wasko signed his e-mail the way he usually does: "Same team, GW."
Over the next couple days, Trinity Grace and other Christian leaders formed work teams to help distribute food and water to those who lacked them, which included themselves. Pete Armstrong, founding pastor of Dwell Church, in the Bowery, was among the pastors whom Wasko e-mailed. I spoke with Armstrong about how the churches came together to provide relief, the unique nature of the East Village and Lower East Side, and how Christians there are making common-good decisions well beyond the scope of Hurricane Sandy.
MORE FROM CHRISTIANITY TODAY