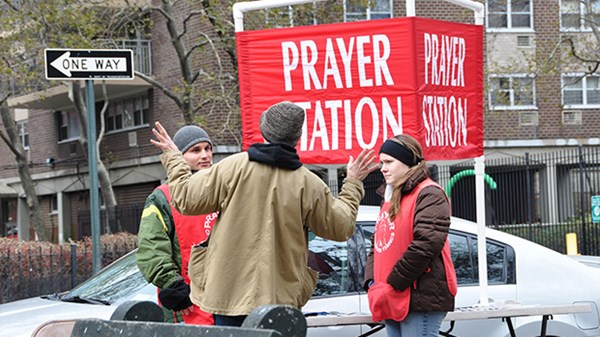 Hurricane Sandy Unites New NYC Churches
Pastor Pete Armstrong says his church's relief efforts are among many common-good decisions to bless the Lower East Side.
11.29.12
The night after Hurricane Sandy made landfall, New York City Mayor Mike Bloomberg tweeted that it was "maybe the worst #NYC has experienced."
The November 12 cover of New York magazine told the story: Most of the lower part of Manhattan, shaped like a bent elbow in a sling, looked like it had been dipped in ink; the upper part of the island still had light. Suddenly, the global center had become a place of haves and have-nots. Those of us who still had electricity, cell power, and internet connectivity gawked at photos online of cars in the East Village, submerged from a 14-foot surge from New York Harbor.
"Wait a minute!" we told ourselves, "This is New York!" While 9/11 shocked and devastated us, some of us could interpret that act of spectacular terror as legitimizing the City's exceptionalism. Hurricane Sandy, on the other hand, made us realize we were just another target of a mindless weather pattern.
That night, a little past midnight, as the storm swished its lizard's tail along the Jersey Shore and around greater New York, Trinity Grace East Village pastor Guy Wasko e-mailed colleagues and friends on Manhattan's Lower East Side:
I'm excited at the opportunity we, the church, have to respond in practical and real ways . . . to serve with the hands of Christ those who have been most hurt by this storm. . . . What if the church in the city rose up at this time to lead, serve, and respond? What if instead of each of us doing our own thing, we united together in a concerted effort to bring good news through practical service to the people of the East Village, Lower East Side, and all of Lower Manhattan?
Wasko signed his e-mail the way he usually does: "Same team, GW."
Over the next couple days, Trinity Grace and other Christian leaders formed work teams to help distribute food and water to those who lacked them, which included themselves. Pete Armstrong, founding pastor of Dwell Church, in the Bowery, was among the pastors whom Wasko e-mailed. I spoke with Armstrong about how the churches came together to provide relief, the unique nature of the East Village and Lower East Side, and how Christians there are making common-good decisions well beyond the scope of Hurricane Sandy.
What's the mission of Dwell Church?
Dwell Church is about connecting the mission of God to the Bowery. We see ourselves as called to transform lives and see New Yorkers come to faith with all that that means, and see the whole community transformed. That comes out of our theology and practice, so we're dreaming in the next years to get community centers started, to connect the wealth and the resources that are moving into the Bowery with the folks who have been here for decades. Part of my calling to New York has always been to serve a diverse group of people—the very wealthy to the very poor—different racial backgrounds and make-ups, and to connect them to God and to each other.
How did you, Guy Wasko, and Rick del Rio [pastor of Abounding Grace Ministries, another key leader in the relief effort] convene around storm relief?
The day after Sandy hit hardest, that Tuesday [October 30], we basically said, "How can we serve our neighbors?" Our neighbors expected us to band together. Guy wrote a note [cited above] to us that said, "Maybe God has us here for such a time as this. And maybe this is our opportunity to step in."
I underestimated how bad the storm would be. We were wrapping our minds around the reports. So even though those of us at the church had to take care of our families, we knew we could step in and serve, and we could just walk over there [to the food/water distribution points] at 10th Street and Avenue D to help.
That's the great part about New York: Even when the subways are shut down, we can catalyze 12 people from Dwell and walk over to join dozens more friends from other churches.
I brought a guy—a real estate agent—who's been an occasional attendee at Dwell who said, "I'm not going to sell any apartments this week. Would you like me to help?" It was a great time to bring believers and nonbelievers [together]. People were excited to do this. They were excited to get the word out on social media. They wanted their families to know they were okay, but they also wanted to help those who had real needs.
'God is doing something beautiful in New York. The old guard has been amazing to those of us who are new.' ~ Pete Armstrong, Dwell Church
What are some of the aspects of the East Village and Lower East Side that most of us who don't live there don't know?
The area between East Houston Street and 14th Street along FDR Drive is the largest grouping of public housing in the country. [The NYC Housing Authority, or NYCHA, was created in 1934. At the end of 1935, NYCHA created its first development, called First Houses, on the Lower East Side. The Authority boomed under Robert Moses' guidance after World War II as a part of "slum clearance."] In order to qualify to live there, you have to make less than $8,000 per year—that's $500 per month, in New York. At Dwell, we've just now dipped our toes into ways we can help schools and families, through arts and music programs.
When Sandy hit, I had heard others say, "It's like a war zone." To see 300 people line up—in New York City—to get the basic necessities. I had never seen anything like that before.
What has surprised you most about this area of Manhattan?
I've been surprised by the rapidity of change. New York City is always under construction and changing. Even so, it seems like every month, a lighting or hardware store is going out of business, and a new business is coming in. Or an older building is getting bought and torn down, and a new luxury building is being erected. We're losing some of the history, because the Bowery is where so many influential aspects of arts and culture have come from, everything from Bugs Bunny cartoons to Patti Smith.
Bugs Bunny?
There was a Bowery Bugs Bunny character back in the day.
We're losing that in the change. The church should be a voice for what we call "just gentrification." We should say, "Yes, New York will change, and we're not afraid of change, because not all change is bad." But we want to be a voice on behalf of the poor and oppressed. Also, where can the wealthy and poor come together and say, "How are we going to learn from each other?" Oftentimes we come in and say, "We have a lot to give to the poor," when we in fact have a lot to learn, and we need to listen and be humble.
Manhattan's grid design celebrated its 200th anniversary last year. The original land surveyor, John Randel Jr., admitted that the grid design really benefited real estate. Today, a handful of families own an inordinate amount of the real estate there. How does the church make a dent in gentrification, when the industry and those who control it are what most influence gentrification?
I've been blown away by people along the Bowery who have said, "I don't have to charge you market rate for this space [Armstrong's apartment]. I don't need any more money. I want to do this to help Dwell get off the ground." I think we can do this at a grassroots level. People who support the gospel in New York and have an apartment can offer them up almost like a parsonage. If we're going to do this parish model in New York, we'll need this to happen. This is typical in the Christian Reformed Church [of which Dwell is a part].
Has your story surprised people?
Yes. I've never heard of [this happening to] anyone else.
What are ventures that people of different faiths can collaborate on for the common good?
Working with schools and working with the youth. It seems we've failed especially the lower-class youth in New York. Trinity Grace East Village has a great youth program, which is reaching kids who are far from faith and are not exposed to the church. We're a church in a city that's filled with artists and musicians. So instead of just making our music on Sunday excellent, can we step in and raise up 10, 20, 30 students who love to make excellent music, [which will improve] academic experience and confidence?
I also love what the Bowery Mission is doing with the rooftop farm and issues of food, sustainability, and the accessibility of gardens in urban places. As a church we love collaborating with them. They're literally feeding people who come in off the streets with what they're growing. It's a beautiful metaphor of the kingdom of God and what the church should be doing in neighborhoods. God is doing something beautiful in New York. The old guard—people like Rick del Rio and Taylor Field of Graffiti Church—has been amazing to those of us who are new. Rick tells me, "We've been praying for [people like you]. We've wanted to see God call people here to do ministry." The shared view that "there's so much need for gospel renewal here," allows us to work together both within and across neighborhoods. To see a huge tragedy provide opportunity for us to live out our faith and to practice the justice that we've been shown is a good thing.
Howard Freeman is founder and principal of Zoey Creative Development in New York City.
MORE FROM CHRISTIANITY TODAY