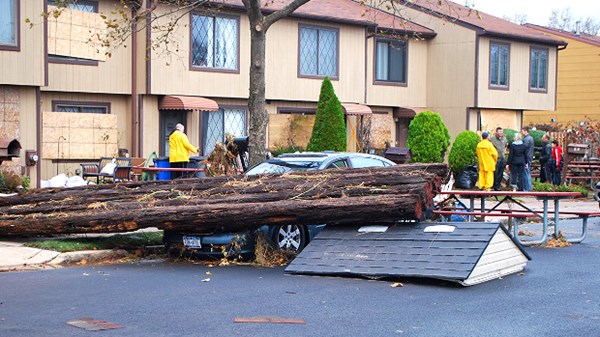 Image: Courtesy of Jeannine Seery
Flooded by a Storm, Then by Grace
The superstorm almost destroyed our home. What happened afterward shocked me.
10.28.13
My husband and I stood at the front door and paused. We knew that we'd reached a watershed moment—literally. With one turn of the key, nothing in our lives would stay the same. And although there was nothing we could do but step inside, we stopped, as if doing so would keep our nightmare from becoming a reality.
The storm surge of Hurricane Sandy dumped more than 4 feet of water into the first floor of our home. Our living room, dining room, kitchen, and bathroom had absorbed a mix of ocean water, diesel fuel, raw sewage, and whatever else the Atlantic Ocean had to offer on October 29, 2012. We knew that the water had receded, but we had no idea what our lives looked like on the other side of that door.
Nothing could prepare us for what we saw. Only a thick layer of wet sludge remained on the floor, and the water hadn't reached our second floor. But the force of the ocean had taken all of our furniture and moved it around the first floor. The refrigerator had capsized, spilling out its contents. Our sofa was now positioned in our dining area, along with our coffee table, which somehow still had a half-empty cup of coffee on it. Our children's toys and everything in our cabinets and drawers were sprawled all over the place. It was impossible to take in.
Unfathomable
We walked from room to room in silence. Then our pastor, David Beidel, walked through the door. We'd spoken to him earlier; he knew we were returning to the house that day. Having seen the devastated area that morning, he knew what awaited us. I don't remember exactly what he said, just two phrases: 'I'm so, so sorry,' and 'God is still with you.' I desperately needed to know that God hadn't been surprised by this storm or by the condition of my house. Somehow, Pastor Dave was able to convey that to me.
There was so much work to be done. The entire first floor of our home had to be gutted and thrown away. The water that filled our living space was heavily polluted. The longer we left the walls up, the greater the risk of toxic mold. At a moment's notice, our congregation, New Hope Community Church, organized a team of volunteers to come the next day.
MORE FROM CHRISTIANITY TODAY