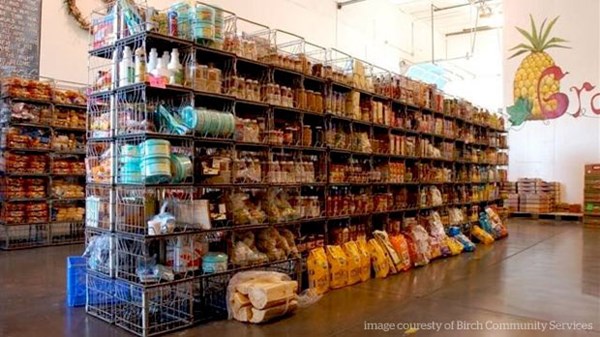 The Gleaners: Giving More Than Food to the Working Poor
The Birches offer 600 Portland families—including my own—a path to financial freedom.
12.19.11
A few years ago, my husband was laid off from his job at a food processing plant, instantly cutting his income in half. As a self-employed cleaning woman, my wages weren't much better. With two kids and a house payment, dipping into our savings to make ends meet was a short-term solution that was about to run out.
We worried about going into debt. We had worked hard over the years in our marriage to live within our means. What we were going to do?
That's when we remembered a couple we'd met at Community Bible Fellowship, a church we'd been a part of in southeast Portland who had a way of helping families like ours.
Nearly two decades ago, Barry and Suzanne Birch started giving food away from the comfort of their front porch. Little did they know that that simple act would grow into an 18,000-square-foot warehouse replete with triple high pallet racks, walk-in refrigerators and freezers, and shelves stocked to the hilt with food—forming one of the most dynamic food ministries in Portland.
In 1992, says Barry Birch, co-founder of Birch Community Services (BCS) with Suzanne, "We heard from a friend that bread was going to waste at a local organization. We started picking it up on an on-call basis."
Three years later, after over 100 families had shown up at their door to collect gleaned foods, the Birches formed a board of directors and applied for nonprofit status. "Then more calls came, and more people came who needed help," remembers Barry. Some friends who supported the mission purchased a 2,900-square-foot warehouse for their use, but the operation outgrew the space in six months.
Today, from a much bigger warehouse located in east Portland, BCS provides food to more than 600 families—including mine, for a season—using an accountability system and, most recently, gardening courses that ensure recipients can become self-sustaining.
"We're a hand-up, not a handout," say the Birches. "It's 90 percent about the people and only 10 percent about the food."
It would be easy to mistake BCS as another food bank, but the organization has evolved beyond that. Recipients must apply and pay $50/month to shop at BCS, and the application is referral based by those who are current participants. Applicants are asked for information about their income and debt, and to outline their financial goal for being on the program. If accepted, there are guidelines to follow—including mandatory volunteering twice a month and one financial accountability class.
MORE FROM CHRISTIANITY TODAY