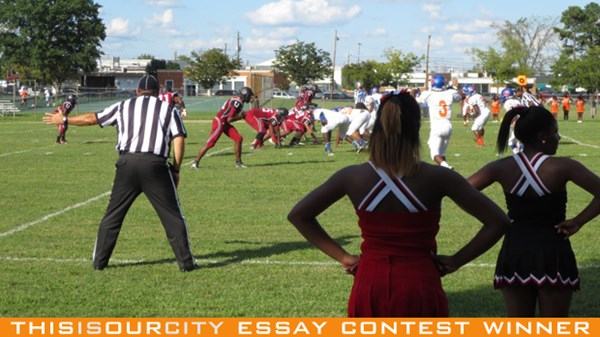 Friday Night Football for the Glory of God
How a local team's success has altered Richmond's future.
9.30.13
A hardboiled businessman-turned-coach, an ex-jock philanthropist, and a ragtag football team. It sounds more like a Hollywood screenplay than a true story. But actually, it's a group of local community leaders, ages 16 to 55, working to resurrect the football program at Thomas Jefferson High School (TJ), a public school in Richmond, Virginia.
The stars of the TJ story are in fact not the adults, but the 35 boys who decided to play football this fall. For years, the TJ football team's only reputation was for losing. In 2011, only 18 boys signed up for varsity football, and there was no junior varsity; in 2012, 30 boys played varsity, and 20 played JV. This season features 35 varsity players and 30 on JV. The numbers signal an important shift not only for the football program but also for the players, their families, and their classmates.
Athletics are intimately tied to the success of the next generation. Students who skip extracurricular activities are 49 percent more likely to use drugs and 37 percent more likely to become teen parents, reports Harvard political scientist Robert Putnam. And poorer kids are more likely to skip out on extracurriculars. In a 2012 column, "The Opportunity Gap," New York Times journalist David Brooks reported,
Richer kids are roughly twice as likely to play after-school sports. They are more than twice as likely to be captains of their sports teams. It's not only that richer kids have become more active. Poorer kids have become more pessimistic and detached …. It's perfectly understandable that kids from working-class backgrounds have become cynical and even paranoid, for virtually all our major social institutions have failed them—family, friends, church, school and community.
In Richmond, a school like TJ stands to suffer most from the opportunity gap.
Money Matters
Sports teams have traditionally been powerful levelers of socioeconomic differences in U.S. schools and communities—places where ability and persistence counted more than bank accounts. NBA superstar LeBron James grew up in desperately poor neighborhoods in Akron, while Grant Hill was raised in a wealthy DC suburb by his NFL executive dad and K Street lobbyist mom. Star rookie quarterback Russell Wilson's father was a megafirm corporate lawyer, and NBA Hall of Famer Jerry West's father was an electrician in a small, poor West Virginia coal town.
MORE FROM CHRISTIANITY TODAY