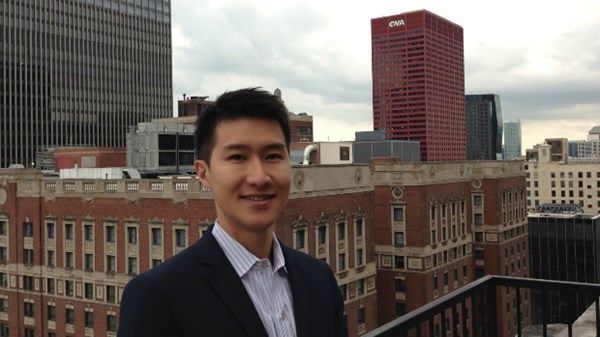 Image: Courtesy of Michael Fang
Following Jesus, the Best Tech Guru
How Michael Fang sees his leadership in medical technology as kingdom work.
7.1.13
Michael Fang admits he's a bit of an overachiever. Accepted into Northwestern Medical School directly out of high school (contingent on completing three years of undergrad work there), his youth belies his drive and accomplishments. At 35, he's a geriatrician and president of his own tech company who plans to enter the gaming industry. Living in Chicago with his wife and son, Fang is looking to Silicon Valley to better understand how to integrate faith and technology. I recently sat down with Fang in Walnut Creek, California, where he was attending a medical technology conference and meeting fellow Christians who are tech experts.
A first-generation Chinese immigrant, Fang learned early on to work hard and dream big. From age 8, he was told by his parents and grandparents he should become a physician. His family was more Buddhist than anything else, but he began reading the Bible in high school. A few years later, his younger brother came to Christ and invited Michael to study the Bible with him. While home on Christmas break of his sophomore year of college, he read through the Book of Romans. By the end of vacation he had accepted Christ.
Fang's fascination with technology came much later, two years into his medical career. Disillusioned with the politics at the Chicago hospital where he worked, he considered leaving, until his director volunteered him for a project. He became the physician representative on an IT team that was implementing electronic health records throughout the hospital.
"I re-found my passion to come to work," says Fang. He saw quickly how technology could benefit clinicians and patients. "We need to be able to share information about patient care faster so we can coordinate care for the patient without a lot of waste."
He offers a common example. "If you come to the hospital, I can't get your records because they're stuck at another hospital. I have to call them, get approval. They fax it over, then I have to somehow read all of that. That could take 48 hours. In the meantime, you're still sick . . . I've wasted time and money and I didn't help you."
MORE FROM CHRISTIANITY TODAY