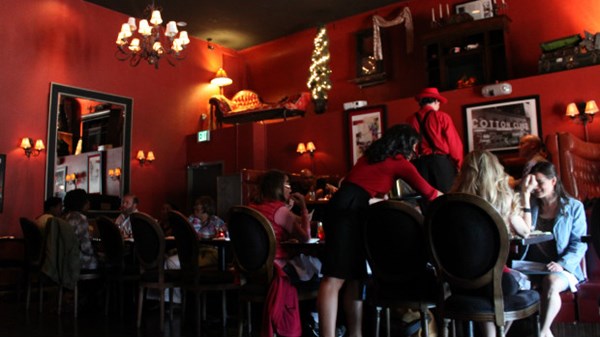 Image: Courtesy of Laura Joyce Davis.
A Youth-Run Supper Club That's Wowing San Francisco
How Teresa Goines is teaching troubled teens at Old Skool Cafe.
7.3.13
It's 5pm on a Friday, and the pre-shift meeting at Cora Jean's Old Skool Café in San Francisco begins with everyone sharing what they're thankful for. The staff is mostly teenagers, with backgrounds ranging from incarceration to probation to domestic violence. When Old Skool founder Teresa Goines walks in, they greet her like a cherished mother.
Goines never imagined that she'd start a restaurant run by youth who have had run-ins with the law, but she's always had a soft spot for the kids who got into trouble. After college she worked as a corrections officer in a Southern California juvenile "boot camp," where she wore military combat fatigues and held her charges to a strict schedule. When she realized how many of them had Spanish-speaking families, she moved to Mexico with three dreams: to work at an orphanage, to learn to dance salsa, and to become fluent in Spanish.
A year and three months later, Goines was fluent, had mastered salsa, and had a dream-job offer to work for an organization helping rehabilitate youth. She moved back to the States and prepared to put down roots in a new city.
Then, two days in, the job fell through.
"I couldn't sleep for two nights," Goines said. "I was livid. I felt like all of my plans for my life had been screwed up. But then I felt God's spirit say, If you're going to be angry, you need to be angry at me, because I'm in control of your life."
At a friend's urging, Goines, an Arizona native, moved to San Francisco and got a job doing after-school gang prevention at a middle school. But a year later, the program's funding was cut, and Goines watched helplessly as her kids joined gangs, got pregnant, or were arrested.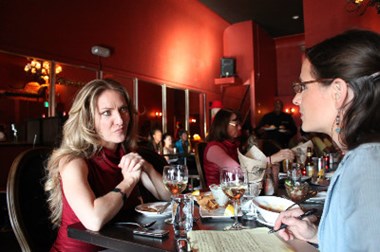 Image: Courtesy of Laura Joyce Davis.
"They didn't understand that the funding was cut," Goines said. "They understood that I was there, and then I was gone just like everybody else in their lives."
Goines felt called to address "the huge, gaping hole that kids were getting sucked into." She saw a population that society didn't even know about—that she hadn't known about before working with them.
MORE FROM CHRISTIANITY TODAY