5 Essentials to Build Trust in Your Ministry Team
Lessons from the life of Nehemiah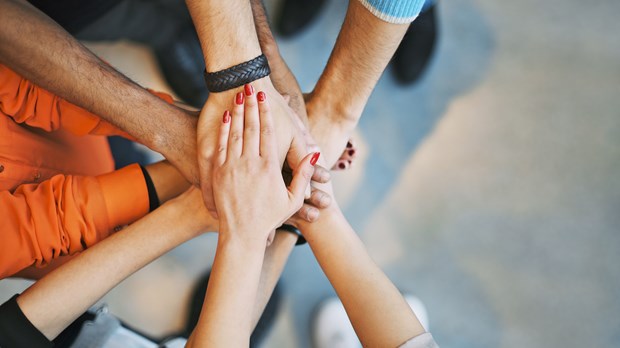 "Trust is the currency of leadership." This popular axiom is especially true in the highly relational context of church leadership. To be effective in ministry, you need to earn the trust of senior leadership, peers, volunteers, and most importantly, your own team. Yet, trust is not easily obtained. It's a byproduct of healthy leadership—an intangible synergy of key elements experienced consistently over time. Even if you are in a church or staff culture currently low on trust, you can make a difference starting in your corner of the organization. As the leader, you have substantial influence in creating and developing trust within your team.
Research findings on gender differences in leadership indicate women leaders might have an advantage over male leaders in developing a culture of trust. For example, a recent study conducted by Gallup reported that female managers and employees were significantly more engaged at work than their male counterparts. This research concluded, "Female managers eclipse their male counterparts at setting basic expectations for their employees, building relationships with their subordinates, encouraging a positive team environment and providing employees with opportunities to develop within their careers." These metrics can encourage us as women in predominately male-dominated leadership environments as we strive to increase engagement and trust with those in our sphere of influence.
Trust is earned through intentional practices, executed with a right heart and a genuine desire to serve. A natural tendency to promote trust does not excuse women from growing it intentionally. In fact, we should use this as a unique opportunity to further refine the skill. To do so, here are five keys to developing trust based on the Old Testament account of Nehemiah, one of the best leaders in Scripture. If you have a moment, turn to Nehemiah and familiarize yourself with his story before continuing.
1. Face Reality
First, Nehemiah was curious about what happened with his people in Judah. He gathered current information from reliable eyewitnesses before responding. Then, when Nehemiah arrived in Jerusalem, he embarked on a fact-finding undercover mission and did his due diligence by inspecting the wall for himself.
As leaders, it is vitally important that we deal with what is actually happening and not what we wish were happening. We can become adept at using creative metrics to hide lackluster performance, glossing over programs that aren't working, and avoiding difficult conversations. The first step toward becoming a trustworthy leader is to have and share an objective view of the facts and define reality for the team. We must resist tangling up the facts with our ego, misplacing blame, or over-spiritualizing poor performance. When we face reality and say what everyone knows but does not want to publicly acknowledge, we demonstrate a commitment to truth and instill confidence in our leadership.
I once had a boss who was committed to having truthful and difficult conversations. He would sometimes put a stuffed pink elephant in the middle of the room and ask, "What are we not talking about that we need to talk about?" It was challenging, awkward, and a bit scary. However, this helped grow our understanding of each other's perspectives and strengthened our team because we were not afraid to be the "bearer of bad news." This commitment to honest assessments of our ministry helped us spot problems early, collaborate on solutions, and address conflicts.
But we can't stop there. After we identify the reality that currently exists, we need to cast a compelling vision for what the future could be.
2. Seek God
When Nehemiah received the terrible news about the condition of the wall of Jerusalem and the defenseless state of the Israelites, he was greatly distressed. He cried, mourned, fasted, and prayed for days, seeking God's direction. He engaged in self-reflection, confession, and prepared a plan for action.
Many of us are Type-A leaders who like to charge ahead and make things happen. Yet, we must resist the temptation to rush ahead of God's plans. Start by processing your honest emotions with God, seeking his will, and submitting your plans to him. Spend time alone and as a team praying for God's vision and wisdom as you plot your course. The team's confidence in the vision and strategy is closely connected to our dependence and submission to Jesus.
Another aspect of seeking God's direction is to know yourself. You must be clear on your highest values, the non-negotiables, as well as the lower priorities you can be flexible about. You need to have an accurate view of strengths and weaknesses. You need to know what pushes your buttons so when situations arise, you can be calm, decisive, and proactive rather than reactive. Then, those under our leadership can anticipate a consistent and supportive response.
​3. Align with Organizational Vision
Nehemiah knew he needed the king's help to rebuild the wall in Jerusalem. As the king's cupbearer, Nehemiah had access to the king and some sort of rapport. Over time, he built a close trusting relationship, which was evidenced by how the king noticed Nehemiah's sad countenance and wanted to help. Nehemiah humbly and boldly asked for the king's favor and made clear and specific requests that were granted.
Have you served your senior leaders in a way that builds trust? A critical way to gain their trust is to align your goals to the greater priorities of the organization. Remember you are part of a bigger team and being an effective team player means you adopt the greater organizational vision and contextualize it for your area of ministry. Communicate it clearly and consistently to your team and volunteers. Check the mission statement or stated goals of your specific ministry to see how well it lines up with the broader vision of your church.
Over time, your sphere of influence will reach other groups inside your organization. Choose to leverage your influence, not just for the good of your specific ministry, but also for the greater whole. If you have concerns with higher leadership decisions, air them privately with decision makers and not in public where it can be misconstrued or misunderstood. Remember, you represent the face of your ministry for both staff and congregation. When your team is aligned with the greater vision of the church and you have personal credibility with senior leadership, your ministry will be more fruitful.
4. Invest in Your Team
After Nehemiah assembled a team to work on the wall, he was strategic in assigning different families and tribes to build various sections of the wall. Nehemiah knew their names, family histories, and was clear on who was doing what. He also knew who his opponents were and taught his people to defend themselves so the work could keep moving forward.
Each person on your team has a unique set of strengths, weaknesses, skills, and temperament. If you want to develop a strong team, you have to spend some time getting to know them. Ask questions or use personality assessments to jumpstart conversations about the values, preferences, and characteristics that drive each person's behavior. Learn the basics about each other's personal lives so you can rejoice and grieve with one another. There may be times when your members need some flexibility in their schedule or a little extra time to get the work done due to personal issues. Set boundaries, but be as gracious as the situation permits so trust and loyalty will increase.
Part of leading well is providing accountability and development for your team. When I have new members on my team, I ask them to fill out a weekly time sheet so I can see how they spend their time. This format provides information both for accountability and so I coach them more effectively. Knowing what they're working on, how long it's taking them to complete the work, and who they're meeting with allows me to see their next steps in development.
You may not like everyone on the team and they may not like you. As their team leader, however, you are obligated to invest in them. You can do this by giving honest, helpful feedback and providing opportunities for them to grow. Identify each team member's strengths and develop those core areas by delegating. By doing this, you will be able to steward the skills on the team to their best use and help your team to flourish.
5. Be a Giver
In Chapter 5, Nehemiah points out that for 12 years, he and his crew did not use the official food allowance, demand land, or take advantage of the people in any way. Instead, they devoted themselves to working on the wall along with everyone else. Nehemiah also generously fed hundreds of people every day from his own pocket to lessen the burden on the people. He was a humble, compassionate, and sacrificing leader who honored the Lord.
Nehemiah is a great example of what business professor Adam Grant, in his book Give and Take: Why Helping Others Drives Our Success, calls a giver. Nehemiah gave generously of himself because he had reverence for God and a higher calling that dictated his behavior. Unlike takers who are self-oriented and lead from a place of self-preservation and self-promotion, givers are "others-centric" and focus on meeting the needs of others. Not surprisingly, Grant's research proves givers enjoy a much higher level of trust from their team than takers. And in the long run, givers are more successful.
Christ calls us to be givers—those who tend to the needs of others above our own. A giver leads by example, humbly rolling up their sleeves and doing whatever needs to be done to accomplish the goal. A giver leader might have positional authority over others on their team, but does not lord it over the team. They are quick to admit mistakes, do the grunt work, take the blame from the outside, and shine the spotlight on others. A leader who consistently serves others builds trust and develops a team that is not only effective, but also joyful.
Carolyn Taketa is the Executive Director of Small Groups at Calvary Community Church in Westlake Village, California. She is a former attorney and the current host of Group Talk, a monthly podcast for the Small Group Network.