How to Prepare for Speaking at a Conference
What I've learned from 15 years of speaking at various events.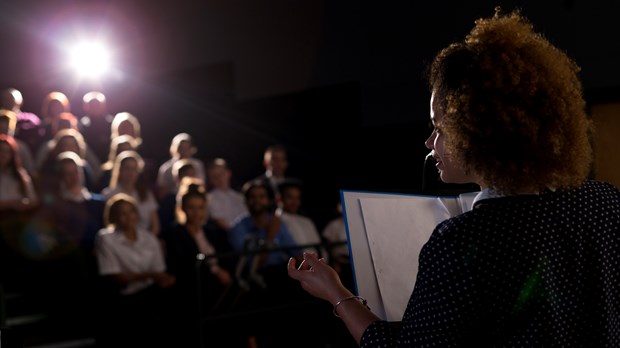 All I remember is saying an emphatic yes—over and over again.
I couldn't believe my luck: 23-year old me had been asked to be the keynote speaker at a weekend conference. But as months went by and the event got closer, my usual last-minute way of operating in life didn't pan out. I spent the weekend stressed out, working long hours, and sleeping little, leaving little time to connect with the women at the conference. I vowed that if I was ever given the opportunity again, I would never approach another speaking engagement in that way again.
Now, almost 15 years later, I speak at churches, retreats, and conferences on a regular basis. Along the way, I've learned that preparation is key when it comes to speaking at an event. As a woman in ministry, there's a good chance you, too, will get asked to speak at a gathering. My hope is these preparation tips could help you have a better start than I did.
The Invitation
Perhaps a local church has asked you to speak to their Thursday morning mom's group. Or your denomination has invited you to be their keynote speaker for a weekend retreat. Maybe a large Christian conference has extended you an offer to give a seminar at their three-day event. It's normal to feel over-the-moon. You've been chosen! But is this a good fit?
Before you say "yes," request a phone date, and interview the organizers of the event:
What are their expectations of you?
Do you align with their core theological beliefs, and, if not, is this something you can work around?
Are they willing to provide fair compensation for your services?
If appropriate, do the travel and lodging arrangements meet your needs?
They must be as good a fit for you as you are for them. Sometimes, this requires not only asking about what they're willing to provide, but also requesting things for your specific needs.
Years ago, a church asked me to speak on a high school weekend retreat. Although the youth pastor and I spent hours on the phone prior to our time together, it wasn't until the week before that he updated me on housing accommodations.
"Well, you'll really get to know some of the girls this weekend," he said to me, chuckling. "After all, you'll be one of the cabin leaders. You'll sleep right there in the bunks with them!"
Five months pregnant, I couldn't fathom sleeping on a bunk bed with high school girls I didn't know. I knew I wouldn't sleep well, nor would I have the physical or emotional space to adequately prepare for and decompress after each of my talks. When I asked him why I wouldn't have a cabin of my own, as previously mentioned, he informed me that since my husband wasn't accompanying me on the trip anymore, he figured I wouldn't want to be by myself.