One month after Wycliffe Associates (WA) announced the launch of 10 new Bible translation projects in a region where conversion to Christianity is punishable by death, four of its Bible translators were martyred when militants raided their Middle Eastern office.
"They shot and destroyed all the equipment in the office, including the Print On Demand (POD) equipment," WA reported in a prayer letter. "The invaders burned all the books and other translation materials in the office.
"Two workers died of gunshot wounds. Two other workers laid on top of the lead translator—saved his life—and died deflecting bludgeoning blows from the radicals' spent weapons."
Instead of retreating, the remaining translators have decided to remain in the area and continue the work they were doing to translate the Bible into eight languages. WA expressed gratitude that digital copies of the progress made so far survived the attack.
Many of the technological advances that have enabled today's age of telecommuting have been harnessed by Bible translation agencies to make projects faster and cheaper. But translation remains something that cannot be done remotely from a safe distance, WA president Bruce Smith told CT.
"The church prefers to do translation where the people are," he said. WA focuses on using local translators and local control for its Bible translation products, which "is all about church engagement from beginning to end."
"Dislocated translations delay and dilute the impact to the local communities," he said.
It takes years to translate the Bible into a new language, and language changes during that time, said Carl Moeller, CEO of Biblica (formerly known as the International Bible Society). "At a technical level, there's a reason to stay in the culture—to keep a finger on the change in language."
Those who are doing the translation work are also often ministering in their communities, which makes leaving for a safer location counterproductive, he said.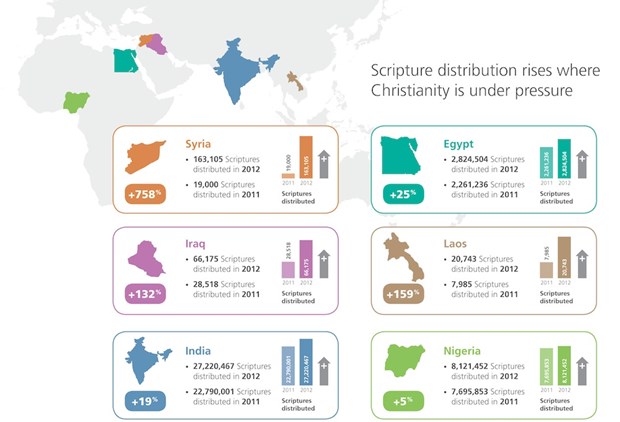 Image: United Bible Societies
This doesn't mean that translation agencies never pull out of dangerous areas.
"There are some translations which go on from places like Europe or North America for areas that are highly dangerous and sensitive," said Russ Hersman, chief operations officer for Wycliffe Bible Translators. The digital age has made it much easier to get translations back into sensitive communities, he said.
Since Bible translation has already swept through areas that are easier to access and friendlier to Christianity, the areas that are left can be more dangerous, said Roy Peterson, president and CEO of the American Bible Society.
"As the work of Bible translation moves into areas of the world that are particularly hostile to Christianity, we have, unfortunately, seen violence against translators increase," he said. "Translators take precautions to promote their safety—the same precautions they take every day as church leaders in nations hostile to Christianity.
"Those who advocate for pulling translators out of dangerous areas do not understand that most of these translators are working in their own nations," he said, "and the recipients of these new translations will be their own people in their own language."
The level of hatred toward Christianity, particularly in the Middle East, has been hitting new heights in the modern age. But danger has always been a part of bringing the Bible to new cultures, from the 1866 massacre of missionaries in Korea to the 1956 murder of five missionaries by Aucas in Ecuador.
"Addressing the call to bring the word of God to the remaining languages is always inherently dangerous and difficult, but many are still committed to doing it because it's right," Moeller said. "From the beginning of the church, we have seen the Word penetrate darkness."
In the end, it doesn't matter whether a translator is in a hostile country or in Brussels, Belgium, said Hersman. "You're safe in God's hands. And if he chooses to take you home, then you're in the ultimate safe place."
[Image courtesy of Valeriy Melnikov – Sputnik]