true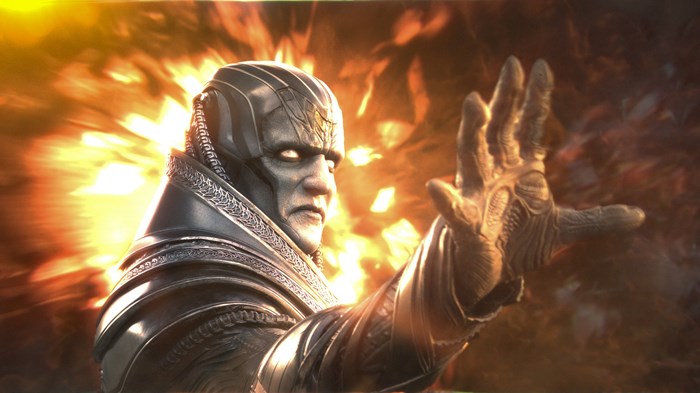 Image: Twentieth Century Fox
The following contains some spoilers for X-Men: Apocalypse.
Last month, director Bryan Singer described Apocalypse, the latest villain in his X-Men franchise, to Collider's Adam Chitwood:
The way I describe him the most, the best is he to me is the God of the Old Testament and all that comes with that. If there isn't the order and the worship then I'll open up the Earth and swallow you whole, and that was the God of the Old Testament. I started from there and when Oscar and I met we began discussing, since he isn't really God, he's the first mutant perhaps, but he's not God necessarily, he's imbued with certain unique powers. Some of them may or may not be from this Earth, we don't know.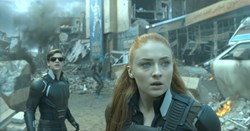 Image: Twentieth Century Fox
Singer went on to describe, at some length, his childhood interest in religion and "cults and things like that" as a kid, a fascination stoked by reading the X-Men comics. His interest in religion translates onscreen in X-Men: Apocalypse more successfully than the ponderously literalist Batman v Superman: Dawn of Justice, which left a number of people wishing for more religion, not less. If there were beings with superpowers living among us, don't you think cults would spring up to worship them?
Well, X-Men: Apocalypse does, to my relief. It's overlong (147 minutes) and garnering mixed reviews, but it's a solid enough crowdpleaser: the audience at my screening broke into applause four or five times. There's little point in describing the plot except to say that as you may have gathered from the subtitle—or from virtually any superhero film we've dutifully seen in the last 15 years or so—the world is about to end because of the bad guys, and the good guys have to save the day if they can.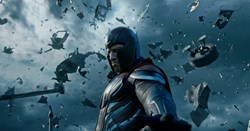 Image: Twentieth Century Fox
The villain Apocalypse—played by Oscar Isaac, slathered in CGI—can take various shapes, though in his latest iteration he's been locked away since antiquity and into the 1980s; when he emerges, he discovers, well, the 1980s, and gets annoyed with humans for worshipping false gods like consumerism and empire-building. Burn it all down, he bellows, and start over again. He's done this before.
But sometimes it's best if movie directors just keep their mouths shut about theology. Singer has actually loaded his film with a fascinating theological subtext, one that has nothing to do with this "God of the Old Testament" who demands "the order and the worship." (That caricature is popular with people who haven't really read the Old Testament, so it's not Singer's fault.)
In Apocalypse, Singer's drawn a solid portrait not of an Old Testament God but of an Old Testament Satan, or maybe some parallel character: Lucifer, Baal, Beelzebub. (Significantly, Apocalypse's origin story is in ancient Egypt.) Apocalypse's main draw for the mutants is the offer of power, a neat parallel to the New Testament story recounted in three gospels, He wants to destroy human systems and institutions (structures that, when healthy, help distribute power), and instead hoards it to himself, doling it out to his Four Horsemen (get it?) when it suits his purposes. Like Satan, Apocalypse's big problem is that he's not God: specifically, he's not omnipresent, and that gets in the way of his plans.
Typically in stories like this, when the Satan character needs smacking down, God shows up to do it. But there's an interesting theological twist in X-Men: Apocalypse, and though it's a bit tangled by the end, you can follow the thread if you're paying attention.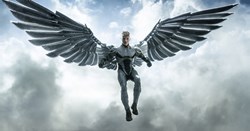 Image: Twentieth Century Fox
I've recently written a book on the apocalypse in pop culture, so my spidey-sense starts tingling when the end of the world shows up on screen. Humans have been telling stories about the apocalypse since almost the dawn of time. Today's hordes of the undead and rampant dystopias are no exception.
But in modernity an interesting shift took place: gradually our stories about the end of the world stopped suggesting that our world would come to an end because God, or the gods, finally had enough of our nonsense; instead, we began to believe that we'd visit the end upon ourselves. We create a cure for disease, and it makes zombies. We make robots to serve us, and they start chasing us through the galaxy instead. We try to create peace through politics, and we end up sending our teenagers to the arena.
X-Men: Apocalypse is a fascinating case, because it embodies both an old and a new way of thinking about apocalypse. On the one hand, we have a classic case: apocalypse visited on humanity (who, by the way, barely show up in the film) by a vengeful god-like creature who's sick of humanity's failures and wants to wipe it all out and start again. But Apocalypse also fulfills the late-modern idea of a fascist dictator, a strongman who seems to promise peace by disarming every country (wiping out nuclear missiles all over the world)—a move that, given the film's setting in the 1980s, seems briefly like kind of a good idea—only to swoop in with his own plan for eugenics and domination. And if apocalypses are traditionally hopeful, stories of hitting the reset button and ushering in renewal, then Apocalypse's plan is only about two ticks off.
But Apocalypse is not a god, and not benevolent; he's a mutant of some sort, and a very angry one. X-Men: Apocalypse boils down not to a story of renewal but a question that surfaces over and over in contemporary tales of apocalypse: do humans deserve to be saved? Does the human race deserve to live?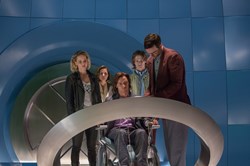 Image: Twentieth Century Fox
And who will protect the humans? Interestingly, in the universe of X-Men, not God—though people pray to him a lot in the film. God, in the X-Men universe, shows up only in the combined powers of the X-Men, mutants who've decided their job is to protect the weak (which is to say, us). If you're a human living in that universe and you pray to God, you're actually praying to a distributed, immanent sort of god: a network of mutants living alongside humans who have to keep wanting to save you because they want to and who must work together to do so.
This is a fairly terrifying sort of apocalyptic story when you think about it: those who want to destroy humans are very powerful, and those who think they're worth preserving don't really have a huge reason to do so (and in the case of Magneto, almost no reason at all). Perhaps it's why the X-Men movies don't spend a lot of time dwelling on ordinary humans; the problem with people is they screw up a lot.
Which is why, strangely, you can kind of see Apocalypse's point. Rampant consumerism and often cruel empire-building and power-mongering are false gods. Humans do worship them. They build nukes to wipe each other out and cheat and steal and destroy. Why do they deserve to continue?
If the goal of apocalyptic literature is to reveal something about what a given culture thinks about human nature—an inherently religious question—then maybe X-Men: Apocalypse is far more religious than Bryan Singer suspects.
Caveat Spectator
One f-bomb; a bunch of relatively revealing costumes on the ladies; scary images; some bloody combat; and wanton destruction of human civilization.
Alissa Wilkinson is Christianity Today's critic at large and an assistant professor of English and humanities at The King's College in New York City. She is co-author, with Robert Joustra, of How to Survive the Apocalypse: Zombies, Cylons, Faith, and Politics at the End of the World. She tweets @alissamarie.