We at The Behemoth often talk about things that amaze us. Or things that fill us with wonder or awe. Much of the time, we're thinking about the intricate details of life: the little known facts about something as common as paper. Or something surprising and fascinating, like the emperor penguin. Or, as our poem describes, the way God shows up "disguised as everything."
What may go unsaid is that we often find these things wondrous because they are also beautiful to behold. The beauty instills wonder, and the wonder leads us to bask in the beauty. In this issue's opening article, Matt Woodley doesn't just bask in beauty; he tells us it's a clue to something else. Something really big. It could almost be considered the theme for every issue of The Behemoth.
Enjoy.
—Mark Galli, co-editor
The Behemoth is a small magazine about a big God and his big world. From the editors of Christianity Today, these articles aim to help people behold the glory of God all around them, in the worlds of science, history, theology, medicine, sociology, Bible, and personal narrative.
Get full access to The Behemoth archives on any device when you subscribe to Christianity Today.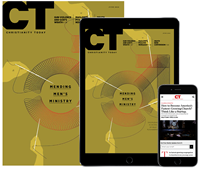 Unlock This Article for a Friend
To unlock this article for your friends, use any of the social share buttons on our site, or simply copy the link below.