Today no first-rate scientist believes in the resurrection of Jesus Christ, according to H. L. Mencken, late literary critic and often blasphemous commentator on the Christian faith. Doubtless many people in our country really suppose this to be the case. How rarely indeed is a leading contemporary scientist identified with any clear declaration of his Christian belief! As teachers and ministers know, even many young people firm in their faith in Christ are asking, "Do any great scientists of our day believe the verities of the Christian revelation?"
Importance Of Scientific Faith
The reason that the faith of scientists in relation to the cardinal Christian truths is so pre-eminently important—more so even than that of historians, economists or legislators—is that the world today is more and more controlled by pure and applied science, for in this realm great discoveries are taking place. Men cannot deny that scientists are pursuing truth in their specialized investigations, and that they are, as it were, attempting to ascertain facts. Although scientists themselves are, in the main, men of humble spirit, seldom claiming even semi-omniscience, the general public tends to confer on them a final authority in any field in which they express an opinion. If, then, our contemporary scientists, who in these past few years have brought forth a new and revolutionary understanding of nature and whose investigations the Western powers are underwriting with billions of dollars, are known to be men who reject the basic truths gathered around the person of Christ, as set forth in the New Testament, the common people are encouraged to relax their confidence in the supernatural elements of the Christian faith.
The only way to determine what modern scientists actually believe is to let them express their views over their own names. Common opinion, guesses, the writings of one man here and another man there, will not give us an accurate statistical analysis of the faith of our scientists.
I secured the names of those who have attained in the biological and physical sciences a reputation justifying their inclusion in the current volume of Who's Who in America. Since the last edition of American Men of Science lists 44,000 men of professional standing working in the physical sciences, and 25,000 in the biological sciences, it was impossible for one person to address an inquiry to 69,000 men and women. Recognizing that some outstanding scientists do not appear in the current volume of Who's Who in America, I addressed my inquiry not only to those persons included in that volume but also to members of the National Academy of Sciences listed in the preceding volume of Who's Who but not in the current one.
An Unmistakable Inquiry
The subject of the resurrection of Christ was chosen for the inquiry because of its definiteness and also its pre-eminent importance in relation to other Christian doctrines. A man's views on the subject of immortality of the soul would not in any way reveal his relationship to the Christian faith. To ask if one believes in the inspiration of the Scriptures is at once to raise the question, what is meant by inspiration—and one has little reason to expect a scientist to define the term. A question regarding belief in the deity of Christ would be too indefinite, since some would doubtless reply in the affirmative, acknowledging the deity of Christ—and of every man. The bodily resurrection of Christ—whether or not one believes in it—is set forth in the New Testament as a specific historical event, taking place at a certain time in a certain place; it involves a specific individual and the phenomenon of an objective reality that could be touched and seen (Luke 24:39,40; cf. 1 John 1:1–3).
The names of those working in the biological and physical sciences listed in the 1956–1957 volume of Who's Who number 606. I did not write to Unitarians or Universalists, whose replies would certainly be in the negative; likewise the three Mormons, two agnostics, one liberal and one member of the Ethical Culture Society. Scientists of Jewish faith, insofar as this could be determined from their names and place of education (there were 37), were excluded. Excluding the 62 members of these groups, letters were sent to 544 scientists (with stamped, self-addressed return envelopes). Notices came that seven of the men had died since the current Who's Who was published; five had moved, with forwarding addresses unknown; eleven were out of town. This left 521 men from whom replies could be expected.
Preliminary Observations
The examination of Who's Who in America disclosed three rather surprising facts. First, not one individual out of these six hundred men and women indicated an affiliation with the Christian Science Church. Second, although a large number of Jews surely are laboring in these fields, not one indicates in his biographical summary that he is of the Hebrew faith. Is there no leading Jewish scientist in this company, we must ask, who wishes to be identified as a faithful attendant at the synagogue and as a believer in the Old Testament Scriptures? Finally, although 144 of these men and women indicated membership in some Protestant church, only twelve gave affiliation with the Roman Catholic Church. This paucity of Roman Catholics in the front ranks of modern science has been frequently discussed by others and is recognized as a problem by Catholic writers today.
Before revealing the results of the survey made for CHRISTIANITY TODAY, it may be well to speak briefly of a poll of younger scientists reported in Fortune (June, 1954) in the article on "The Young Scientist." One hundred and four of the leading young men of science in America were sent questionnaires covering a number of subjects, including personal religious convictions. The statistics indicate that although 5 per cent of the parents of these men were of the Roman Catholic faith, none of the present generation wishes to be so identified; although 29 per cent of the parents were more or less inclined to the Jewish faith, only 9 per cent of the sons are so disposed today; 53 per cent of the parents had Protestant convictions, but only 23 per cent of their sons would claim the same. Most striking of all, while only 8 per cent of the parents were said to be agnostics or atheists, 45 per cent of the sons so declared themselves.
Four Out Of Five Waver
Of the 521 potential replies to my inquiry, 228 replies have been received (a few continue to arrive daily). They include 36 affirmations of faith in the resurrection and 192 non-affirmations. This latter group falls into three classes: 142 of these scientists state definitely that they do not believe in the resurrection of Christ; 28 indicate that they do not wish to express an opinion; and 23 say that they do not know whether or not Christ rose from the dead. The ratio then is about four non-affirmations to one affirmation. In other words, only one out of five of the leading scientists in these fields believes in the bodily resurrection of Christ.
Unbelief In The Churches
The most surprising aspect is the acknowledged lack of faith in the resurrection of Christ on the part of scientists who claim membership in some Protestant evangelical denomination. Of the 521 scientists, 144 indicated affiliation with some Protestant church. From these 144, 88 replies have thus far been received; 7 say they do not know if Christ rose from the dead; 12 do not wish to give an opinion; 41 do not believe; and 28 do believe in the resurrection—or one out of three. The following table presents an analysis of these figures by denominations.
In view of the extreme liberal views of many Congregationalists and the infiltration of modernism in the Methodist Church, the majority of denials from men in these denominations was no surprise. But it was somewhat astonishing to find as many Episcopalians denying the resurrection as professing to believe it and more Baptists and Presbyterians rejecting it than affirming it. One cannot help but wonder how men can unite with churches whose creeds or historic confessions bear clear testimony to the bodily resurrection of Christ, while they disbelieve what their sacred traditions affirm. Undoubtedly this means that many clergymen are receiving into their churches members who do not embrace the essentials of the Christian faith, and also, in turn, that many of the clergy themselves do not believe in the resurrection.
The Command To Witness
The New Testament repeatedly enjoins Christians to bear witness that Christ rose from the dead. In referring to his death and resurrection, Jesus reminded his disciples, "Ye are witnesses of these things" (Luke 24:48). To this truth of our Lord's resurrection the Apostle Peter witnessed on the Day of Pentecost, "This Jesus did God raise up, whereof we all are witnesses" (Acts 2:32). Again and again when the apostles were brought before the Sanhedrin, and when Paul stood before various rulers of his day, they gave glad and emphatic testimony to the historic reality of the resurrection (Acts 3:15, 5:32; 10:39; 26:23). The Apostle Paul assured men of salvation if they confessed with their mouth the Lord Jesus and believed in their heart "that God raised him from the dead" (Rom. 10:9).
No matter how many more believers are hidden in this group of American scientists, it is profoundly disturbing that only 36 scientists of a total of 521 leaders in the biological and physical sciences are willing to be counted in this year of our Lord 1957 as gladly affirming their faith in the resurrection of Jesus Christ.
A well-known scientist who repudiated the doctrine of Christ's resurrection wrote boldly: "I have no hesitation in telling you my own position in regard to the 'basic New Testament truth' of the 'bodily resurrection of Jesus Christ,' for I have no interest in concealing my belief." If this is the way unbelievers feel, so much more ought believers to be bold in proclaiming their faith. The Christian Church today needs a great surge of testimony to the resurrection, for without this the Church of our day of unbelief will appear beggarly alongside the early Church, of which we read: "With great power gave the apostles their witness of the resurrection of the Lord Jesus: and great grace was upon them all" (Acts 4:33).
Confronted with this appalling mass of unbelief by highly trained men devoting their lives to the exploration of natural phenomena, a Christian believer must have a heavy heart. Yet there is no reason for a believer to waver in his own faith because of it.
Relevant Observations
In the first place, the replies give no evidence that the scientists who deny the resurrection have carefully examined the New Testament historical records which describe the event. Most of these men frankly confess that they have not given the subject serious consideration. Even those who profess to be Christians and active members of Protestant churches, yet disbelieve Christ's resurrection, do not indicate that they have ever studied the evidence for the historicity of this event.
A second significant observation, and a corollary of the first, is that not one of these men offers any theory to explain away the New Testament confidence in the resurrection. One physicist did imply that he could believe there was a resuscitation of life, but of course this is not resurrection, as he himself admitted, and he did not couple the remark with a denial of Jesus' death on the cross. Not one unbelieving scientist felt constrained to give a rational explanation of the Christian faith in the resurrection.
The third interesting fact is that the greater number, about 60 per cent, expressed themselves almost reverently in referring to Jesus Christ. I shall quote from two letters:
"I have only a modest familiarity with the story of the life of Jesus as it has come down to us. To me his message of brotherly love is of paramount importance. That this message should have come from a human conceived and nurtured in the natural way gives me courage to attempt in some small measure to follow his example. Whatever one may believe about immortality, we can be certain of one thing, Jesus lives on in the minds of men. He still has a tremendous influence on their actions."
"To my mind the subtle and profound emotional meaning of the Bible story is not destroyed by questioning its literal truth. We are surely still actively participating in the personality and teaching of Christ; so he is in a real sense resurrected in each of us. To me this has much more religious meaning than the truth or falsity of the stories and myths that have been built up around his name.… I stand in awe of the wonder of the infinite. Awe and worship are allied."
Teaching And Miracles Linked
When a man says that the teachings of Jesus set forth, even for men of the twentieth century, the highest code known to humanity, it must be emphasized that these very teachings of Jesus include much more than the laws of ethical conduct. Over and over again our Lord taught that he would rise from the dead (Matt. 16:21, 17:23), and his enemies did not forget this as the hour of his trial approached (compare John 2:19–22 with Matt. 26:61,62; 27:40). On one occasion when such a prediction was made, we read, "There arose a division again among the Jews because of these words" (John 10:17,18).
No respectable hermeneutical principle exists whereby the ethical teachings of Jesus can be separated from his teachings concerning himself—his deity, his vicarious death, his resurrection, his ascension and future return. If he claimed he would rise from the dead, and did not, either he was tragically self-deceived, in which case the trustworthiness of the remainder of his teachings is suspect, or he knew that he would not arise, but attempted to secure disciples by claiming that he would, in which case he was a deceiver of others—and in all the replies to my inquiry, no modern scientist has ventured to call Jesus a deceiver! How one wishes that this fine group of men, daily pondering evidence with such great care, would seriously consider the witness of Christ's teachings to his resurrection and contemplate the consequences of rejecting either.
Worldly Wisdom And Unbelief
The New Testament provides no basis for any expectation that the majority of the intellectual leaders of any age will be believers in the great truths of the Christian faith. Indeed, our Lord himself asked, "When the Son of man cometh, shall he find faith on the earth?" (Luke 18:8). The New Testament tells us that, in regard to spiritual things, the mind of unregenerate man is "darkened" (Rom. 1:21; Eph. 4:18). In the second chapter of First Corinthians Paul develops the theme that the natural man receiveth not the things of God. A condition of world-wide deception and apostasy at the end of this age is frequently set forth in the Pauline Epistles (2 Thess. 2:10–12; 1 Tim. 4:1–3; 2 Tim. 4:3,4).
In 1899 Professor A. H. Strong (Christ in Creation, p. 7) echoed what many intellectual leaders at the turn of the century were saying: "All nature is a series of symbols setting forth the hidden truth of God.… The world is virtually the thought of Christ made intelligible by the constant will of Christ. Nature is the omnipresent Christ manifesting God to creatures." Today the idealistic and personalistic moods no longer dominate science. Men are not proclaiming nuclear fission as a revelation of God to modern science. Men are not being drawn nearer to God by this increased mastery of natural phenomena. No longer can we say, as did Frederick Leete in his interesting work, Christianity in Science (New York, 1928, p. 186): "Is it not a striking tribute to Christianity that the countries named as being the centers and mediums of scientific advancement are precisely those in which Christianity is most completely domiciled, and where its influence is at its maximum? It is possible to go further and to maintain the thesis that the degree of scientific progress made by each particular nation compares almost exactly with the type and grade of its religious development."
Men Of Science Who Believe
While acknowledgments of faith in the resurrection among scientists were comparatively few, their communications nonetheless bear a priceless and powerful testimony to this supernatural event of nineteen centuries ago. Although it is not possible to quote each of these letters, I shall refer to four or five, to reflect something of this faith implicit in the minds and hearts of some men in the forefront of contemporary science.
An extended positive reply came from Dr. Howard H. M. Bowman, Ph.D., University of Pennsylvania, 1917; Professor of Biology at Toledo (Ohio) University since 1919 and Director of the Pre-Medical Division there since 1947; author of a number of books and member of many scientific societies. A member of the Episcopal Church, Dr. Bowman is an Anglo-Catholic.
He remarks, refreshingly: "Our two priests are devoted and self-sacrificing pastors, and I know of no one in the parish who holds anything but the central orthodox beliefs, and I think all of us firmly believe in every article of the Nicene and Apostles' Creed. As a biologist, I cannot explain this mystery, nor would I attempt to do so. I have complete faith in the testimony of the biblical witnesses as set forth in the New Testament."
From the Institute for Advanced Study at Princeton, Dr. Harold M. Morse writes: "I do so believe, as did John von Newmann, my colleague who died about ten days ago."
The Director of the Alabama Museum of Natural History at University, Alabama, Dr. Walter B. Jones, responded in part, "Of course I believe in the bodily resurrection of Christ. I am an elder in the First Presbyterian Church here in Tuscaloosa."
Note must also be made of the clear affirmation of the Nobel prizeman Victor F. Hess, Ph.D. (University of Vienna), former Professor of Physics at the Universities of Vienna and Innsbruck, Austria, Professor of Physics at Fordham University since 1938 and Research Associate of Carnegie Institute of Washington since 1940. Recipient of the Nobel Prize in physics in 1936 for the discovery of cosmic rays, he is author of a number of books in this particular field of science. One of the greatest physiologists of our generation is Dr. A. C. Ivy, of the Department of Chemical Science of the University of Illinois (Chicago Campus), who served as head of the Division of Physiology and Pharmacology at Northwestern University from 1926–1946 and then as Professor of Physiology in Chicago Professional Colleges, 1946–1953. President of the American Physiological Society from 1939–1949 and author of many scientific articles, his words are wholesome:
"I believe in the bodily resurrection of Jesus Christ. As you say, this is a 'personal matter,' but I am not ashamed to let the world know what I believe, and that I can intellectually defend my belief.… I cannot prove this belief as I can prove certain scientific facts in my library which one hundred years ago were almost as mysterious as the resurrection of Jesus Christ. On the basis of historical evidence of existing biological knowledge, the scientist who is true to the philosophy of science can doubt the bodily resurrection of Jesus Christ, but he cannot deny it. Because to do so means that he can prove that it did not occur. I can only say that present-day biological science cannot resurrect a body that has been dead and entombed for three days. To deny the resurrection of Jesus Christ on the basis of what biology now knows is to manifest an unscientific attitude according to my philosophy of the true scientific attitude."
A Call To Christian Colors
Whatever a poll of scientists, or of any other vocational group, might reveal, the voluminous literature of unbelief requires the Christian Church to defend the resurrection of Jesus Christ against every foe, every contrary theory and every respectable argument.
We may give God thanks that no weapon has ever been forged, and that none ever will be, to destroy rational confidence in the historical records of this epochal and predicted event. The resurrection of Christ is the very citadel of the Christian faith. This is the doctrine that turned the world upside down in the first century, that lifted Christianity preeminently above Judaism and the pagan religions of the Mediterranean world. If this goes, so must almost everything else that is vital and unique in the Gospel of the Lord Jesus Christ: "If Christ be not risen, then is your faith vain" (1 Cor. 15:17). Who can repudiate the resurrection and at the same time profess confidence in the absolute authority of Christ's teachings? Virtually everyone who has abandoned belief in the resurrection has simultaneously disavowed Christ's virgin birth. If Christ did not rise from the dead, there is no seal upon the divine acceptance of his vicarious atonement as adequate for our salvation.
Let Christian ministers become aware of a divinely given responsibility for so schooling their congregations in the great unshakable facts relating to Christ's resurrection, and so training their Sunday School teachers and workers among high school and college students, that they stand ready to meet every argument against this truth. Multitudes of Christian people who accept the resurrection are unable to give a reason for that hope which is within them. The Apostle Paul says that we are to "advance" the Gospel, to push on into the unoccupied territorities where the Gospel is not believed.
Someone should prepare a message directed especially to our contemporary scientists, clearly and logically setting forth the evidences for the resurrection of the Lord Jesus, beginning with a brief examination of the dependability of the New Testament documents. I believe that many scientists do not accept Christ's resurrection as fact because they have never seriously considered the evidence. Christians may well say to these, and to others, "Why should it be thought a thing incredible with you that God should raise the dead?" (Acts 26:8).
Preacher In The Red
A SWEET VOICED DOCTOR
I had accepted an invitation to conduct an evangelistic meeting in a town on the Western edge of our Assembly. The Director of Music of the High School was an elder in the church and a brother of the pastor. Together they had prepared a rather elaborate musical program for the opening service. Besides a violin ensemble, there was an anthem, a quartet, a duet and a very sweet bass solo by a big handsome doctor of the town.
The friendly young pastor then proceeded to give me an over-eulogistic introduction. I felt impelled to make some response. I said, "This is the sweetest musical introduction to a meeting I have ever experienced. You are certainly fortunate in having such talent in your church. While the doctor was singing, I kept thinking how I'd like to have such a doctor for my own private physician."
Hand went to mouth in an ill-concealed snicker over the congregation. As I stopped in wondering confusion, the pastor said, "Mr. Gray, he is a veterinarian!"—W. BRISTOW GRAY, Brownwood, Texas.
For each report by a minister of the Gospel of an embarrassing moment in his life, CHRISTIANITY TODAY will pay $5 (upon publication). To be acceptable, anecdotes must narrate factually a personal experience, and must be previously unpublished. Contributions should not exceed 250 words, should be typed double-spaced, and bear the writer's name and address. Upon acceptance, such contributions become the property of CHRISTIANITY TODAY. Address letters to: Preacher in the Red, CHRISTIANITY TODAY,. Suite 1014 Washington Building, Washington, D.C.
Wilbur M. Smith has been editor of Peloubet's Select Sunday School Notes on the International Sunday School Lesson since 1945 and is author of a dozen books. Formerly a member of the faculty of Moody Bible Institute, he is now Professor of English Bible at Fuller Theological Seminary.
Have something to add about this? See something we missed? Share your feedback here.
Our digital archives are a work in progress. Let us know if corrections need to be made.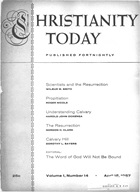 This article is from the April 15 1957 issue.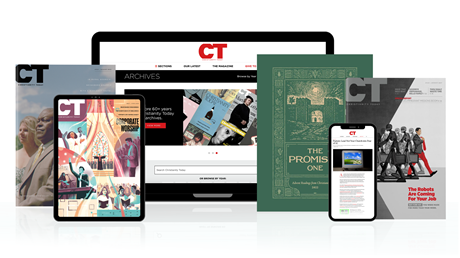 Subscribe to Christianity Today and get access to this article plus 65+ years of archives.
Home delivery of CT magazine
Complete access to articles on ChristianityToday.com
Over 120 years of magazine archives plus full access to all of CT's online archives
Subscribe Now
Twentieth-Century Scientists and the Resurrection of Christ
Twentieth-Century Scientists and the Resurrection of Christ