This column customarily restricts itself to current periodical literature. This time, however, we are devoting the page to a book—or more accurately a series of books—The Works of Jonathan Edwards. (Perry Miller, General Editor. Volume I, Freedom of the Will, edited by Paul Ramsey, New Haven, Yale University Press, 1957. 494 pp.; $6.50). This definitive edition is a matter of the highest importance and significance. Inasmuch as we have a personal interest both in Edwards and in this edition we feel compelled to give it the attention that it demands.
First a word about Edwards himself, and then a word on this whole edition, with incidental references to the first volume which has just appeared. Born in 1703 this child of a Connecticut manse early exhibited an intellectual precocity never surpassed in history. Well-trained by his father at home, he finished his academic discipline at the head of his class at Yale, where a college is today named for him. Possibly the two most important events in his intellectual life occurred here as he came under the influence of the British empiricist, John Locke, and as his conversion was occasioned by his yielding to the doctrine of divine sovereignty. Domestically speaking, he became acquainted with Sarah Pierpont, who later entered into one of the happiest of marriages with him, and began that line of descendants which is usually cited as America's most distinguished.
For twenty-three years he preached the doctrines of the Bible to the Congregational church in Northampton, Mass., with a thoroughness and profundity that has never been matched in the annals of the Christian pulpit. It was during this period that the revivals occurred which have caused him to be regarded as our most eminent early evangelist, and, together with William James, our most distinguished psychologist of religious experience. The occasion of his dismissal, his insistence that persons not be admitted to the Lord's Supper until they had given reasonable evidence of conversion, was to become ultimately his greatest ecclesiastical triumph.
In relative retirement, although still very busy, during the next six years at the village of Stockbridge, he produced the works on which his philosophical and theological fame largely rest. The most famous of these is the first to be published in the new edition, although under the abbreviated and misleading title, The Freedom of the Will. Edwards died, as serenely as he had lived, after serving only a few months as president of the college that today is called Princeton University. He lived the same number of years as Thomas Aquinas, whom he rivalled in religio-philosophical acumen, and John Calvin, with whose theological brilliance his own compares—fifty-five. Two hundred years have elapsed since he died in 1758.
Since Edwards was the first American to gain international reputation as a thinker, it is not surprising that his works have often been published, and some of them in many languages. The first edition of his works, though by no means complete and hardly worthy the designation "critical," appeared fifty years after his death. Other such editions appeared but the last general one was in 1874. Now two hundred and fifty years after his birth comes the first edition that shows promise of becoming definitive and nearly exhaustive. This is a period in which Americans are again digging the wells that have been dug—going back to see the early foundations on which our history has been laid. It is fitting that at the same time that definitive editions of one of America's earliest men of affairs, Benjamin Franklin, and one of her most influential early political figures, Thomas Jefferson, are being made, her first great theologian should be adequately presented.
The nature of the present undertaking is significant in more ways than its definitiveness. Not only is it being done by the careful Yale Press and subsidized by the Bollingen Foundation, but the makeup of the editorial committee is tell-tale. For one thing it is not an "Edwardean" committee in any theological sense. So far as we have noticed there is not one full-blown Calvinist of the Edwardean stripe on its roster. Indeed the committeemen are not all theologians. The general editor, for example, Perry Miller of Harvard, is a highly detached and somewhat skeptical student of puritanism who admires Edwards as its purest expression. Norman Pearson is a professor of English literature and culture at Yale who is probably even less interested in Edwards as a theologian and more interested still in him as an historical and literary figure. Paul Ramsey, editor of the first volume, is professor of Religion at Princeton University. John A. Smith, who will edit The Religious Affections, teaches at Yale University and is a recognized philosopher. All the other members are probably ordained men, but only one is a practicing minister, the Rev. Vincent Daniels of Greenwich, Conn. The significance of all this is that this new interest in Edwards is coming largely from a liberal and cultural source. Those of the conservative tradition may rejoice in this fact so long as these men, and the other editors they secure, permit Edwards to speak for himself, or give as Miller promises, "a clear and fair exhibition of his thought."
Apart from the editorial committee there are at least two things of note about the edition itself. First of all, each volume, or group of volumes, will be introduced by its editor. If Ramsey's is typical, these will be learned monographs giving an adequate critical, historical orientation that is invaluable to an understanding of the eighteenth century context. Such monographs have never been provided by previous editions. Where necessary, footnotes accompany the text.
A second feature is the use of the manuscripts themselves or the collation of published texts where the manuscripts are not available. The first volume had to follow the second alternative as the important manuscript on the Will, unfortunately, is among the missing. Ramsey has labored to give the best text possible in its absence. Fortunately, most of Edwards' works are extant in manuscript and they are to be used. This is certain to yield a much less polished but much more idiomatic and authentic Edwards, inasmuch as he had his own colloquialisms and style and frequently did not re-work his material, not intending publication. Also many of the manuscripts have not previously been published. This is especially true of the sermons, only about sixty-five out of more than a thousand of which have previously been printed. But the most important manuscript corpus, and in the opinion of many Edwardean scholars his most important work of all, the Miscellanies, will soon be forthcoming from the extremely competent hands of Professor Schafer of Duke University.
While every minister and theological student should utilize these volumes whether from an interest in theology, philosophy of religion, church history, revivalism, psychology of religion, or church government; as we have noted, and as the composition of this committee indicates, Edwards belongs to the cultured reader in general.—JOHN H. GERSTNER
Have something to add about this? See something we missed? Share your feedback here.
Our digital archives are a work in progress. Let us know if corrections need to be made.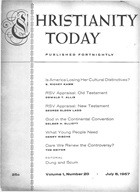 This article is from the July 8 1957 issue.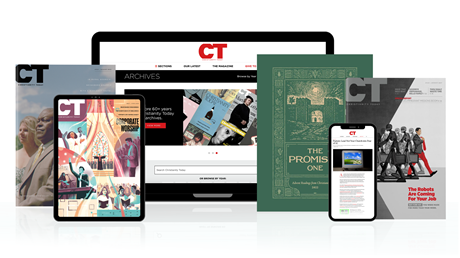 Subscribe to Christianity Today and get access to this article plus 65+ years of archives.
Home delivery of CT magazine
Complete access to articles on ChristianityToday.com
Over 120 years of magazine archives plus full access to all of CT's online archives
Subscribe Now
Review of Current Religious Thought: July 08, 1957
Review of Current Religious Thought: July 08, 1957