To wit, that God was in Christ, reconciling the world unto himself, not imputing their trespasses unto them; and hath committed unto us the word of reconciliation (2 Corinthians 5:19).
Behold our Mediator! Not God without humanity, nor man without divinity; but intermediate between mere Deity and mere humanity, he is a human divinity, and a divine humanity.
As the salt-waters of the sea, when they are strained through the earth, they are sweet in the rivers; so the waters of majesty and justice in God, though terrible, yet being strained and derived through Christ, they are sweet and delightful.
To wit—This verse is designed further to state the nature of the plan of reconciliation, and of the message with which they were intrusted. It contains an abstract, or an epitome of the whole plan; and is one of those emphatic passages in which Paul compresses into a single sentence the substance of the whole plan of redemption.
Reconciliation
By reconciliation is meant the whole work of redemption. It is called reconciliation as it respects us as enemies, salvation as it respects us in a state of damnation, propitiation as we are guilty, redemption as captives, and bound over to punishment. Reconciliation, justification, and adoption differ thus: in reconciliation, God is considered as the supreme Lord and the injured party, and man is considered as an enemy that hath wronged him; in justification, God is considered as a judge, and man as guilty; in adoption, God is considered as a father, and man is an alien. Reconciliation makes us friends, justification makes us righteous, adoption makes us heirs.
STEPHEN CHARNOCK
That salvation implies the removal of man's moral enmity to God is frankly admitted: but this is not inconsistent with firmly maintaining that it also necessarily supposes and requires the removal of God's legal enmity to man. The party offended must be reconciled as well as the offender, before any real or permanent friendship can be effected. The reconciliation or atonement spoken of, is said to be effected by the death of Christ, whereas the removal of the enmity of man's heart is more properly the work of the Holy Spirit. It is also represented as something synonymous with the non-imputation of trespasses, which itself is decisive of the sense in which it is to be understood.
WILLIAM SYMINGTON
Particularly, to Him belongs the praise of devising the stupendous plan of redemption, by which he reconciles to himself the rebellious children of men. In a way honorable to his holiness, justice, and truth, he removes the enmity of their mind; he subdues their rebellious will; he sheds abroad his love in their heart; he restores them to his favor and friendship; he renews them after his own image, and blesses them with all heavenly and spiritual blessings. This reconciliation is effected, not on the ground of their repentance; not by works of righteousness which they have done; not by the arbitrary exercise of mercy, but through the mediation of his own dear Son, who, by his obedience and death, has satisfied divine justice; magnifies and honored the law, and made a full atonement for sin.
WILLIAM LOTHIAN
To reconcile unto himself, does not mean to convert, or to render friendly to himself. This is plain first, because this reconciliation is said to be effected by the death of Christ as a sacrifice; and secondly, because what follows is not a proof of God's converting the world, but it is a proof of his being propitious. The proof that God was reconciling the world to himself in Christ (i.e., in his death) is that he does not impute to men their trespasses, and that he has established the ministry of reconciliation. The forgiveness of sin and the institution of the ministry are clear evidence that God is propitious.
CHARLES HODGE
In verse 18, it is said, God "hath reconciled us to himself by Jesus Christ, and hath given to us the ministry of reconciliation." This does not mean that God changed our heart, and made us love him, and appointed the Apostle to announce that fact. It can only mean that through Christ, through what he did and suffered for us, peace is restored between God and man, who is able and willing to be gracious. This is the gospel which Paul was commissioned to announce, namely, as follows in the next verse, God is bringing about peace; he was in Christ effecting this peace, and now is ready to forgive sin, i.e., not to impute unto men their trespasses; and therefore the apostle urges his readers to embrace this offer of mercy, to be reconciled unto God; i.e., to accept his overture of reconciliation. For it has a sure foundation. It rests on the substitution and vicarious death of Christ. He was made sin for us, that we might be made the righteousness of God in him. It is impossible, therefore, that the reconciliation of which the apostles speak as effected by the cross or death of Christ, should, in its primary and main aspect, be a subjective change in us from enmity to the love of God.
CHARLES HODGE
Reconciling—The greatest controversy lies in this word, whether by it be meant God's reconciliation to us, or our laying down our enmity against God. Socinus and his followers say God was not angry with man, he was reconciled before, but that this place is meant of affection towards God, because it is said we are reconciled to God, and not God to us.… By reconciliation of us to God in this place cannot be meant our conversion, or any act of ours. Because the reconciliation here spoken of was the matter of the apostles' sermons, and the great argument they used to convert the world to God. If, then, that sense were true, it would be an impertinent argument, unworthy of those that Christ called out to be the first messengers and heralds of this redemption. The sense of their discourse would run thus: God hath already converted you, therefore be converted to him; as it is nonsense to exhort a man to do that very act which he hath already done. Also, this reconciliation doth formally consist in the non-imputation of sin to men. Now this is God's act, not the creatures.
STEPHEN CHARNOCK
Fruit Of Reconciliation
The effect of God's being reconciled, or his reconciling the world to himself, is in these words, "not imputing to them their trespasses." God doth so reconcile us to himself by Christ as not to impute our trespasses to us; that is, not dealing with us according as justice required for our sins, upon the account of Christ's work, remitting the penalty due to them, laying away his anger, and receiving us to favor. This is the immediate fruit of the reconciliation spoken of, if not the reconciliation itself.
JOHN OWEN
Sin at the same time creates enmity in the human heart toward God, an enmity removed also by faith in the great propitiation. Thus the cross is the symbol of peace. He who died on it possessed God's nature, the offended party, and man's nature, the offending party; and thus being qualified to mediate between them, his blood was poured out as a peace-offering. The law is satisfied, and guilty sinners are freed from the curse: an amnest is proclaimed; God reconciles the world unto himself, and justified man has peace with God.
JOHN EADIE
The evidence that the death of Christ has been accepted as an expiation for sin, of infinite value and efficiency, is the fact that God hath commissioned his ministers to announce to all men that God is reconciled and ready to forgive, so that whosoever will may turn unto him and live.
CHARLES HODGE
Have something to add about this? See something we missed? Share your feedback here.
Our digital archives are a work in progress. Let us know if corrections need to be made.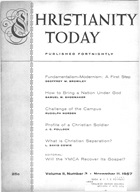 This article is from the November 11 1957 issue.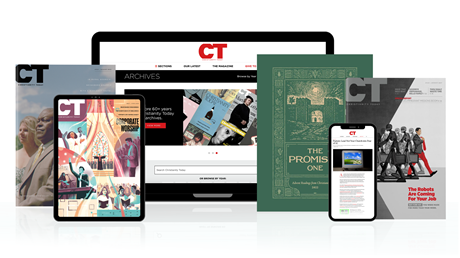 Subscribe to Christianity Today and get access to this article plus 65+ years of archives.
Home delivery of CT magazine
Complete access to articles on ChristianityToday.com
Over 120 years of magazine archives plus full access to all of CT's online archives
Subscribe Now
Bible Text of the Month: 1 Corinthians 5:19
Bible Text of the Month: 1 Corinthians 5:19