But he was wounded for our transgressions, he was bruised for our iniquities: the chastisement of our peace was upon him; and with his stripes we are healed (Isaiah 53:5).
If there is any one passage in the Old Testament which seems to the Christian heart to be a prophecy of the redeeming work of Christ, it is the matchless fifty-third chapter of Isaiah. We read it today, often even in preference to New Testament passages, as setting forth the atonement which our Lord made for the sins of others upon the cross. Never, says the simple Christian, was there a prophecy more gloriously plain.
Because of its clear-cut statement of the substitutionary atonement, it is a verse that is dear to every devout Christian heart. It begins with a glorious disjunction. The prophet has just set forth the erroneous view which men had held of the Servant. Now, however, he gives the real reason for the Servant's suffering, "but he …" We, so the thought may be paraphrased, thought that God had smitten him because of his sins, but the real reason why he was smitten is found in the fact that he was wounded for our transgressions.
Our Transgressions
And it was all for our iniquities and for our transgressions. What else, we ask, can these words mean than that he suffered vicariously? Not merely with, but for others? By no exegesis is it possible to escape this conclusion. And there is nothing in the conclusion that need surprise us.
DAVID BARON
The reason for the Servant's sufferings was, "our transgressions." More is suggested now than sympathetic identification with other's sorrows. This is an actual bearing of the consequences of sins which he had not committed, and that not merely as an innocent man may be overwhelmed by the flood of evil which has been let loose by others' sins to sweep over the earth. The blow that wounds him is struck directly and solely at him. He is not entangled in a widespread calamity, but is the only victim. It is presupposed that all transgression leads to wounds and bruises; but the transgressions are done by us, and the wounds and bruises fall on him. Can the idea of vicarious sufferings be more plainly set forth?
ALEXANDER MACLAREN
He suffered the punishment of sin, but it was "the just in the room of the unjust." This is the only principle which can harmonize the sufferings and death of the immaculately innocent, the absolutely perfect, incarnate Son of God, with the divine wisdom, righteousness, and benignity. It converts what appears the most unaccountable of all things—a piece of folly, injustice, and cruelty, on the part of the all-wise, the infinite holy, the infinitely benignant Jehovah—into the most glorious of all displays of his unsearchable wisdom, his eternal righteousness, and his exceedingly rich grace.
JOHN BROWN
Vicarious Suffering
There were no stronger expressions to be found in the language, to denote a violent and painful death. As min, with the passive, does not answer to the Greek hupo, but to apo, the meaning is not that it was our sins and iniquities that had pierced him through like swords, and crushed him like heavy burdens, but that he was pierced and crushed on account of our sins and iniquities. It was not his own sins and iniquities, but ours, which he had taken upon himself, that he might make atonement for them in our stead, that were the cause of his having to suffer so cruel and painful a death.
FRANZ DELITZSCH
The intensity of the Servant's sufferings is brought home to our hearts by the accumulation of epithets. He was wounded as one who is pierced by a sharp sword; bruised as one who is stoned to death; beaten and with livid weals on his flesh. A background of unnamed persecutors is dimly seen. The description moves altogether in the region of physical violence, and that violence is more than a symbol.
ALEXANDER MACLAREN
Completeness And Intensity
This verse is a wonderfully complete representation of the sufferings of Jehovah's righteous servant. It represents them as violent, severe, fatal, numerous, diversified, penal, vicarious, expiatory, saving, and reconciling. The great truth contained in it may be thus stated: the numerous, varied, violent, severe, fatal sufferings of the righteous servant of the Lord, were the endurance of those evils in which God expresses his displeasure at sin, in the room of those who had merited them; and were intended, and have been found effectual, for the expiation of guilt and the obtaining of salvation.
JOHN BROWN
There is no pardon for unexpiated sin; there is no expiation of sin, but in the Cross of Christ; and no saving virtue can come forth from that cross to the unbeliever. He who rejects Christ's sacrifice must answer for his own sin. God marks his iniquity; he will make exaction for it; and who can stand where the incarnate Son stood? Who can bear what he bore? Be warned ere it be too late. You can neither merit the divine favor, nor bear the divine wrath.
JOHN BROWN
Our Peace
The chastisement of peace is not only that which tends to peace, but that by which peace is procured directly. It is not, to use the words of an extreme and zealous rationalist, a chastisement morally salutary for us, nor one which merely contributes to our safety, but, according to the parallelism, one which has accomplished our salvation, and in this way, that it was inflicted not on us but on him, so that we came off safe and uninjured. The application of the phrase to Christ, without express quotation, is of frequent occurrence in the New Testament (See Eph. 2:14–17; Col. 1:20, 21; Heb. 13:20).
J. A. ALEXANDER
Righteousness And Mercy
The forgiveness of sins is a question of righteousness as truly as of mercy. If God cannot forgive in righteousness, then he cannot forgive at all. If he were to forgive simply because he is compassionate, or because (being sovereign) he so wills it, or out of mere good nature, he would remove the very ground on which my conscience plants itself in all its moral operations. It behooves that the glory of his character and the rectitude of his government should suffer no eclipse, but, on the contrary, be demonstrated. But now light is thrown on the case—though still deep mystery remains—when it is said, "The chastisement of our peace was upon him." Through his suffering for others, they obtain peace in the sense of reconcilement to God.
CULROSS
The spectacle of the Cross alienates many persons from Christ, when they consider what is presented to their eyes, and do not observe the object to be accomplished. But all offense is removed when we know that by his death our sins have been expiated, and salvation has been obtained for us.
JOHN CALVIN
Have something to add about this? See something we missed? Share your feedback here.
Our digital archives are a work in progress. Let us know if corrections need to be made.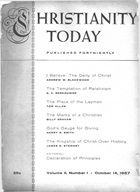 This article is from the October 14 1957 issue.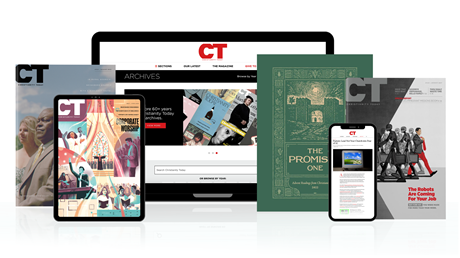 Subscribe to Christianity Today and get access to this article plus 65+ years of archives.
Home delivery of CT magazine
Complete access to articles on ChristianityToday.com
Over 120 years of magazine archives plus full access to all of CT's online archives
Subscribe Now
Bible Text of the Month: Isaiah 53:5
Bible Text of the Month: Isaiah 53:5