FAVORITE GREETING
If Nancy had not fallen into the Christmas tree, I might never have noticed. I was quietly reading a back number of Time (when I recover my copy from the boys' wastebasket or under the All in the laundry, it is always a back number); I was reading, I say, Time (and don't think there is any payola in my plugging that magazine or mentioning a detergent; sometimes I wish I were not so anonymous). I'll begin again. I was quietly reading when Nancy fell into the Christmas tree. It was a routine holiday accident, Nancy, age four, was crying because she couldn't touch the star on the top of the tree, and Willie was lifting her up so that she could, and Charles was lying on the floor watching television, and Sue was practicing a dribble and lay-up shot with an imaginary basketball. Sue stumbled over Charles and clipped Willie, who windmilled wildly before catapulting Nancy into the middle of the tree. The whole incident didn't take more than five seconds, and everything was set right in two or three hours, including replacing the tree lights and getting three stitches in Nancy's chin.
However, I recalled, while I was searching for the magazine again, that I had been reading about the success of Mr. Hall of Hallmark Cards (remember, I don't receive even a complimentary get-well assortment out of this). I had just come to the sentence that stated what the alltime best selling card was when the catastrophe struck. What was that alltime bestseller? The question became important. Here was an image of an age. This is the kind of thing a budding sociologist takes seriously. No doubt the bestseller would be seasonal. Perhaps a wise men design, symbolizing the yearning of modern man for his dimly remembered faith.
Three days later, I found the right magazine in the public library. I finished the article. The alltime bestselling card shows a cart loaded with pansies.
I walked home through the sleet. Am I, too, a beatnik at heart? What's wrong with pansies? Perhaps they will become the national flower. Or does this account for the "time wounds all heels" variety of cards that are taking over at the drug store? Is this the revolt of existentialism against the old liberal optimism of the pansies? Does the elderly Mr. Hall have the same sure touch in selecting designs for these wierdies?
There was a get-well greeting for Nancy in the mailbox from Aunt Sally. Yes, a cartload of pansies.
EUTYCHUS
FOURTH YEAR FRONTIER
Thank you for your continuing high standards, even after … three years of publication.
HAROLD MARR
St. David's Presbyterian Church
Campbellville, Ont.
Personally I find immense profit in reading your paper and would not be without it.
C. H. ZEIDLER
President
Northwestern Lutheran Seminary
Minneapolis, Minn.
We regard CHRISTIANITY TODAY as an outstanding religious magazine providing scholarly and conservative articles which constitute wholesome reading for our seminary students as they face the responsibilities of the ministry. I am particularly grateful for the evangelical tenor of the articles and for the calibre of men whom you invite to write for the magazine.… Your editorial staff is to be congratulated most heartily on the production of this splendid religious magazine. It is rendering a distinct service in American Christianity today.
E. E. FLACK
Dean
Hamma Divinity School
Wittenberg University
Springfield, Ohio
I hope all of … our students … eventually become subscribers.
GILBERT L. GUFFIN
Eastern Baptist Seminary President
St. Davids, Pa.
We have high regard for your splendid periodical, believing that it is the best paper of its kind on the market.
BURTON L. GODDARD
Dean
Gordon Divinity School
Beverly Farms, Mass.
Let me take this opportunity … of expressing my … appreciation for the paper.… I have been a subscriber for some time and always read the paper with interest.
GEORGE G. HORN
Dean of the Seminary
Bloomfield College and Seminary
Bloomfield, N. J.
Only today I quoted at length from an editorial … in our chapel talk. We thank God for CHRISTIANITY TODAY.
HOWARD W. FERRIN
President
Providence-Barrington Bible College
Providence, R. I.
It has been my pleasure to receive the magazine from the first issue.… Our entire student body and faculty and staff are committed to the evangelical principles promoted by your magazine. We are all for it!
ROY S. NICHOLSON
Bible Department
Wesleyan Methodist College
Central, S. C.
I am sure, from my own experience, that the reading material in this magazine is of high caliber and is of informational and inspirational value to seminary students and others in the ministry.
FRANK R. BROWN
Dean
Hood Theological Seminary
Salisbury, N. C.
May the Lord continue to bless abundantly in the testimony you are exercising for Him in CHRISTIANITY TODAY.
JOHN F. WALVOORD
President
Dallas Seminary
Dallas, Texas
We of the staff of Azusa College consider this magazine one of the finest Christian periodicals we have.
EDWARD PETERMAN
Librarian
Azusa College
Azusa, Calif.
We appreciate your informative magazine as it serves to stimulate the thinking of all students of the Word and the contemporary scene.
S. BRUCE WILSON
Pres.
Reformed Presbyterian Seminary
Pittsburgh, Pa.
We certainly intend to continue subscribing to it, for we find it to be one of the very finest of all evangelical magazines published today, offering much meat for mind and much inspiration for soul and spirit.
HERBERT GIESBRECHT
Librarian
Mennonite Brethren Bible College.
Winnipeg, Man.
We have found CHRISTIANITY TODAY to be a Christian journal of exceptionally high merit and it is used and discussed by a number of our faculty members.
Ross J. GRIFFETH
President
Northwest Christian College
Eugene, Ore.
CHRISTIANITY TODAY is a very popular magazine at South-Eastern Bible College among our faculty and staff.
ANDREW E. SPENCE, JR.
Pres.
South-Eastern Bible College
Lakeland, Fla.
CHRISTIANITY TODAY is one of the most used periodicals in our library, and almost every instructor sends his class to the bound copies, as well as to the current issues, for reading assignments.
ANDREW W. MILLER
Dean
School of Theology
Anderson College and Seminary
Anderson, Indiana
I have personally been a subscriber … from [the] very first edition. I am sincerely grateful to almighty God that the magazine has progressed so rapidly to the point that it is undoubtedly the authoritative voice of evangelical Christendom.
LEWIS J. WILLIS
Editor
The Lighted Pathway
Cleveland, Tenn.
I must thank you for the profit and pleasure I have gained from the top-notch articles contained in every issue of CHRISTIANITY TODAY. At the first I was a bit suspicious of a new magazine or the need for it. I am now completely convinced that I was wrong in not giving the first few issues my wholehearted praise without mental reservations.
ROBERT JAMES DEVINE
St. Paul, Minn.
We appreciate the contribution CHRISTIANITY TODAY is making. It has certainly achieved its objective thus far in forging into a place of leadership in Christian publications.
THEO SOMMERKAMP
Asst. Director
Baptist Press
Nashville, Tenn.
I'm sorry, but I am not interested in Christianity in such a conservative vein. Rather than maintain the status quo of conservatives, I am more interested in pushing into new areas of Christian challenge.… That anyone who is a "seminary trained minister" should feel constrained to hold the physical resurrection as a literal fact is missing the main challenge of today. We must not think that the New Testament stories are to be thought of as contradicting one of our most advanced sciences today (medicine).… I am a professor of church history and historical theology, and a Congregationalist in denominational affiliation.
[Name withheld]
Cambridge, Mass.
I enjoy every minute I spend with CHRISTIANITY TODAY.
W. L. MARGARD
Calvary Evangelical and Reformed
Crestline, Ohio.
I have read your paper both with interest and with real profit ever since the first issue was published, and am sure that it can greatly increase in its service as a weapon for truth in the Christian church as it falls into the hands of more and more Christian laymen.
HERBERT W. DALE
Stanley, N. C.
I would like to say that I have come to regard CHRISTIANITY TODAY as the very best magazine in the field of evangelical publications. So far as I am personally concerned, I would not willingly exchange your magazine for any other religious publication in the United States.
J. M. NICHOLSON
Blairsville, Ga.
I am so antipathetic to all that you stand for that … you will do better by yourselves if I just don't know you still exist.
EDWARD CHANDLER
St. Michael and All Angels Episcopal
Cincinnati, Ohio
My wife agrees that we have received no magazine so daring, so frank, and so scriptural and clear in stating difficult and usually unclarified religious ideas.
F. C. WUNDER
St. Matthew's Parsonage
Allentown, Pa.
Congratulations on a paper which, while it often provokes disagreement, is almost always well worth reading.
J. HARVEY BROWN
Holy Trinity Vicarage
Surrey Hills, Victoria, Australia
It is … a helpful publication to a good Protestant … but does not satisfy or meet the need of an Anglo-Catholic like myself.
A. G. VAN ELDEN
Blue Ridge Summit, Pa.
Your magazine, of which I still have every single issue, is like an oasis to an ex-Romanist like me.
WILLIAM J. BROWN
Detroit, Mich.
May I compliment you on the standard of the articles in your journal … well-written, enjoyable, and helpful in their field … despite their pronounced Protestant bias.
B. A. KNOX
University of Queensland
Brisbane, Australia
Your magazine is good for those with low blood pressure, but mine is high.
MYLES D. BLANCHARD
Universalist Church—New York State
Auburn, N. Y.
I … find it useful in my ministry, primarily because it is an irritant and a stimulation which arouses my thinking. Park City Methodist
DONALD KRIBBS
Knoxville, Tenn.
I have enjoyed CHRISTIANITY TODAY very much, but I cannot swallow everything.
J. A. CARPENTER
Monverde, Fla.
I have been time and again refreshed by the reading of CHRISTIANITY TODAY and consider it a vital link … [with] my co-workers in the States as well as elsewhere.… Sometimes I get riled up and sometimes an 'amen' wells up within. I might even react on paper some day.
DANA LAWSON
North Lakhimpur, Assam, India
Your magazine is by far the best that I have ever read and God forbid that my subscription will ever lapse again.
ARCHIE SHOWEN
Grantsville, W. Va.
I … feel that I ought to begin to pay my own freight. I think you will be interested to know that while I probably have a completely opposite theological position from you and your magazine, I find it stimulating and rewarding. While many of the articles do not reach me at all and tend to make me place barriers in our communication with each other, now and again there is an article which really reaches me. This does not mean that your magazine is in any way an agent which converts me. However, it does speak to me, and it does enable me to know your position. I have come to respect you and your position, although I find in major instances I am of completely the opposite mind.… I join the list of your subscribers with the thought that it's always good to know what the opposition is saying and with the humble prayer that occasionally you may speak to me, an unrepentent liberal.
L. WILSON KILGORE
Lakewood Presbyterian Church
Lakewood, Ohio
I am glad to notice how many individuals, who do not consider themselves conservative or evangelical, regularly read CHRISTIANITY TODAY to find out what the "other side" is thinking. And it seems to me that more and more scholars willingly listen to what the conservatives say, admitting that "they may be right after all."
RICHARD E. TAYLOR
St. Mary's College
St. Andrews, Scotland
Certain articles have been of such tremendous help to me that I cannot … help … but continue subscribing.
WALDO LEPP
Hague, Saskatchewan
Modest pension—but must include CHRISTIANITY TODAY.… [I am] a Lutheran pastor (emeritus) who loves your Word-centered, Christ-centered spirit.…
JOHN F. FEDDERS
Maitland, Fla.
I am superannuated. I do not know how superannuation works out in your country, but here it has by no means kept pace with inflation. Indeed our superannuation was fixed a generation ago, and though there has been a slight increase it has not been proportional. Superannuation has increased by 12 per cent and inflation by 300 per cent.… Much as I value and use CHRISTIANITY TODAY, if I have to do without it, I shall miss it and regret the deprivation, but must look upon its loss as one which cannot be helped.
DONALD BAKER
Olinda, Victoria, Australia
I find myself most often in disagreement with your paper. When you do take a stand … on Christian social action …, it seems to me you usually take the wrong side.
F. CLYDE HELMS
Charlottesville, Va.
I feel it meets a real need in the life of a pastor.… You cover a wide variety of subjects, and generally you cover them well.
SIDNEY DRAAYER
Trinity Chapel—Christian Reformed
Broomall, Pa.
I am one of those few who did not greet with enthusiasm your venture into religious journalism with an economic, political, and religious conservatism masquerading as the voice of American Protestantism.… It's a free country: you have every right to say whatever you care to say. But don't for a minute pretend you are conducting a crusade: most of the sources of information, and most of the money, will be found to be on your side.
ROBERT B. PERRY
South Hamilton, Mass.
CHRISTIANITY TODAY is certainly filling a great need of our day: Christian scholarship untinted by skepticism and unbelief. Many shall be your hecklers, but many more, I feel, shall be your prayerful supporters.
R. F. GATES
Shreveport, La.
It offers me no challenge to face the day in which we live.
DONALD T. ROWLINGSON
Boston, Mass.
Enjoy the magazine very much, and since we believe that personal, individual conversion is the only real hope for the survival of Christianity today, we are glad that your magazine is in existence and that we are privileged to be able to receive it.
CHARLES J. D. MCVEIGH
Stanhope, N. J.
Never have I been so enthused over a religious periodical. To read CHRISTIANITY TODAY is like cheering for one's own team. The articles include such a wide variety of appropriate subjects that the value of such a publication is immeasureable.
MILTON H. ALLEN
Chaplain
New York, N. Y.
All your magazine does, is raise a lot of questions of doubt about Christianity. There are enough secular magazines doing this.
CHARLES M. PHILLIPS
Daly City, Calif.
We appreciate so very much the great ministry of CHRISTIANITY TODAY and pray for your continued success.
GEORGE L. FORD
National Association of Evangelicals
Wheaton, Ill.
I … am convinced that it is of little value to me.
JAMES S. MEAD
Eugene, Ore.
I feel that denominations still have their place and serve their purpose, provided Christ is given the pre-eminence. I do not believe that the time is ripe, nor that it is a sound step, to disregard all denominational identity. However, I do believe that it is high time for evangelical Christianity to unite on a co-denominational basis. I hope that under the guidance of the Spirit of God your publication … will help to achieve this unity for the Christian witness' sake.
P. A. UNGER
Calgary, Alta.
Many religious journals come to my desk, but frankly, I think this one to be the most valued of them all.
AUSTIN G. MCCOIG
Northside Methodist Church
St. Petersburg, Fla.
I find your paper informing in many fields and theologically dependable.
HUGH M. MILNE
Carlisle, Iowa
I … do not believe that the position the paper takes will rescue Christianity from the slough of unbelief into which it is fallen and in which it is floundering around.
J. GORDON HOLDCROFT
The Independent Board for Presbyterian Foreign Missions
Philadelphia, Pa.
It is refreshing to receive a paper whose theology can be trusted.
ROBERT H. MILLER
Franklin, Pa.
Your unbiased coverage of news and your inclusion of all Protestant groups is gratifying. Most of all your clear and sharp evangelical witness to the inspiration of the Scripture is so much needed in this day of apostasy and dead or neo-orthodoxy.
AXEL GUMMESON
Radisson, Wise.
You are doing more good to the world conservative position than you either know of or could possibly estimate. Could an editorial stress the crying need of incessant prayer by conservatives for each other throughout the world? It could add 'overdrive' to the present conservative momentum. Above all, keep it up and never lose heart!
A. F. WARNER
Chingola, N. Rhodesia
You are doing the nation, and all of us who read your paper, a great service in this publication. I shall pray that its circulation and influence shall be multiplied many times over. Without such witnesses as yours, the future of our nation would be darker than it is. God grant also, that we may have a resurgence of genuine New Testament, Christ-centered Christianity. Without it, we perish.
CLAUDE O. TUCKER
St. Johns Methodist Church
Sarasota, Fla.
Have something to add about this? See something we missed? Share your feedback here.
Our digital archives are a work in progress. Let us know if corrections need to be made.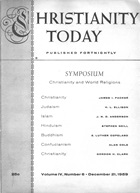 This article is from the December 21 1959 issue.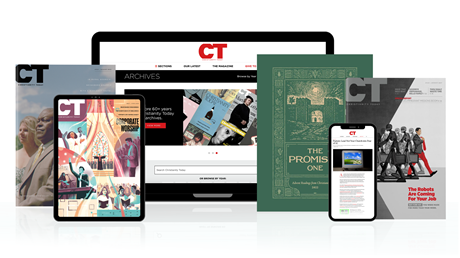 Subscribe to Christianity Today and get access to this article plus 65+ years of archives.
Home delivery of CT magazine
Complete access to articles on ChristianityToday.com
Over 120 years of magazine archives plus full access to all of CT's online archives
Subscribe Now
Eutychus and His Kin: December 21, 1959
Eutychus and His Kin: December 21, 1959