Evangelical Christians uphold the Pauline doctrine "that a man is justified by faith without the deeds of the law" (Rom. 3:28). With great vigor both Luther and Calvin defended the doctrine of salvation by grace alone against the Roman dogma of merit. Calvin ardently supported statements of Luther such as the following: "Grace must be gratuitous, that is, offered gratis. It must be bestowed freely; otherwise it is not grace" (Luther's Works, Weimar edition, 43:607). Against the Roman dogma of the meritoriousness of good works Luther asserted time and again that there can be no place for human merit between God and man. To God alone belongs all glory for man's redemption and salvation. It is only then, when man's salvation is ascribed to divine grace in its entirety, that the glory of God can be fully maintained (Weimar, 7:148). Unbelief, or man's vain self-glory, is a violation of the glory of God (Weimar, 43:620). Faith that receives God's grace and trusts in his mercy and truth, humbly attributes all glory to him (Weimar, 40:1, 360, 363; 10:2, 166). For this reason all true Christians do their works solely to God's glory (Weimar, 19:659; 30:2, 663, 668; 43:620). On this doctrine Luther and Calvin were fully agreed (cf. Reinhold Seeberg, Die Lehre Luthers. Dogmengeschichte IV, pp. 186 ff.).
The Roman doctrine of merit, however, may seem on the surface to be supported by the reward motif which Scripture stresses from beginning to end. The divine Word promises to all who faithfully do the Lord's will, trust in Christ, perform good works in his name, endure to the end, bear their cross with humility and patience and follow Christ throughout their life, a rich reward in heaven. How can this scriptural reward motif be harmonized with the central gospel doctrine of salvation by grace through faith in Christ without works?
It is hardly necessary to illustrate the reward motif by pertinent passages, since these doubtless are well known to all evangelical Bible students. Nevertheless, a few passages promising a reward to believers will remind us of how emphatically the doctrine is taught. Thus those who receive a prophet in the name of a prophet will receive a prophet's reward, and those who receive a righteous man in the name of a righteous man will receive a righteous man's reward (Matt. 10:41). Even those who give to Christ's little ones only a drink of cold water in the name of a disciple will have a reward (v. 42). Christ's followers who are reviled and persecuted for his sake should rejoice and be exceeding glad, because great is their reward in heaven (Matt. 5:11, 12). Those who love their enemies and do good to them will receive a great reward (Luke 6:35). If on Judgment Day any man's work in Christ's ministry will abide, he will receive a reward (1 Cor. 3:14). Believers are to look to themselves that they receive a full reward (2 John 8). Christ will come quickly and his reward is with him to give every man according to his work (Rev. 22:12). And in Genesis, God promised Abraham to be his shield and his exceeding great reward (Gen. 15:1). So the reward motif is found in the Bible from Genesis to Revelation.
Reward Of Grace, Not Merit
In dealing with the strictures of his opponents, Luther maintained on the basis of Scripture that the promised reward was not one of merit, but one only of grace. He was by no means perplexed by the criticism of his adversaries, but rather greatly encouraged to teach the sola gratia just because of God's gracious promises of a reward. He recognized in these very promises God's superabundant grace on which he could fully rest his salvation. In his exposition of Psalm 19:11—"Moreover by them [the divine statutes] is thy servant warned: and in keeping of them there is great reward"—he writes:
All this is said to comfort those who labor, not to confirm the covetousness of those who as hirelings and mercenaries seek a reward.… Similarly, he comforts also those who are troubled, in 1 Corinthians 15:58: "Forasmuch as ye know that your labor is not in vain in the Lord." For God's (true) servants should know that they please him in their toil so that they do not become weary, discouraged and despondent. God desires cheerful doers of his statutes who do not look for a reward. Nevertheless, those who please him will surely receive a great reward, though they do not work for it. God, who said to Abraham: "I am thy exceeding great reward" (Gen. 15:1), cannot contradict himself (St. Louis ed., 4:1165 f.).
In his great controversial monograph against Erasmus, "Concerning the Enslaved Will," Luther remarks: God's children cheerfully and gratuitously do what is good and do not look for any reward. They seek only the glory and pleasure of their (heavenly) Father; they are willing to do what is good even—to assume the impossible—there be neither heaven nor hell. This, I believe, is proved sufficiently by the one statement of Christ which I adduced above: "Come ye blessed of my Father, inherit the kingdom prepared for you from the foundation of the world" (Matt. 25:34). How can they merit that which already is theirs and has been prepared for them before they came into being?… But why does Scripture stress the reward so greatly?… by them the godly are incited, comforted and encouraged to continue, endure and be victorious in doing what is good and in bearing what is evil so that they may not become weary or downhearted, as St. Paul comforts the Christians in 1 Corinthians 15:58 (St. Louis ed., 18:1809 ff.).
According to Scripture, God not only gives his elect saints eternal life as a free gift, but he also rewards the grateful ministry of his believing children on their way to heaven. Viewed in this way the doctrines of the promised reward and of free grace may be taught side by side as does the Bible. To God's grace alone we owe our salvation; by his promise of a gracious reward we are assured that our work in our Christian ministry is pleasing to him for Jesus' sake. Both prove the unfathomable love of our merciful Father in heaven.
What The Reward Will Be
While Holy Scripture promises God's believing saints a rich reward in heaven, it never intimates what the reward will be. It certainly will not consist in a greater degree of salvation, since all believers will share alike in the free and full salvation which Christ has procured for them by his vicarious atonement. In view of Paul's words in 1 Corinthians 15:41, 42: "One star differeth from another star in glory. So also is the resurrection of the dead," some church teachers have argued that the reward might consist in greater glory, especially because of God's promise: "They that be wise shall shine as the brightness of the firmament; and they that turn many to righteousness as the stars forever and ever" (Dan. 12:3). It seems best, however, not to speculate. Paul's argument in Romans 8:32: "He that spared not his own Son, but delivered him up for us all, how shall he not with him also freely give us all things?" deserves consideration also with regard to his reward of grace. Since God by his dear Son has bestowed upon us so rich a treasure of spiritual gifts, we may leave also the gift of his reward to his never-failing superabundant love.
The evangelical pastor may hesitate somewhat to address his congregation on God's gracious reward, since his promises may be interpreted by some as implying a reward of merit and so may lead to the surrender of the sola gratia and the adoption of the Roman dogma of the meritoriousness of works. But the scriptural doctrine of God's gracious reward is not so complex as to render it impossible for a pastor to explain to his hearers what it means. If presented side by side with the sola gratia, the doctrine will certainly not be misunderstood, but will greatly encourage the believing church members to continue in the Lord's work with zeal and devotion. In fact, the doctrine must not be withheld from Christian believers, since it is a clear and greatly stressed teaching of God's Word.
As we study the scriptural doctrine of God's gracious reward in its usual context, we find that it is given especially to such believers as face extraordinary trials. Today consecrated church members are in special need of the rich comfort which the gracious promises of a reward convey to the Lord's dear but troubled saints. There are so many factors that discourage loyal participation in the Lord's work. Usually it is the small nucleus of 20 per cent that does the major part of a congregation's Christian service.
Now, all believers in Christ are saved by grace, even those whose faith is weak and whose service is lacking in zeal. But let no one think that, since all are saved by grace, all, while receiving a free and full salvation in heaven, will be given also the same reward of grace and glory. Those who give themselves fully to the Lord store up rich treasures for themselves in heaven. Even the least good work done in Jesus' name to his saints will be remembered and rewarded on the day when the Judge will return in glory. The service we do on earth is temporal, but the reward is eternal. God is a beneficent paymaster; he gives far more than the human mind can conceive.
Viewed in this light, the reward motif in Scripture is of the greatest importance; it glorifies God's abounding love and greatly encourages Christian believers to be zealous of good works.
END
Preacher In The Red
TERMINAL MINISTRY
I formerly served in a community in southwest Virginia where there was a chapel sponsored by my church. This was at the opposite side of the town. It was reported that one Sunday, in announcing the services, my predecessor said:
"There will be preaching in the west end at 11 A.M., preaching in the east end at 3 P.M., and babies will be baptized at both ends."—The Rev. WILLIAM R. SENEGEL, First Presbyterian Church, Fulton, Mo.
J. T. Mueller is crowning his long years of service as a Lutheran (Missouri Synod) theologian by writing and modified teaching service at Concordia Seminary, St. Louis, where he has been a professor since 1920. He will be 74 on April 5, 1959. Dr. and Mrs. Mueller celebrated their golden wedding anniversary February 25, 1958. Three sons are ministers.
Have something to add about this? See something we missed? Share your feedback here.
Our digital archives are a work in progress. Let us know if corrections need to be made.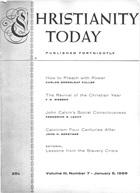 This article is from the January 5 1959 issue.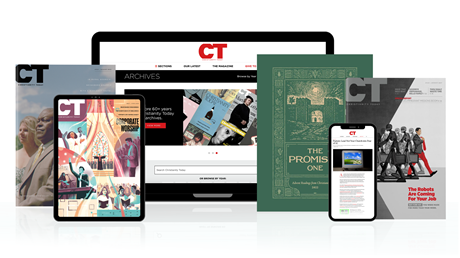 Subscribe to Christianity Today and get access to this article plus 65+ years of archives.
Home delivery of CT magazine
Complete access to articles on ChristianityToday.com
Over 120 years of magazine archives plus full access to all of CT's online archives
Subscribe Now
The Saint's Reward and God's Grace
The Saint's Reward and God's Grace