To be an evangelical minister or layman ought to mean one's giving Christ the place of honor. In the New Testament, in the writings of the Church Fathers, and in our noblest hymns, the Lord Jesus towers above all the sons of men. "Crown Him with many crowns!" Yet, it is disconcerting to see in our time a tendency among religious people to let other good men and causes take the place that should be accorded to Him. To a certain extent this inclination prevails among us who call ourselves evangelical.
To deal with the matter adequately, one would have to write a book, a well-documented book. In an article, however, one can only attempt a sort of "cake mix," and leave the reader to supply the plentiful ingredients. Perhaps in order to keep the matter simple, we may think about it only as it relates to the four Gospels.
The Christ Of The Gospels
Every reader knows that throughout the Gospels, Christ has the place of honor. It is for him—the Son of God and Redeemer of men—that the Gospels exist. The earliest of them, for example, begins this way: "The beginning of the gospel of Jesus Christ, the Son of God." Each of the others also, in a fashion all its own, presents a Christ-centered beginning. Every one of the four stresses Christ at the end; and between the opening and the closing words, it would be hard to find an important paragraph that is not mainly about him as central Figure.
In a painting by Michelangelo or Raphael, Christ may be made to appear walking or sitting with other men, but always it is on his face that the light falls most strongly. So in the Gospels, with the sort of art that does not call attention to itself, the Lord Jesus stands as the focal point of every scene in which he appears. Other men emerge only as they have dealings with him. Herein lies the idea, for all evangelical preachers, writers, and teachers.
We note that two of the evangelists, for example, deal with the birth of the Lord Jesus. In paragraph after paragraph the light falls chiefly upon him, not upon Mary, the shepherds, or the wise men. In the pivotal chapter of Matthew's Gospel (16:13–28), the discussion has to do with Christ's Person, his Church, his coming Cross, his disciples, and his later Glory. With the hand of a master, the evangelist here shows how the Lord Christ dominates every situation.
So in the account of the Transfiguration, Christ stands out in relation to Moses and Elijah, as well as young Peter, James, and John. Little by little these other persons fade from view, so that the beholder, now as then, sees no man but Jesus. By faith being "lost in wonder, love, and praise," the onlooker ought to be changed into his likeness, "from glory unto glory" (2 Cor. 3:18). What a way to read the Bible! The interpreter does more for his lay friends by introducing Christ than by talking about them to those callow young men on their way down to the valley of service.
At the Passion play in Oberammergau the action starts with the Triumphal Entry on Palm Sunday. Throughout 40 successive scenes Christ stands forth as the dominant Figure. Ideally, no man ought ever to act the part of Christ. While witnessing the Passion play two different years, many of us learned to "see" as well as think about the dying Redeemer. One year we felt that "Judas" had overshadowed the Christ; the other time, Christ himself stood out almost as clearly and superlatively as in the Gospel records. "No mortal can with Him compare."
We may observe that same truth in glancing through the pages of a good hymnal. I was going through our standard Presbyterian book of praise and found a few poems such as Washington Gladden's "O Master, Let Me Walk with Thee," which I seldom use, and James Russell Lowell's "Once to Every Man and Nation," which I never have sung in worship because I do not believe in a succession of "new Calvaries," nor in any modern cause as "God's New Messiah." But to my delight I found that among the 513 hymns in the book, nearly all of those about Christ accord him the place of honor he has everywhere in the Gospels. These Christ-centered hymns nearly all come from earlier times.
In the pulpit and in Bible classes the trend of late has changed. Even with evangelicals, other persons and interests tend to overshadow the Lord Jesus, both in his Deity and in his humanity. A glance through the index of any religious journal today will show that other good men of Bible days and Church history receive from writers more attention than the Lord of Glory. In a laudable endeavor to promote Bible reading among church women, leaders in certain circles promoted wide use of an able book about Luke. Many of the women imagined that they were learning how to read and enjoy the Bible.
But what are the facts? The author of the third Gospel and the "Fifth Gospel" never refers to himself directly. In every paragraph he presents a truth, a person, or persons in relation to Christ. Christ is the central Figure. Nowhere is the attention called away from him. As for the other writers, as well as Luke, their purpose for writing was not to exalt themselves.
The Christ Of Today
An unintentional humanization seems to appear in much of our reading and preaching about the Christ of the Gospels. At Christmas we stress Mary as the ideal mother, or put a caption underneath the shepherds to emphasize ourselves: "The Christ of the Common People." A little later we show the wise men: "The Christ of the Uncommon People."
In preparing a sermon or a Bible lesson about the Transfiguration (Matt. 17:1–21), how many of us attain to artistry like that of Raphael? At the top of one of his paintings he shows the scene on the mountain with the heavenly visitants and astonished disciples. Then at the foot of the canvas he portrays a scene of the multitude in the valley. But gazing up at the Lord of Glory are the eyes of a demoniac lad. Here in this painting we see many lines converging on the Christ, with the light full in his face. How did Raphael bring unity out of these two contrasting scenes? He used imagination, the God-given power to see. Then he used lights and shadows in order to make the truth about Christ stand out. Again, this is the way we ought to preach and teach about the Christ of the Gospels! On behalf of the preacher or Bible teacher, the dearest friend ought often to intercede: "Lord, I pray thee, open his eyes that he may see" (2 Kings 6:17b). Then the man of God will see his Lord, and enable his friends to see him as Redeemer and King.
In the days that lead up to Easter, modern misinterpreters of Holy Writ seem to insist on preaching or teaching mainly about "Personalities Around the Cross." All of them have their place, but only with reference to Christ as the central Figure. Even on Good Friday an ingenious preacher or teacher can deal with the "Seven Last Words" in a way that makes them seem to be about those for whom the dying Redeemer prayed—such as, the penitent thief whom Christ forgave, the impenitent one who refused to plead for mercy, or the mother of Jesus with her adopted son John. No one could correctly present the facts without showing these human aspects as well as the divine, but surely the stress ought to fall on the facts about Christ, for he alone can redeem.
One Good Friday the Protestants of Trenton, New Jersey, filled the largest local assembly hall for a union service. As their speaker they had invited a widely-known and gifted evangelical divine from a large city nearby. He "rose to the occasion" with a brilliant study of "Dreams that Disturb" (Matt. 27:19). With no special reference to Christ as the dying Redeemer, the speaker dealt ably with various sorts of dreams that disturb us today. In a way, that semi-secular address could have qualified as a masterpiece. And yet more than one hearer felt that if he had gone over to the Roman Catholic church he might have heard or seen something about Christ and his Cross.
Before any critic casts a hasty aspersion on such a speaker, let him examine his own record. Did he, as a preacher or teacher, stress God the Father, the Son, or the Holy Spirit on the preceding Lord's Day? During the last few months has he often presented the Gospel as it centers in some one Person of the Triune God? Surely we ought never to ignore the way God reveals truth by means of Peter, James, and John; or Pilate, Herod, and Judas. But no less surely this truth can save and sanctify us only as it relates to Christ, the "central Sun of all our seeing."
Man-centered preaching and teaching have become so common in some cities that an evangelical can give way to the contagion without knowing that he has fallen short of his early vows. For instance, a young man of ability came from a city church to the seminary for study. One day in class he preached an able man-centered sermon from a text and topic about Christ as Saviour. By appointment he came to the study that same afternoon to discuss his sermon. Before we began I asked if he had any questions. Indeed he had!
"Why do you have us fellows read the sermons of Fosdick?" he asked. "Surely you know that he is a humanist, and that he almost always deals with a subject horizontally."
I answered that every young man going into the ministry ought to know about the pulpit work of the most widely-read pulpiteer of that decade. Personally I did not agree with Fosdick, but I had learned from him a good deal more than from many writers with whom I agreed.
"Before I answer your question more fully," I went on to say, "let us look at your sermon, which is good of its kind. Please glance over it, a paragraph at a time, and when you find a unit of thought about Christ, God, or anything else that you call vertical, mark the paragraph D(ivine). If the paragraph is mainly about us or other persons and things not calling for an upward look, mark it H(uman)."
The young man started with alacrity. He had grown up "determined not to know anything among you, save Jesus Christ, and him crucified" (1 Cor. 2:2). He was sincere and high-minded. After he had glanced at the first paragraph he went back and read it through again. With a frown he wrote in the margin "H." And so it was with all the paragraphs that followed. Then he exclaimed, "Why, professor, here I am doing what I have found fault with Fosdick for doing!"
"Yes," I replied, "the difference between you and many other young evangelicals is that you now know what you have been doing. You have time and opportunity to learn how to present the claims of Christ Jesus." Would that we who hold a different theory of preaching than that of Harry Emerson Fosdick could present our way with as much human interest and practical effectiveness as he does in dealing with human problems on the basis of human experience, much of which he draws from the Bible.
A Closing Word
We have not yet faced "the preacher's forgotten question, How?" "How can I preach or teach so as to give Him the place of honor?" The answer calls for hard thinking. I am going to do what many men do when they come face to face with a problem they cannot solve. They ask, "What do you think?"
If you preach or teach the Bible, you ought to face this question "How?" Think about it and pray. If by grace you come to the right answer, and accept it, you will learn to present Christ the way he appears in the Gospels. Then those to whom you introduce him will exclaim to one another, "Did not our heart burn within us, while he talked with us by the way, and while he opened to us the scriptures?" (Luke 24:32).
END
Andrew W. Blackwood is Professor Emeritus of Princeton Theological Seminary and is at the present time engaged in writing. Author of many books, he has served most recently as compiler and editor of Evangelical Sermons of Today.
Have something to add about this? See something we missed? Share your feedback here.
Our digital archives are a work in progress. Let us know if corrections need to be made.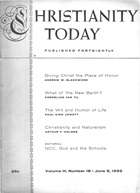 This article is from the June 8 1959 issue.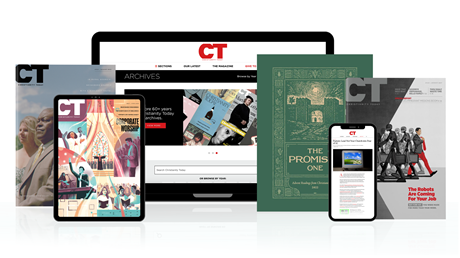 Subscribe to Christianity Today and get access to this article plus 65+ years of archives.
Home delivery of CT magazine
Complete access to articles on ChristianityToday.com
Over 120 years of magazine archives plus full access to all of CT's online archives
Subscribe Now
Giving Christ the Place of Honor
Giving Christ the Place of Honor