Simon Peter saith unto them, I go a fishing.
The Sunday after Easter is often called "Low Sunday" for obvious reasons. The crowd is not here that was here last Sunday. Even we ourselves feel a little let down. We have come through the long season of Lent, we have lived through the critical days of Jerusalem with our Lord, we have seen the crowds welcome him and then the leaders crucify him with the mob calling for his blood. And then comes the great climax of Easter. It is always for us a day of supreme power and joy. But there is something about all that build-up and climax that takes it out of you just a little.
What do we do after such a great elation? When there has come into our lives a great emotional or spiritual climax, what happens next?
I think there are two different things which we may do. One is that increasingly we begin to distrust the elation and call it pure emotion. We turn back to life's less colorful but familiar routines, and say to ourselves that these responsibilities constitute the only real living. Some of us pride ourselves upon our unemotional natures, look with disdain upon those who allow themselves to thrill very much, and feel more at home among those concerns of life which do not take so much emotion but rather the dogged pursuit of the customary. After all, the pitch of emotion is hard to hold; while the daily drive of duty is within every man's grasp. We often cheat ourselves out of great new heights of living, out of great fresh insights into the meaning of our existence, by saying things like this to ourselves.
And the other course is to recognize the reality of what has taken place, and to envision life afresh in the light of it. To be sure, we must return to life's routines and responsibilities; but they ought to shine with a new meaning. We ought to see in the daily chores new possibilities, new vistas of accomplishment and reward. The elation and emotion of the great moment that lies behind us ought to trickle down into the dryness and customariness of our routine and moisten it as rain does dry ground. There should be new energy in the moment of insight and elation that will transform what we have to do in the daily grind and make it infinitely more than it used to be.
The Old Lure Of Worn Paths
Simon Peter is always a help to us, and he is a help here. He was of a profoundly emotional nature. He responded to human needs and to divine calls. He gave himself with abandon and enthusiasm. We may be sure that as the iron of Good Friday entered into his soul, with the memory of his denial and disloyalty, so the Resurrection was for him an immensely emotional experience. To make up your mind for almost 48 hours that your beloved Master was dead, and know you had failed him in the crisis, and then suddenly to discover that he was alive again—so you could go and tell him how sorry you were, and begin with him again—this was a profoundly shaking experience. Some time after the Resurrection Peter was back again in Galilee. I wonder why he went. Our Lord promised to meet him in Galilee—possibly that is why he went. But there may have been another reason. Did Simon Peter want to go back among the familiar scenes where he had lived and worked formerly, and test himself out on all this Christian discipleship? Did he want to see how he really felt about this overwhelming contrast between Good Friday and Easter, and what was his considered judgment about the Resurrection when you put it all up against the simple life of catching fish? I do not know. But it is possible. When we meet him in the last chapter of St. John, he is with some of his friends by the old familiar lakeside in Galilee, saying to them, "I go a fishing."
What did that mean to him? Was it the first step in a possible reversion to the old life—the old safe life of the fishing business? It may have been only temporary enjoyment of his well-loved art and trade; but I am inclined to think there was just a little temptation for him in this. I think it stood for the old pre-Christian days when life had asked relatively little of him, when he had been just a decent, honest, self-respecting, wifesupporting fisherman up there by the lake of Galilee. It had all been very different from following a Man whose very name caused controversy, a Man who made stupendous claims and then backed them up, who asked tremendous sacrifices and expected them, who stirred things up and was uncontent to let well enough alone. His had been a very stormy career. It ended with a violent death. And then—there was that great mystery of the Resurrection. They had seen Him to be sure, but the point was which life should Simon Peter choose once and for all—the life he knew and understood, the life where he was sure he was headed for a decent income and a happy old age in the village—or the life he only partially understood, the life where he was headed for he did not know what, probably martyrdom like his Master's? After all, he must have said to himself, you can't always live on the mountain-top excitement of these days since the Resurrection. Wouldn't it be better to write the thing off as too emotional, as too impossible ever really to reach, and just go back to this which I know and can do? I strongly suspect that as he saw a fish darting through the water and flung his net over it with its little weights at the corners to pin the fish down on the bottom, some very long thoughts were going through his mind. Which life, which loyalties, which values? Was it to be everything that net stood for—or was he verily to catch men as Jesus long ago told him he would do?
That struggle is not confined to Simon Peter on the shore of Galilee long ago: that struggle meets everyone of us again and again through our lives.
A New Vision Of Life
An alteration in circumstances can be the occasion of going forwards, or of continuing with our customary way which is often almost the same thing as going backwards. A new position carries us to another city. The loss of someone in the family alters the home situation and asks different responsibilities of us. We make a new departure in our lives, and it calls on new muscles of the mind, new effort, new imagination. Shall all this be a step up, or a step down? I don't mean in the eyes of the world, nor in any worldly way, but in character and in faith and in the quality of human relations? It all depends, I think, upon whether we have prayed about this change and made it in the belief that God wants us to make it. It depends on whether we take God with us more fully than ever before into the new circumstances. It depends upon whether we let him control the flow of new emotions which the altered circumstances arouse in us. A departure in life seems to me more than a change in outward circumstance. I wonder if God does not mean it to be a whole new vision of life itself, and what God wants life to be, and what he expects us to make of it? A change may be a demotion in the eyes of the world but a promotion from God's angle if it makes us face the real things more honestly. I have seen ministers take smaller parishes than they had to the infinite benefit of their own soul, and therefore of their peoples. But the point is, these changes are a kind of plowing of the spirit: shall the next crop be richer, or shall it be more full of weeds? Is it to be forwards, or backwards?
Again, every now and then a better emotion sweeps across our minds. I don't know what starts those more tender, more gentle emotions in your experience. Very often music will do it for me, or sometimes sitting at a play or a moving picture. You catch the inner connection of things, and realize how short life is, and how many people there are whose lives need love and compassion and care. Sometimes you realize that you are not giving half enough to the people nearest to you. A church service, or a great address may set these higher emotions in action. They are often very light and fleeting little things. They will blow away a moment later if you do not let them get down into your will instead of just resting lightly on the top of your mind. The suggestion may be to write a letter of restitution or apology to someone from whom you are estranged. It may be to take a more generous attitude towards somebody who is a trial to you. There is just the momentary uprush of a better feeling, or the realization of the possibility of a better relationship. What shall we do afterwards? Shall we go forwards, or backwards? When we become impervious to these fleeting urges, and the familiar people and scenes and situations remain unaltered by them, and we are content to resume the old levels, the old rudeness, the old self-centeredness, we have reached that rather desperate state that St. Paul describes as "past feelings." Living out such a better emotion with the people round about us keeps our relationships fluid and growing; it keeps us from being self-conscious with those closest to us; it keeps us humble, for there is in living out such an emotion a kind of reflection on our own past. If we cannot be perfect—and none of us can—let us at least be honest about our imperfection, and loving towards those whom it has hurt.
But it is especially in connection with some exalted spiritual experience that I want to consider this truth. We all know that if we see, we find. My friend Rufus Moseley once said to me, "If you seek Jesus as you think he is, he will reveal himself to you as he really is." Now somewhere in our spiritual pilgrimage, God will reach in with a luminous thought, or a lifting sense that we are not pursuing a chimera but the veriest reality in the universe. On our knees, or as we walk in prayer, or as we talk with another who is spiritually illuminated, something will 'come' to us that turns on the light. We ought to put down such things in a spiritual notebook, for they are easy to forget, and may be meant for milestones in our spiritual journey. I saw a fine booklet that was just the compilation of one man's discoveries of this nature. Shall these things be just "ideas," or shall the "word be made flesh" so that they become part of our living? Fewer words more richly appropriated would mean a richer spiritual existence for most of us.
Or we come to a service like we had last Sunday morning. Through the music and flowers and the glorious sense of our Lord's victory there is given us a vision of what our life ought to be. This glory of His was not easily attained. As the beautiful collect says, he "entered not into glory before he was crucified." We know that if we pursued this vision steadily, it would cut out of our life not all pleasure but all frivolity and wrong and dividedness of mind between Christ and the world. Which way do we go—backwards, or forwards?—backwards towards the familiar our version of "I go a fishing," or forwards toward the unknown with Christ which was the way Simon Peter finally went? Many said positive words to me after the service last Sunday. Are they here today? Are they going to be here right along? Was this emotion, or was it reality? It all depends on what they do with the experience. It rests between themselves and God.
Daily Rendezvous With Christ
And sometimes God reaches right into the life of a man or a woman. I saw him do it not long ago. At a stroke, he lifted someone to a whole new level of living. What is that man going to do—is he going to make all the old habits subservient to this new gift of life that God has given him, or is he going to try to mix them and compromise, or is he frankly going back to the old level to look back one day on this as a chimerical, transient, emotional experience? Is he going to make all his professional practice conform to this new experience, let it pervade every relationship, cut compromise and halfway measures, or drag this new experience down into the old ways? For Simon Peter, this old fishing business was just a temporary return to the familiar, unless he was going back on Christ altogether. But there is business in the world to be done. Some men have got to stay by. They must both catch fish and catch men. Most people in the church behave entirely too much like everybody round about them when it comes to everyday living. Instead of lifting home life and business life to the level of Christian conversion, they compromise Christian conversion with the world. You know when you hear them say, "I go a fishing" that the higher level is a thing of the past. Is it with you? Did Easter show you something about yourself and your daily occupation that you had not seen before? Have you already forgotten it, let it grow dim—or did you let God take hold of you and begin a new life within you?
Let us pray that in the moment when we say "I go a fishing," and turn backwards to the old familiar things, Christ may come to us as he came to Simon Peter that morning on the beach of Galilee and remind us that with him we can never go backwards, but only forwards.
END
Samuel M. Shoemaker is the author of a number of popular books and the gifted Rector of Calvary Episcopal Church in Pittsburgh. He is known for his effective leadership of laymen and devotion to the heritage of American freedoms.
Have something to add about this? See something we missed? Share your feedback here.
Our digital archives are a work in progress. Let us know if corrections need to be made.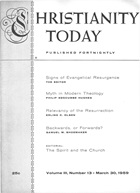 This article is from the March 30 1959 issue.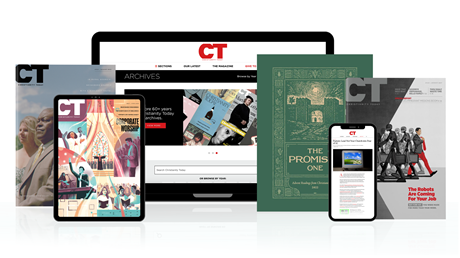 Subscribe to Christianity Today and get access to this article plus 65+ years of archives.
Home delivery of CT magazine
Complete access to articles on ChristianityToday.com
Over 120 years of magazine archives plus full access to all of CT's online archives
Subscribe Now
Backwards, or Forwards?
Backwards, or Forwards?