When a tanned but tired Billy Graham looked out over the broad Atlantic expanse from his temporary oceanfront home in Vero Beach, Florida, this week, his posture was symbolic. Behind him stretched the Sunshine State peninsula, where he had just experienced one of the stiffest challenges in his evangelistic career. Across the sea lay the British Isles, where in a few weeks he would begin another crusade. This time his objective would be the city of Manchester, focal point of a 50-mile area with a population higher than London.
Reflecting on his three-month Florida crusade, Graham again had reason for optimism. Particularly gratifying were the climactic three weeks of meetings in the cavernous, green-walled Miami Beach Convention Hall, said to be the largest in the South. An aggregate of some 250,000 persons attended, and 7,962 of these recorded decisions.
The makeup of the Miami area does not readily lend itself to a successful evangelistic crusade. It is Florida's so-called Gold Coast, which claims to be the most truly tropical area on the U. S. mainland and America's most popular winter resort. An estimated 5,000,000 Americans flock in each year, some willing to pay as high as $250 a day for a swank hotel room. They come to bask in the sun, bathe in the surf, and bet in the shade (viz. jai alai and racing).
Resort activity seems to breed spiritual indifference, even among permanent residents, about 25 per cent of whom are retired. According to a survey made last fall, 39 per cent of Greater Miami's 917,000 inhabitants have no relationship of any kind with any church or synagogue. Another 24 per cent, says the survey, still retain church or synagogue membership "back home." Thus 63 per cent of the population have no local church affiliation, a figure which is the exact opposite of the national average, wherein 63 per cent claim membership.
While Miami Beach Convention Hall provided a spacious, comfortably air-conditioned meeting place, it was "out-of-the-way" for a large majority of area residents. The city of Miami Beach has a total population of only 63,000, 50 per cent of whom are Jewish, and even adjacent Miami has fewer than 300,000 residents. Some Graham team members blamed this geographic factor for the failure of the crowds to build up during the crusade, as is usually the case. Had the attendance increased, a climactic service probably would have been held in the Orange Bowl.
How Jews Responded To Evangelism
"We are very encouraged at the response of Jews," said a Billy Graham team member at the close of the evangelist's Miami Beach crusade.
Confronting the Jew with the Gospel was one of the special aspects of the crusade because of the high concentration of Jewish inhabitants in south Florida. The city of Miami Beach is 50 per cent Jewish. In all, some 100,000 Jews are said to live in the Miami metropolitan area.
Accurate figures as to the number of Jews who made decisions for Christ during the crusade was difficult to determine because of their tendency to conceal their identity. But crusade workers were pleased at what they said was a high percentage. A special counselling department for Jews was in operation for the entire duration of the crusade.
Graham efforts in Miami even got an official public endorsement from Rabbi Irving Lehrman of Temple Emanu-El.
Rabbi Lehrman attended one of the crusade meetings in Convention Hall and stepped to the rostrum to encourage the evangelist.
"May God crown your efforts with success," said the rabbi. "May God bless you, and we thank you."
He added that the Jewish community of Miami Beach was "grateful to Dr. Graham and those who have come with him to lift our thoughts to nobler things."
Notwithstanding, team members were heartened with the extent of church participation and the enthusiasm of the Floridian Christians to support the crusade with time, talent, and tithe. An initial call for counsellors gave crusade officials some 4,700 names, the highest such figure for any city campaign, excepting only New York and San Francisco. Another 6,000 volunteers were counted for tasks relating to prayer, music, ushering, and youth counselling. Every major denominational group gave official sanction to the crusade except the Episcopal (many Episcopal churches participated nevertheless).
Much of the crusade impact is attributable to the untiring efforts of the crusade's local leaders headed by Dr. J. Calvin Rose, pastor of Miami Shores Presbyterian Church, who served as chairman of the executive committee. Fund-raising was under direction of noted realtor Kenneth S. Keyes, who was to be named this week as "Evangelical Layman of the Year" by the National Association of Evangelicals, which he has aided in a similar role.
Despite other obstacles, team members were encouraged at the very outset of the crusade when some 6,000 University of Miami students turned out to hear Graham at a campus rally.
The crusade itself drew an average of 12,400 per service to Convention Hall.
Graham spoke nightly and on Sunday afternoons from a platform adorned with yellow and bronze chrysanthemums. The only breaks were a pair of Monday evenings, one of which was turned over to boxing promoters for the heavyweight championship bout between Floyd Patterson and Ingemar Johansson. Patterson, incidentally, attended one of the crusade meetings.
As are all Graham crusades, this one was integrated. However, never more than 200 or 300 Negroes were to be found at a service.
A much larger response came from Jews (see box) and those of Spanish descent, including Cuban refugees. Graham held a special meeting for Spanish-speaking people, preaching through an interpreter. Still another rally was scheduled at Clewiston, Florida, primarily for Seminole Indians, but was rained out.
Graham team members pointed out that despite the preponderance of senior citizens in south Florida, unusual interest was evident among young people. There appeared to be larger inquirer response in the 20-to-30 age bracket, compared with previous crusades. Youth services drew the largest week-night crowds and the highest number of decisions, most of them by teen-agers. Those who made commitments to Christ included several members of a teen-age narcotics ring, one of whom subsequently led his father and mother to make decisions.
Perhaps the most remarkable conversion made in connection with the crusade came two months before the Miami meetings began. A former state trooper who is now a professional investigator made a public confession of faith following a showing of "Souls in Conflict" and the testimony from Joan Winmill, who stars in the evangelistic film. The trooper then brought some 40 people to Convention Hall, including his wife and several in-laws. One of the inquirers with whom he counselled was a man he had arrested as a murder suspect several years ago!
Team members reported many decision cards with Northern addresses, indicating a strong impact among tourists.
Additional national influence was provided by the crusade with the showing by 163 television stations of a film taken at one of the Sunday services during which Graham spoke on "The Conflict between Christianity and Communism." It may have been the most widely-viewed religious program in television history. Cost: $110,000.
The closing service of the Miami crusade, held on Palm Sunday afternoon, drew an overflow crowd of 18,500. Among platform guests was U. S. Senator George Smathers, Democrat of Florida, who had just flown in from the Key West conference between President Kennedy and Prime Minister MacMillan.
Smathers told the crowd that when he advised Kennedy of his intention to be at Graham's meeting that afternoon, the President replied:
"Tell Billy to pray for us."
At the final service, 711 persons made decisions for Christ.
From Miami Graham travelled to the vicinity of Cape Canaveral for a day of meetings (a public service at Patrick Air Force Base drew 9,000), then on to West Palm Beach, where a crowd of 15,000 was on hand. He finished out the week with a rally at Vero Beach.
Easter Sunday found Graham preaching at a sunrise service in Peace River Park in Bartow. In the afternoon he spoke at the dedication of a new 2,500-seat auditorium at the Boca Raton Bible Conference Grounds.
The evangelist hopes to take a few weeks rest before going on to England for the Manchester crusade, scheduled to begin in a 40,000-seat football stadium May 27, continuing through June. Graham says planning for the Manchester meetings has been the most extensive of any crusade he has ever conducted.
Protestant Panorama
• A move to change the name of the Southern Baptist Convention is picking up steam. Initiated by Editor Erwin L. McDonald of the Arkansas Baptist, who prefers "Baptist Convention, U.S.A.," the proposed name change now is expected to come before next month's convention sessions in St. Louis, according to SBC President Ramsey Pollard.
• Churches in the Cape Canaveral area plan to conduct continuous worship services when the first astronaut goes into space. The Rev. Joseph E. Boatwright, president of the North Brevard County Ministerial Association, says constituent churches will hold services from launching time until the man sent into space returns or is officially given up for lost.
• Seven Amish families who reside near Canton, Ohio, are reported ready to move to Canada because of high priced land and conflict with state school laws, social security, and draft requirements. The families want to join an Amish settlement of 19 families at Owen Sound, Ontario.
• "How Great Thou Art" was the favored hymn in a church-wide religious song survey conducted recently in the Church of the Nazarene. "The Old Rugged Cross" was second, and "Amazing Grace," third.
• A 16-page monthly published by the Israel Baptist Convention is the country's first official Christian church journal in the Hebrew language. Named Hayahad (Togetherness), the paper complained in one of its first editorials that governmental "red tape" is delaying construction of Baptist buildings in Israel.
• Churchmen, seamen, and officials in English ports throughout the world are celebrating the 100th anniversary of the birth of the Rev. Charles Hopkins, an Anglican priest who founded the Friendly Society of the Order of St. Paul to aid British seamen.
• The Church of the Nazarene is building a new religious center in Nazareth, Israel. The building will house a chapel, offices, classrooms, and living quarters.
• The National Methodist Theological Seminary, which began classes in Kansas City in 1959, plans to relocate because it has already outgrown present quarters. New facilities have been rented adjacent to the University of Kansas City in the same general area that a permanent campus is eventually planned.
• The African Methodist Episcopal Church is establishing a $70,000 fund to guarantee minimum salaries of assigned ministers.
• Historic People's Church in Toronto is up for sale. The congregation plans to build a new church in a suburban area.
• A trio of publishing houses in Scandinavian countries are conducting a competition for the best novel which, "based on a Christian outlook on life, combines a high standard of art and contents with a vivid description of environment and period."
• A 59-year-old grandmother will have the distinction of becoming Norway's first woman pastor. Mrs. Ingrid Bjerkas won government permission to be ordained as a substitute pastor in the state Lutheran church's diocese of Hamar after she had been passed over in nominations for five other vacancies there. Although Norwegian law has permitted women to enter the ministry for several years, Mrs. Bjerkas' application for ordination was the first. A widow, she graduated from a theological seminary in Oslo several years ago.
• The Episcopalian announced on its first anniversary last month that it has the largest circulation of any publication in Protestant Episcopal Church history. Circulation has jumped almost 150 per cent to a total of 99,000 in the magazine's 12 months, says Editor H. L. McCorkle.
• Protestant churches in New Mexico are sponsoring establishment of the state's first Protestant child placement organization.
• Southwestern Baptist Theological Seminary plans to establish a microfilm research center for evangelism.
Presbyterian Realignment
A realignment of the United Presbyterian Church in the U.S.A. and the Presbyterian Church in the U.S. (Southern) to form two new churches—one ecumenical and the other evangelical—is proposed by The Presbyterian Journal in its April 5 issue.
The plan is suggested by the conservative Southern Presbyterian weekly in an editorial as an alternative to the four-way church union urged by Dr. Eugene Carson Blake, United Presbyterian Stated Clerk.
Implementation of the Blake proposal, the paper said, "would cause Presbyterianism to vanish from America in favor of an ecumenical Church where doctrinal integrity would be subordinated to organizational bigness."
Under the alternative plan, the Journal said, one Presbyterian church would be committed to the historic Reformed faith while the other would be openly receptive to a merger such as the one suggested by Blake.
Last December Blake proposed a union of the United Presbyterian Church, The Methodist Church, and United Church of Christ as a first step toward eventual unification of all Christians. He said the name of the new church body could be the Reformed and Catholic Church in the U.S.A.
The Presbyterian Journal said its realignment proposal was being made "in the interest of the unimpeded fulfillment of the Blake plan for those who want it, on one hand; and, on the other hand, in the interest of a union of all evangelical Presbyterians who prefer to abide by the historic Reformed faith."
"We do not propose," the editorial stated, "to surrender the Presbyterian and Reformed faith to the one-world Church. This proposal is intended to recover and preserve the Presbyterian and Reformed faith from the one-world Church.
"It is a plan which we believe will allow those within Presbyterian denominations who desire the wider fellowship of an ecumenical Church to have their wish. And it is a plan which will permit those who pray for a Presbyterian Church of increased vigor and purer testimony also to have their wish."
The weekly said that under its proposal Southern Presbyterian congregations desiring the "larger fellowship" of the United Presbyterian group would be allowed to change their affiliation, while United Presbyterian churches of more "conservative bent" would be free to join the Southern denomination. Congregations would be permitted to keep their property when transferring.
"Those of us joining in this proposal," the editorial concluded, "believe that the proportion of Presbyterians preferring an Ecumenical Church to a Presbyterian Church is relatively small."
Ecumenical(?) Council
Religious News Service is dispatching to Rome Dr. Claud D. Nelson as a special correspondent to report on the much-publicized Second Vatican Council from the viewpoint of Protestant leaders. Prior to his going, he conducted a preliminary survey, results of which were incorporated into a copyright RNS article.
Nelson is a consultant on interreligious relations to the National Conference of Christians and Jews and former executive director of the Department of Religious Liberty of the National Council of Churches.
Here are excerpts from his report:
"Will the Second Vatican Council sustain the evident hopes and dramatic efforts of Pope John XXIII to forward the cause of Christian unity? That question gives tone and direction to a large majority of the responses to an inquiry which this reporter addressed to a hundred friends, Protestant and Catholic, as to what they desire or expect from this Council, the 21st in the long series beginning with Nicaea.…
"From 70 or more replies received—by letter and telephone and from face to face conversations—three things stand out as worthy of note in the phrasing of the question above.
"First, this is not a continuation of the First Vatican Council of 1870. Second it is not now called 'ecumenical' in the publicity being given to it. The Council is, of course, officially a General or Ecumenical Council. But use of the word 'ecumenical' might be regarded by non-Catholics as presumptuous, since it means universal and since only Roman Catholics will deliberate in the forthcoming assembly.
To Moscow Via Tv
Film taken during a service at the First Baptist Church in Moscow will be shown on network television by the National Broadcasting Company and affiliate stations on Sunday, April 30.
The film will be featured as part of NBC's weekly religious series, "Frontiers of Faith."
Long delayed, partly because of Soviet "red tape," the film was taken by special arrangement with Russian officials. It was a cooperative effort of the Southern Baptist Convention and NBC.
"Thirdly, the term 'unity' has replaced 'union.' This is to be noted especially in the title of the Secretariat for Christian Unity headed by Augustin Cardinal Bea, for liaison with non-Catholics. This body is distinct from the preparatory commissions set up for the Council.…
"The place of the Bible in the Council's agenda is of interest to a number of responders [to the survey]. Versions or translations acceptable to all Christians would be welcomed. Even more, Protestants would welcome indications that the Bible takes precedence over tradition—but they are not optimistic when it comes to such matters as Papal infallibility and the theological and liturgical status of the Virgin Mary. These two causes of division are cited several times as insurmountable barriers that the Council is not likely to remove. It remains true however that many would consider them a less formidable barrier to unity than to union.
"If, therefore, the shift of emphasis which a few think they detect in recent years from 'separated brethren' to 'separated brethren' should be continued or encouraged by the Council, it would encourage those non-Catholics whose proximate hope, rather than the organic reunion of the churches, is their coming together in an inclusive ecumenical council (perhaps informal at an early and tentative stage)."
Among those whom Nelson polled for comments was Dr. Carl F. H. Henry, Editor of CHRISTIANITY TODAY, who submitted the following statement:
"The Protestant Reformers viewed the papacy as the height of human pretension. Against Roman Catholicism they championed the authority of supernatural knowledge (the inspired Scriptures) and the reality of supernatural salvation (justification by faith in Christ's mediation alone). In the twentieth century, Protestant ecumenism has made unity its prime interest, while Roman Catholicism emphasizes creeds and the authority of church tradition. Protestant liberalism meanwhile has blurred both scriptural authority and the doctrine of justification. Pope John XXIII's Second Vatican Council may be expected to express the desirability of Christian unity and the role of the creeds and church tradition, while avoiding the question that troubled the Protestant Reformers."
Methodists versus Teamsters
A year-long effort by two unions to organize employees of the Methodist Publishing House in San Francisco was defeated last month. The employees voted 42 to 16 against representation by either the Teamsters Union or the Office and Professional Workers Union.
Law of the Land
Religious classes conducted by the Rural Bible Mission in public schools of 31 Michigan counties was ruled unconstitutional last month.
The Rev. Elmer Deal, mission director, had described the monthly classes held at lunch hour or during regular school periods as "chapel services" and emphasized that they were conducted only at the invitation of, or with the approval of, local school boards. Twenty-three mission teachers were engaged in the program involving more than 60,000 public school pupils.
Paul L. Adams, attorney general of Michigan, said he "strongly believed that religion and morality must forever be encouraged" but that his concern was with the legality of the mission's activities in public schools.
"A program of this nature does not conform to the law of the land," said Adams. "Local school boards should take immediate steps to end such programs within their jurisdiction."
A controversy had been touched off when parents of two elementary school pupils objected to the religious classes and said their children were "a captive audience." They took their complaint to the attorney general and were joined in the protest by spokesmen for the Society of Friends in East Lansing, the Universalist-Unitarian church in Lansing, and the Congregation Shaarey Zedek, a Lansing synagogue.
Religion and Education
Wide concern over proposed federal aid to education is prompting intensive study by U. S. religious leaders, particularly those in Protestant groups which heretofore have never had well-defined official positions. The chart below summarizes latest conclusions of those closest to the current controversy. (See also editorial on page 20.—ED.)
Meanwhile in Washington, House and Senate committees wound up hearings on proposed aid-to-education legislation and public debate tapered off. But the first big waves of mailing were pouring into Congressmen's offices. Lawmakers also got many an earful from constituents when they went home for the Easter recess. Citizens were being urged anew to spell out their views, and opponents of federal aid to education were particularly eager to stimulate mail reaction, believing that there is little grass roots enthusiasm for such school subsidies.
SUMMARY OF POSITIONS ON FEDERAL AID TO NONPUBLIC SCHOOLS
Some observers felt that no further action would be taken on the proposed legislation until very late in the session. This would result in a hurried move, or no action at all this year.
Late in March, Welfare Secretary Abraham Ribicoff declared that his department believed long-term, low-interest loans to parochial schools would be unconstitutional. Ribicoff submitted a 63-page memorandum on the subject to Senator Wayne Morse, Democrat of Oregon, who had requested that a study be made of legal precedents. The memorandum says that across-the-board tax grants to sectarian schools cannot be made and that a program of tuition grants would be invalid "since they accomplish by indirection what grants do directly." The study was prepared in consultation with Justice Department attorneys.
Trial of Strength
As a preface to general elections scheduled for April 16, a trial of strength developed in Poland between the Roman Catholic church and the Communist government, according to Religious News Service.
Top protagonists are Wladyslaw Gomulka, first secretary of the United Workers (Communist) Party, who wants a big turnout of voters, and Stefan Cardinal Wyszynski, Primate of Poland, whose attitude toward the elections was a matter of serious concern to the government.
The Cardinal reacted to Gomulka's opening campaign speech, which scored the Vatican, by openly defying the Red regime. He denounced the Communist rulers as "Caesars."
In the 1957 elections, the Polish episcopate advised Roman Catholics to vote in great numbers, in the hope that the then good relations with the Gomulka government would continue.
In the present campaign, however, the hierarchy—concerned over the gradual worsening of church-state relations, especially during the past few years—delayed making its stand clear. This has been interpreted as a sign of hostility by government circles who are worried over the possibility of a low percentage of voters at the polls.
Polish emigre circles in London said they had received reports that the bishops had issued secret instructions to advise parishioners to ignore the elections. In cases where this would be too risky, Roman Catholics were told they should go to the polls but cross out all the names on the official and only list of candidates.
According to reports, the government learned of the alleged instructions and decided to recruit groups of so-called patriotic priests to persuade the church people against boycotting the elections.
The same reports stated, however, that Cardinal Wyszynski countered by warning leaders of patriotic priests, mostly members of Caritas, a social welfare organization, that any collaboration with the Communists would result in their being suspended from their priestly functions.
It was learned, meanwhile, that about 300 priests belonging to Caritas had voted to disband the organization.
Faced with this development, the government was reported to have offered the priests "protection" and even to have suggested that they break away from the church altogether.
NEB New Testament
Cambridge and Oxford University presses plan to print a million additional copies of The New English Bible New Testament.
The New Testament was a best seller on both sides of the Atlantic. Some 940,000 copies were reported to have been sold on the publication date.
Only incident to mar publication of the new Scripture portion is a dispute involving Eyre and Spottiswoode, the Queen's official publisher, which claims it has the right of royal charter to print Bibles and should share in the publication of the new volume with the university presses. The latter have rejected this claim, but a spokesman for Eyre and Spottiswoode said it is hoped to set up a meeting shortly at which the matter will be settled amicably.
Total initial printing was 1,275,000 copies. It is on sale throughout all English-speaking countries in the world.
Vicar's Ouster
An Anglican Consistory Court removed the Rev. William Bryn Thomas, 62, from his suburban London parish last month after convicting him of repeated adultery. Thomas denied the allegations, claiming the charges merely constituted a plot by his curate to dislodge him and succeed him as vicar.
People: Words And Events
Deaths:Dr. Nathan R. Wood, 86, president emeritus of Gordon College and Divinity School; in Portland, Oregon … Dr. G. Ch. Aalders, 79, professor emeritus of Old Testament at Free University of Amsterdam … Dr. George Johnston Jeffrey, 79, former moderator of the General Assembly of the Church of Scotland … the Rev. George Thomas Manley, 88, evangelical student leader in Great Britain and editor-in-chief of the New Bible Commentary … Mikhail Orlov, 74, Russian Baptist church leader; in Moscow … Dr. Alexis G. Maltzeff, 64, former professor at the Russian Orthodox Theological Seminary of New York City; in West Hartford, Connecticut … Julie Olin Chanler, 78, leader of the reform Bahai movement; in New York … Robert D. Higley, 65, retired manager of the Higley religious publishing house; in Butler, Indiana.… Ayatollah Boroujerdi, 89, world Shiites (Muslim) leader.
Resignation: As president of Eastern Pilgrim College, Dr. R. D. Gunsalus (for successor, see "Appointments").
Retirement: As director of the Missionary Research Library, Dr. Frank Price.
Appointments: As dean of Hamma Divinity School, Dr. Bernhard H. P. Hillila … as president of Maryville (Tennessee) College, Dr. Joseph J. Copeland … as president of Eastern Pilgrim College, the Rev. Melvin Dieter … as president of the Evangelical Teacher Training Association, Dr. Paul E. Loth … as director of the Missionary Research Library, Dr. Herbert C. Jackson … as director of the School of Sacred Music at Union Theological Seminary, New York, Dr. Robert S. Baker … as executive secretary of the World Council of Churches Department on Evangelism, Dr. Hans Jochen Margull.
Personal Liaison
A personal liaison is being established between Anglicans and Roman Catholics during preparations for the Vatican's forthcoming Ecumenical Council.
Canon Bernard Clinton Pawley, treasurer of Ely Cathedral and a proctor in the Convocation of Canterbury, has been appointed as personal liaison for the archbishops of Canterbury and York. He will serve as a link between the Church of England's Council on Inter-Church Relations and the Roman Catholic Secretariat for Promoting Christian Unity headed by Augustin Cardinal Bea.
Canon Pawley, one of the few clergymen in the Church of England who can speak Italian fluently, spent time as a prisoner-of-war in Italy while serving as chaplain in the Fifth India Division of the British Eighth Army in World War II.
He was scheduled to leave England for the Vatican following the Easter season for his first conversations with Cardinal Bea.
The 'Iliat' Cult
A new religious cult whose followers must swear to help kill all Australians, Europeans, and Chinese in New Guinea has sprung up in the Australian island of New Britain, according to Radio Australia.
Cult members reportedly venerate Americans but are fanatically bent on assassinating Queen Elizabeth of England in reprisal for the ill treatment they claim to have received from Australian administrators.
The Australian station's report on the cult, known as "Iliat," was based on information given by a Roman Catholic missionary stationed in northern New Britain.
WCC Withdrawal
The Federal Council of Dutch Reformed Churches in South Africa is urging two of its constituent churches to withdraw from the World Council of Churches because of the Council's stand against apartheid.
A resolution adopted in Capetown was addressed to the Dutch Reformed Churches of the Cape Province and of the Transvaal. The Dutch Reformed Church of Africa, a third smaller body, has already terminated its WCC membership, declaring it could not do its duty among nonwhites as a WCC member because of the World Council's "interference" in South Africa's racial matters.
Sons of Abraham
Parkchester Baptist Church of New York City now claims to have at least 16 Hebrew Christians worshiping regularly. Latest addition to the congregation's Hebrew Christian family is a young rabbi, recently converted and baptized after eight years of prayer and counsel by the Rev. Samuel Needleman, Hebrew Christian missionary.
The Christian witness to the Jews, always a difficult endeavor, has been undergoing a re-evaluation in view of sweeping changes in the economic and social life of Jews in America.
In recent years the Jews have been far more thoroughly integrated into American life, according to Martin Rosen of the Los Angeles branch of the American Board of Missions to the Jews. Consequently, the modern Jew's theology has undergone a change.
"He has become secularized," says Rosen, "and is more tolerant toward all religions. He no longer has a superstitious fear of reading the New Testament, nor does he regard churches as temples of idolatry. He will at least listen to the claims of the Nazarene."
Rosen declares that Jewish orthodoxy was earlier adapted to the ghetto type of community, and the modern American Jew has deserted the ghetto.
How does this affect the approach of the missionary to the Jews?
" 'For ye have the poor always with you,' and an important part of our work will always be in the cities," says Rosen. "But we are no longer ministering to an oppressed and impoverished people and we must adapt ourselves accordingly.
"Today most Jews are not acquainted with the Old Testament, and proof texts from the prophets mean little to them."
Is Jewish mission work any easier?
"It is easier in that there is little hostility. But now we meet with indifference which in a sense is harder."
Among missionary approaches now being used effectively, Rosen lists home fellowship meetings, especially those sponsored by churches. Other methods include discussion groups or seminars, telephone evangelism, and "inter-faith Sunday schools."
Press and Sex
Early this year a discussion on newspaper handling of sex stories appeared concurrently in CHRISTIANITY TODAY and in The Bulletin of the American Society of Newspaper Editors. A sequel to the discussion, which originally featured four CHRISTIANITY TODAY editors, was published in The Bulletin last month. The sequel consisted of a series of comments from newspaper editors. Here are some highlights:
Rebecca Gross, editor of the Lock Haven Express: "Some of the newspapers which still play up the sex angle out of proportion, are among the largest in the nation. They dominate the newsstands in some big cities. They do not represent the entire American press, however.… The newspapers should report life as it is, and not as the editor or some critic of the press would prefer it to be.… Newspapers which ignore the sex side of the news are distorting it just as much as those which try to spread the patina of sex over all the news."
Richard Clarke, executive editor of The News of New York: "After reading the panel discussion of the press and sex morality in the February Bulletin, I had a little checkup made on our paper.… During the months of November, 1960, and January, 1961, the nearest thing to a sexy front page line was 'MM and Miller Call It Quits' … I wonder what newspapers the panelists have been reading."
James O. Powell, editorial page editor of The Arkansas Gazette: "Congratulations are due The Bulletin for last issue's symposium on Sex Morality and The Role of the Press.… The panel discussion by the CHRISTIANITY TODAY editors presented a rather brilliant interplay of views on how the newspapers are performing in treating sex stories.… The most practicable single suggestion may lie in the point made by Panelist Kucharsky that each newspaper should have its own full set of rules, reached not casually but purposefully and deliberately."
Milburn P. Akers, editor of the Chicago Sun-Times: "I chance to agree with some of that which Dr. Farrell had to say. But I object to his generalization as to tabloids as unfounded, unmerited, and as being about 98 per cent in error."
"As I read Dr. Farrell's remarks I thought of the preachers I know. The same as editors, some speak out, some don't. The faults he labors in the newspaper profession are likewise the faults of the ministry. Perhaps preachers, the same as editors, are human and, as humans, they make errors. My father, grandfather and great-grandfather were ministers. Maybe that had something to do with the fact that I am an editor, and the editor of a tabloid newspaper, at that."
John D. Pennekamp, associate editor of The Miami Herald: "If we are all going to the dogs for want of guidance, certainly [the moralists] head the list of those responsible.… The obligation to report their failures to restrain—or even to destroy—sex rests with us as does the duty to report their successes in meeting their challenge when and if they go into action."
Leslie Moore, Worcester (Massachusetts) Telegram and Gazette: "Man for man, the press in this country is just as concerned for the public welfare as is the clergy. But it is not going to run all its news through a laundromat, nor will it undertake a homiletic crusade, to abolish sex."
Hal Nelson, Rockford (Illinois) Morning Star: "Most of us happen to be pretty moral guys … even though we don't think there's anything wrong with enjoying a picture of a pretty girl."
Murch Resigns
Dr. James DeForest Murch has resigned as Managing Editor of CHRISTIANITY TODAY. He will devote his time to writing, lecturing, and preaching. His comprehensive history of the Christian Churches and Churches of Christ, Christians Only, will soon be published by the Standard Publishing Company. A volume on Christian Education is in preparation. Dr. Murch's first speaking engagement is with the Appalachian Preaching Mission, sponsored by the Protestant churches of Bristol, Tennessee area, April 16–23. He will continue to reside in Washington.
Have something to add about this? See something we missed? Share your feedback here.
Our digital archives are a work in progress. Let us know if corrections need to be made.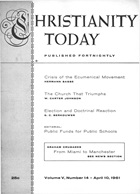 This article is from the April 10 1961 issue.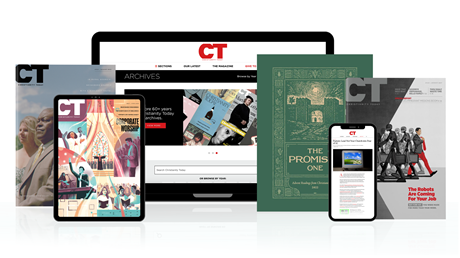 Subscribe to Christianity Today and get access to this article plus 65+ years of archives.
Home delivery of CT magazine
Complete access to articles on ChristianityToday.com
Over 120 years of magazine archives plus full access to all of CT's online archives
Subscribe Now
Miami Thrust over, Graham Eyes Manchester
Miami Thrust over, Graham Eyes Manchester