It is high time something is done about Christian literature. Evidently nearly everyone is interested in writing a book, seeing it published, and entering a substantial royalty on his income tax returns. But this is not quite the same thing as providing our generation and those to follow with the stuff that builds men for God.
In an interesting address before the Christian Librarians' Fellowship at Buffalo, Miss Ruby Dare, of Greenville College, Illinois, listed four qualities which, she contended, can be found in classic Christian writings of any age. They are: a well-trained mind, a devout spirit, the capacity to say something about God, and the ability to say it well.
Great Christian literature from the past keeps on blessing mankind century after century. Its powers of endurance have had an incalculable effect upon the human race. As Miss Dare points out, Paul's Letter to the Romans influenced Augustine; Augustine's Confessions affected Luther; Luther's Preface to his Commentary on Romans moved Wesley and his Commentary on Galatians stirred John Bunyan. Wesley and Whitefield were both mightily swayed by William Law's Serious Call to a Devout and Holy Life. Wesley in turn wrote his Plain Account of Christian Perfection which has had an astonishing ministry down to our own day. Recently a Presbyterian church prayer group in Indiana began to read William Law's volume, and a new edition of the book resulted.
When we move from this realm of exalted reading to the latest religious pot-boiler off our high-speed modern presses, we are apt to become discouraged. Where are the giants of our age? Surely the Bible bookstores are not so dusted with subjective piety that they will not open their doors to arresting and exciting (let alone great) Christian waiting when it appears. Miss Dare says that C. S. Lewis has been heralded as "the only writer of this generation who has originality in Christian thought and skill in recording his ideas." Where are the C. S. Lewises of America? Who is speaking to the people who will influence the great sections of population, in their own idiom, telling of Jesus Christ?
Henry Zylstra, the late professor of English literature at Calvin College, made some interesting observations about contemporary Christian literature. He drew a sharp distinction between competent craftsmanship and artistic integrity. Of one serialized novel which won an $8,000 award for Christian fiction he said, "The whole novel is contrived; it is trade writing; it is not authentic; it is not literature."
Zylstra maintained that more is needed for the production of literature than an individual writer. If Christian literature is to be important, it must acknowledge and maintain its relations with the total life and culture which come to expression in it. Thus, he says, "an important Reformed novel really requires the satisfaction of two conditions: a Reformed writer and a Reformed culture." Culture alone, he says, is the liberal heresy. Christianity versus culture (and nothing more) is the fundamentalist heresy. "It is as human beings that we are Christians," he maintains. Therefore the true path of our literature must be: "Christianity through culture" (Testament of Vision, Eerdmans, 1958).
Christian writers need to gather for something more fundamental than talks on current market conditions and how to slant material for the "slicks." We can see such a "colony" of writers, of course, attracting such adjectives as "long-hair," "beatnik," and so on. Yet Longfellow, Whittier, and Lowell were not "beatniks," and they all emerged from a single New England cultural atmosphere.
A great counterattack on the deadly materialism of our time could be made by a school of writers deliberately reaching for something beyond the levels of escapism, sentimentality, and propaganda that characterize much of our current religious literature. The Saturday Review is bewailing the emergency of "anti-liberalism" in modern letters. The poet Stephen Spender says in his book, The Creative Element," "Today there is a reaction toward orthodoxy, and the most vital movement in literature in the West is religious." But who are the authors? Are they converted men? In so many cases they know less about the nature of God and man than does a well-trained fifth-grade Sunday school pupil.
The times are calling for genius to emerge—with an apostolic accent. A born-again Graham Greene, perhaps, with a genuine vision of Jesus Christ and fire in his bones. God, give us writers! Our feeling is that the publishers would rise gratefully from their mass of sticky manuscripts, and follow such a lead in our time with alacrity.
NEW ERA AHEAD FOR EVANGELICAL BOOKS AND TEXTS
Chartists scanning the signs of the times expect that the United States will be in the midst of the biggest baby boom ever by 1965. Many industries, they say, will benefit from this boom in the next generation.
Book publishing especially will develop greater opportunities. In 1954, economists note, book sales yielded $385 million in total receipts; in 1959, above $1 billion. More than 800 companies are now releasing textbooks, trade books, and paperbacks. The five largest firms together publish only about one-eighth of all the new books. In the interest of cost-cutting and competitive advantage, mergers may more and more become the order of the day, but of the "making of many books" there will be no end.
In the midst of these trends one notes several significant developments. Most publishing houses have an eye on "the religious mood" and offer quite a conglomeration of titles—some mere metaphysical madness, shallow sentimentalism, or pious paganism. It is encouraging to note, however, that one by one the major religious publishing houses are incorporating sound evangelical works, and that the burden of publishing such works is no longer left to a few interdenominational publishers. Only a minority of publishing houses specializing in religious books any longer act as if the rising interest in evangelical works is an ephemeral and transient affair. These mainly are a few denominational houses whose production schedule at the same time reflects the theological prejudices of some denominational leaders rather than the lively interest of the Protestant clergy as a whole. Not only are more and more evangelical titles appearing on publishing lists, but the long-neglected area of evangelical textbooks for use in Christian colleges is being studied by some major publishing houses as a field holding remarkable potential during the next decade.
THE BEAT OF POPULAR MUSIC AND THE SONG OF FAITH
Under the caption "It's all directly from the Gospel," a UPI press release from Hollywood credits recording star Sam Cooke with the thesis that the peculiar beat of popular music derives from modern gospel songs. The big difference, Cooke declared, "between gospel songs and traditional hymns is the emphasis on a more rhythmic beat. This same beat is carried into today's popular music."
Syncopation admittedly does not characterize the traditional hymnology of the Church. The genesis of the modern beat must therefore lie elsewhere. Does it lie, as Cooke contends, in modern gospel songs—from whence it passed over into today's popular music?
If the origin of the modern beat lies where Cooke thinks to find it, 't were better for Christians to make confession than to accept the intended tribute. Many Christians would at least prefer the thesis that such gospel songs as Cooke has in mind have rather succumbed to than fathered the modern beat. Others, appealing to history, contend that the modern beat has pre-Christian origins in ancient paganism.
The Hollywood singer is of course not responsible for the caption placed over his comments on the genetics of the modern beat. Son of a Chicago minister in whose church he began his singing career, Cooke himself must doubt that the modern beat has its origin in the Gospel. Paul enjoined the singing of "spiritual hymns," and David was song writer and dancer, but Cooke himself must feel the incongruity of establishing direct lineage between them and Chain Gang or his more recent recording, Cupid.
There is a relationship between popular music and the gospel songs to which Cooke refers. Studies have recently been made by clergymen to determine the relationship between jazz and religious music. One time art critic of the Dutch daily newspaper Trouw, Dr. H. R. Rookmaker, is currently delivering lectures in the United States and Canada evaluating jazz and Negro spirituals from a biblical perspective. A relationship is further indicated in the consideration that today's romantic song writers would be rendered almost inarticulate if they did not have recourse to the biblical religious vocabulary of love, divine, angel, Paradise, heaven, reconciliation, and the like. Studies to uncover the relationship existing between popular and religious music would disclose that the romantic concepts of much popular music derives directly from the Gospel. But they would also disclose that the peculiar beat of modern popular music was fathered elsewhere.
WILD WINDS OF FURY SOUND THE CHILL PROSPECT OF DOOM
The hurricanes and tornadoes that struck and staggered Texas and Louisiana left a stark succession of damage and death. But Soviet detonations of multi-megaton bombs, violating the moratorium on atomic tests, faced the wide world with the far worse prospect of nuclear holocaust. The hard alternatives of "peace" only if Communists get their way, "war" if they don't, amounts to a world in which civilization peers headlong into the abyss. One thing is sure: nuclear attack by any great power is only minutes away from push-button retaliation.
For our part, we don't expect the world to come to its end that way. The final stroke of power will be an act of divine judgment and justice. That is why Christ's Gospel still carries a larger wallop than Premier Khrushchev's threatened 100-megaton warheads.
Have something to add about this? See something we missed? Share your feedback here.
Our digital archives are a work in progress. Let us know if corrections need to be made.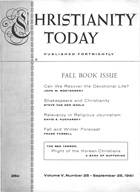 This article is from the September 25 1961 issue.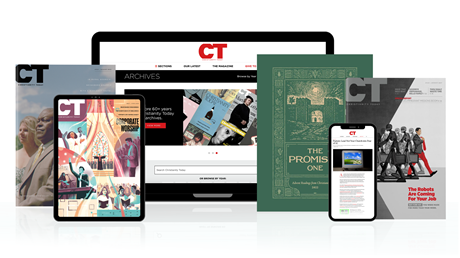 Subscribe to Christianity Today and get access to this article plus 65+ years of archives.
Home delivery of CT magazine
Complete access to articles on ChristianityToday.com
Over 120 years of magazine archives plus full access to all of CT's online archives
Subscribe Now
God Give Us Writers
God Give Us Writers