Some years ago Reinhold Niebuhr declared that "the acrimonious relations between Catholics and Protestants in this country are scandalous. If two forms of the Christian faith, though they recognize a common Lord, cannot achieve a little more charity in their relations with each other, they have no right to speak to the world or to claim that they have any balm for the world's hatreds and mistrusts. The mistrust between Catholics and Protestants has become almost as profound as that between the West and Communism" (Essays in Applied Christianity, p. 220). As recently as 1959 Jaroslav Pelikan wrote an article in Presbyterian Life deploring the "cold war" between Christians and asserting that Protestant-Roman Catholic relations were smirched with "slogans and slanders" on both sides.
Within recent years, however, relations between those two branches of the Christian faith have taken a decided turn for the better. So great has been the increase in mutual charity and understanding that it may be said that the relations between Protestants and Roman Catholics have become almost Christian in character.
There are many illustrations of this increase in mutual respect and charity. For one thing, Roman Catholic appraisal of the Protestant Reformation, and particularly of Martin Luther, has become increasingly sympathetic. For example, in 1947 Karl Adam, the well-known German Roman Catholic theologian, wrote a book entitled One and Holy, in the foreword of which he said:
It cannot be doubted that at the present moment, under shattering impact of two world wars, a bridge is being built between Catholics and Lutherans, at least in the sense that the unreality of mere polemic is being abandoned, that Luther on the one hand and the Papacy on the other are being seen in a clearer and more friendly light, and that real efforts are being made by Christians everywhere to bring about if not a unio fidei, at least a unio caritatis [p. v].
Adam's own estimate of Luther, as given in the course of his book, is this:
It was indeed night in a great part of Christendom.… Had Martin Luther then arisen, with his marvelous gifts of mind and heart, his warm penetration of the essence of Christianity, his passionate defiance of all unholiness and ungodliness, the elementary fury of his religious experience, his surging soul-shattering power of speech, and not least that heroism in the face of death with which he defied the powers of this world—had he brought all these magnificent qualities to the removal of the abuses of the time and the cleansing of God's gardens from weeds, had he remained a faithful member of his Church, humble and simple, serene and pure, then indeed we should today be his grateful debtors. He would be forever our great Reformer, our true man of God, comparable to Thomas Aquinas and Francis of Assisi. He would have been the greatest saint of our people, the refounder of the Church in Germany, a second Boniface [pp. 25, 26].
Hans Küng, one of the most influential of younger Catholic theologians today, makes the same point when he says:
Catholic understanding of the Reformation has developed to a significant degree. Consider the progress in the judgments passed on Luther himself, from Eck, Cochlaus, and Bellarmine via Mohler, Döllinger, Jansen, Denifle, Grisar, and Reiter, down to Lortz and Jedin. For Döllinger, in his earlier writings, Luther was a criminal; for Denifle, a man in whom nothing godly can be found; for Grisar, a psychopath. But for Lortz, a tragic individual caught in almost insoluble interior and exterior difficulties, and living by faith [The Council, Reform and Reunion, pp. 103, 104].
Again, there has been an increasing interchange of courtesies between various Roman Catholic and Protestant groups. For example, Methodist Bishop Fred P. Corson recently received an honorary degree from St. Joseph's Roman Catholic College in Philadelphia; Baptist Dr. Billy Graham has been invited to speak in several Roman Catholic educational institutions; Baptist Dr. Martin Luther King received the 1963 St. Francis Peace Medal from the North American Federation of the Third Order of St. Francis, a national organization of 100,000 Roman Catholic clergymen and laymen. On the other side, the late President John F. Kennedy, a Roman Catholic, not long before his untimely death received an award from the Protestant Council of the City of New York.
At the local parochial level, the flow of information between congregations of the two faiths has increased. For example, in November, 1962, the New York Times carried an item, datelined Minneapolis, which stated:
About five hundred members of the St. Charles Borromeo Roman Catholic Church here visited Mount Carmel Lutheran Church where they had a reception and tour. It was part of a project in which congregations learn the doctrines and practices of others. Members of the Lutheran Church had previously paid a similar visit to the Catholic Church. A similar quest for understanding was undertaken in a two-part program in West St. Paul.
These exchange visits are going on in many parts of the United States and can hardly fail to produce greater understanding between members of the two religious bodies.
Again, dialogue has been and is being carried on between scholarly and responsible representatives of the two faiths. In November, 1963, Presbyterian Life carried an article entitled "Faith to Faith: Breakthrough in Baltimore." It described a television program that began in January, 1963, and lasted for fifteen weeks, and that in response to popular demand was rerun during the summer. This program featured a frank and courteous discussion of the two faiths, their agreements and their differences, between Dr. John Middaugh, minister of Brown Memorial Presbyterian Church, and Father Joseph Connolly, curate of the Roman Catholic parish of St. Gregory the Great. According to the article, the two participants "talked about Roman Catholic authority, Protestant concepts of authority, confession, penance, purgatory, veneration of the saints, the priesthood of all believers. The nature and number of sacraments (two or seven?), worship, mission, the Virgin, Protestant piety, and the resurrection. Without belligerence or rancor they explained, questioned, ruminated, laughed, occasionally protested a suspected unfair remark, and altogether displayed an on-camera, unrehearsed poise that proved a delight to the whole community."
Along the same line, in October, 1963, it was announced in the public press that a World Center for Liturgical Studies would be constructed at Boca Raton, Florida. There, it was explained, Protestant, Roman Catholic, and Eastern Orthodox theologians will be able to examine together the public worship of their churches. It is believed that this will be the first institute of its kind in the history of Christendom.
Also, recent world conferences of each of the two groups have welcomed representatives of the other. At the (predominantly Protestant) World Council of Churches' Third Assembly (New Delhi, 1961) there were official observers from the Roman Catholic Church. And when Vatican Council II was convened in 1962, Protestant observers were invited to attend and were shown every courtesy by their Roman Catholic hosts.
A Mutual Concern
More than that, in some places there has been a movement of practical mutual aid between the two churches. Some years ago Oscar Cullmann, well-known Swiss Protestant theologian, proposed that Protestant and Roman Catholic congregations should take up offerings for the poor of each other's parishes. Such action, he believed, would underline the solidarity of Roman Catholics and Protestants in their concern for one another as persons, even when they cannot affirm their unity as churches. Concerning this Robert M. Brown says, "The experiment has been tried in a number of places in Europe, and is perhaps the most feasible 'next step' toward greater understanding" (The Spirit of Protestantism, p. 169). Some such projects have been tried in the United States. For example, in September, 1963, the Massachusetts Baptist Convention announced it would undertake in the Boston area a "Good Samaritan" resettlement of Cuban Roman Catholic refugees temporarily living in Miami, Florida. The official spokesman for the Baptist Convention said, "We will assume the responsibility for the refugees' initial welfare, including home and job placement, as well as related service, but will not intrude in any way with regard to the religious belief and practice of these newcomers to our shores."
What these happenings add up to is this: there is a "new look," a new climate and atmosphere in Protestant-Roman Catholic relations, not only in the United States but elsewhere in the world. Why has this profound change taken place? What reasons can be assigned for it?
Reasons For The Change
First, the challenge of atheistic totalitarianism in Europe has driven the two Christian churches together in order to protect and defend their common Christian heritage. For example, the menace of Nazi paganism during Hitler's brutalitarian regime (1933–1945) eventually, though not immediately, brought the two Christian groups together in Germany. Thus "in the general destruction wrought by enemy bombings so many church buildings were damaged or obliterated and such migrations occurred that Roman Catholics permitted Protestants to hold services in their churches and Protestants extended similar courtesies to Roman Catholics" (K. S. Latourette, Christianity in a Revolutionary Age, IV, 229). And this Roman Catholic-Protestant solidarity has continued into the postwar period in East Germany, where atheistic Communism has taken over.
Secondly, during the last generation or two, secularism—practical atheism which believes that this life is all there is, and that God, if he exists, does not really matter—has become widespread throughout the world. The challenge of this secularism has taught the two Christian churches to realize how much they have in common as believers in Jesus Christ, and to appreciate the fact that, as Theodore O. Weddel has put it, "what Protestants and Roman Catholics have in common by way of basic belief in God and His revelation of Himself in the Biblical salvation drama, far transcends their differences" (The Gospel in a Strange New World, p. 104). Therefore they have become aware of their joint responsibility to stand together in witness to their basic Christian loyalties as over against secular neopaganism.
Thirdly, the attitude of Pope John XXIII during his all too brief pontificate (1958–1963) has wrought something of a revolution in Roman Catholic attitudes toward Protestantism. Pope John, while not compromising his Roman Catholic principles in any way, began a crusade of determined friendliness toward the "separated brethren" of Protestantism and Eastern Orthodoxy. In 1960 he set up a Secretariat for the Promotion of Christian Unity, "as a special sign of esteem and affection for separated Christians." He received in audience such leading Protestant dignitaries as the Archbishop of Canterbury, the Presiding Bishop of the Protestant Episcopal Church in the U. S. A., and—shades of John Knox!—even the Moderator of the General Assembly of the Church of Scotland. He accepted the invitation of the World Council of Churches to send official observers to the New Delhi Assembly in 1961, and he invited Protestant and Eastern Orthodox Christians to send their observers to the Second Vatican Council, which began in 1962. This attitude of Pope John has been continued and even accentuated by his successor, Pope Paul VI. For instance, when he opened the Second Session of the Vatican Council in late Sepember, 1963, "he made an appeal for Christian unity that went far and beyond the approach of his predecessor. He asserted that the long range aim of the Council was no less than the complete and universal union of all Christians, and he declared: 'If we are in any way to blame for that separation, we humbly beg God's forgiveness' " (New York Times, October 6, 1963). There can be no doubt that the stand of these two most recent popes has wrought a virtual revolution in Roman Catholic attitudes toward Protestants.
The Protestant Response
How should we Protestants respond to this situation? What is our properly Christian attitude? We should applaud every interchange of courtesies. We should welcome every opportunity to enlighten our Roman Catholic brethren about our faith and practice, and to learn about theirs. We should encourage informed and frank discussion of views by competent theologians of both groups on the differences that divide them. We should cooperate with our Roman Catholic brethren in expressing, and seeking to implement, Christian attitudes on such social questions as housing, race, and world peace. We should take seriously the Octave of Prayer for Christian Unity, instituted under Roman Catholic auspices some years ago, which sets aside the week of January 18–25 each year as a season of special prayer for the reunification of the Church of Jesus Christ.
But at the same time we should never forget that we as Protestants have a distinctive testimony to bear, on which there can be no compromise. The Reformation interpretation of the Christian Gospel includes three principles. First, Protestants believe in justification by grace through faith, which means that in Christian salvation all is of God, and that the only thing man can do is gratefully and humbly accept the salvation that God freely offers in Jesus Christ. Secondly, Protestants believe in the priesthood of all believers, which means that all Christians are created in the same divine image, redeemed by the same divine sacrifice, and called to the same divine destiny; that all have equal standing in the sight of God, and therefore have equal responsibilities and privileges in the Christian life. Thirdly, Protestants believe in the final authority of the Bible as the only rule of faith and life, unobscured by "traditions" which may, or may not, agree with the mind of Jesus Christ as revealed in the New Testament. To dilute this testimony would be for us Protestants a repudiation of our heritage, and a betrayal of the trust committed to us. And since Roman Catholicism, for all its new friendliness, does not seem in the least ready to accept this interpretation of the New Testament Gospel, any union between Romanism and Protestantism is not on the horizon in the determinable future.
Norman V. Hope is professor of church history at Princeton Theological Seminary. He is a graduate of Edinburgh University with the M.A., B.D., and Ph.D., and author of "One Christ, One World, One Church."
Have something to add about this? See something we missed? Share your feedback here.
Our digital archives are a work in progress. Let us know if corrections need to be made.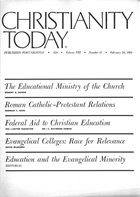 This article is from the February 28 1964 issue.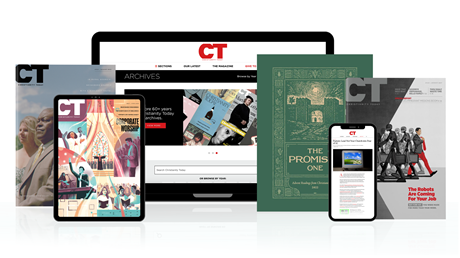 Subscribe to Christianity Today and get access to this article plus 65+ years of archives.
Home delivery of CT magazine
Complete access to articles on ChristianityToday.com
Over 120 years of magazine archives plus full access to all of CT's online archives
Subscribe Now
The 'New Look' in Roman Catholic-Protestant Relations
The 'New Look' in Roman Catholic-Protestant Relations