Editors of Protestant periodicals in the United States favored President Johnson over Senator Goldwater by a five-to-three ratio in the 1964 election campaign, according to a poll conducted by CHRISTIANITY TODAY.
Only a handful of periodicals, however, used their editorial pages explicitly to promote their choice in apparent violation of federal law (see box below). Most notable of these were the Christian Century, Christianity and Crisis, and United Church Herald, all of whom gave editorial support to President Johnson. No periodicals published endorsements of Senator Goldwater.
The CHRISTIANITY TODAY poll embraced the entire memberships of the Associated Church Press (173 publications) and the Evangelical Press Association (161 publications). Nearly all Protestant periodicals in the United States belong to one or the other of these organizations.
The questionnaire contained two statements: "I personally favor Johnson/Goldwater and plan to vote for him. The publication I edit has published endorsement of neither candidate/Johnson/Goldwater." The editors were asked to circle the appropriate selections.Most of the responses were made prior to two events that undoubtely influenced some voters: the ouster of Soviet Premier Nikita Khrushchev and the resignation of a Presidential assistant, Walter W. Jenkins, following disclosure of his arrest on a morals charge.
Of those who responded (180 U. S. editors), 98 indicated a personal preference for Johnson and 60 for Goldwater, while 22 expressed no preference.
A total of 176 indicated their publications had published endorsement of neither candidate. Four said their publications had printed an endorsement of Johnson.
Four publications had either opposed or criticized Senator Goldwater but had not endorsed either candidate.
The questionnaire did not ask responders to identify themselves and asked for no comments. A number of editors, however, replied in terms of a "sterile choice," "the lesser of two evils," and so forth.
That the decision was difficult for some editors was reflected in such ambivalent statements as, "I personally favor Goldwater and may vote for him," and "I personally do not favor Goldwater but plan to vote for him."
"When it comes to the Democrats, I'm not happy about the party, and when it comes to the Republicans I'm not happy about the man," wrote another editor. He had circled President Johnson's name.
In the "undecided" category were some who evidently were not planning to vote at all.
"I can't conscientiously cast a vote for either man," read one note. Another one said, "No comment. We vote for Righteousness and Christ Jesus the Prince of Peace."
When reasons were adduced, more often they reflected "anti" rather than "pro" attitudes. "How can one vote for a crook?" asked one pro-Goldwater editor. "Rather than voting for Johnson I'm voting against Goldwater," said another editor. Two editors who said they were Republicans circled President Johnson's name.
Another editor wrote laconically, "Favor neither, but suppose I'll vote for the Republican party."
The shortest unsolicited comment consisted of three exclamation points after the encircled name of Senator Goldwater.
Comments And No-Comments
A set of questions addressed to President Lyndon Johnson and Senator Barry Goldwater by Protestants and Other Americans United for Separation of Church and State elicited a direct response from Mr. Goldwater, an indirect one from Mr. Johnson, and little new information from either Presidential candidate.
On the subject of school aid, both reiterated previous stands. Mr. Johnson let it be known through a spokesman that he opposed "any program, including assistance to schools, which does not strictly conform to this constitutional requirement [of church-state separation]."
Mr. Goldwater said that he was opposed to federal aid to any schools, but if public schools received aid, parochial schools should too.
Asked whether he favored diplomatic representation at the Vatican, Mr. Johnson indicated he had "no plans" to appoint an ambassador or personal representative. Mr. Goldwater refrained from comment.
Neither replied explicitly to POAU's suggestion that they pledge themselves to the continuation of the policy of church-state separation, but statements by both candidates indicate their support of the principle.
Asked whether they would "favor or oppose government assistance for birth control," both declined comment.
No Cramming For The Finals
A Seventh-day Adventist from Australia won top honors at the Third International Bible Contest in Jerusalem and was awarded a gold medal by Salman Shazar, President of Israel.
Graham Mitchell, 29-year-old treasurer of a health-food company near Sydney, beat the Israeli runner-up and eighteen other international finalists. He scored forty-five out of a possible fifty points, answering such questions as "Give six instances where a man or a women prevented war or bloodshed."
The contest, sponsored by the Israel Bible Society, attracts nationwide interest in Israel. An estimated 100,000 people followed its progress on the radio. The final session lasted six hours.
In Washington for a brief visit to the Adventist world headquarters, Mr. Mitchell said that he did no special "cramming" for the finals, but that he reads the Bible through annually, picking out a different theme each year.
The Missionary Pope
Pope Paul's announced intention to visit India to attend the World Eucharistic Congress in December and his proclamation of twenty-two new African saints have been hailed as the "true beginning of the Pauline reign."
"The Pope is becoming a missionary, which means a witness, a shepherd, an apostle on the move," said Pope Paul in his address. President Sarvepalli Radhakrishnan had invited the Pope to visit India; however, objections and charges of a "papal invasion" have been made in some quarters.
In other Vatican news, some observers in Rome anticipated a fourth council session; many of the participants wish fuller treatment of several topics.
Possibly the most irenic council statement to date is the schema entitled De Ecumenismo, which says that Catholics share with Protestants the responsibility for church divisions. It was overwhelmingly approved.
Still to be discussed was the long-awaited schema "On the Church and the Modern World," dealing with such questions as marriage and family planning. Though its language suggested to some observers in Rome an apparent endorsement of birth control, the schema stops short of approving contraceptives.
Other topics discussed are nuclear war, economic life, and world organization.
Fatal Flight
Four Seventh-day Adventist laymen from California were killed last month when their single-engine Beechcraft Bonanza crashed and burned near Hermosillo, Mexico.
The plane was the last in a caravan of six carrying members of a "goodwill delegation" to an Adventist industrial-agricultural school in Navajoa, where they were to conduct a clinic.
Killed were the pilot, Bennett Esposito, 37, a real estate broker; Tor Lidar, 49, editor of a campus newspaper at the church's Lama Linda (California) University; Johan B. Furulund, 39, a dentist; and Dallas R. White, 64, a retired employee of an Adventist hospital in Los Angeles.
On Bivouac At Cape May
Shelton College, formerly located at Ringwood, N. J., is now "in business" at the headquarters of the Christian Admiral, a conference center in Cape May, N. J., despite the fact that the Cape May City Council has ruled that the college's presence there violates zoning laws.
Dr. Carl McIntire, who is head of the center and chairman of the board of trustees of the college, has been quoted as saying he will carry the case to the Supreme Court if necessary.
"I don't think the city or anyone else is against the college," said one informed source who is allied with neither side. But Deputy Mayor Frank Gauvry says he is opposed to "aiding and abetting controversial figures"; and he has publicly indicated his fear that the Coast Guard, which maintains a large contingent at Cape May, might move out of "a center of controversy and unrest." Gauvry noted that Sen. Strom Thurmond of South Carolina and retired General Edwin Walker had both spoken at the Christian Admiral.
The city has filed suit at the regional chancery court, but one newspaper predicted that the case will not come up before next spring. Meanwhile, classes for Shelton's 207 students are proceeding without hindrance, reports President Arthur E. Steele.
College officials hope to be able to move to the new campus site, located near the Christian Admiral, by next school year. A zoning application for the new property is still pending. Another issue is the use of the Christian Admiral for "tax exempt purposes contrary to the deed," said a city attorney.
The college has been editorially welcomed to the city by both local newspapers. Readers' letters to one of them have been running two to one in favor of the college.
THE GREATEST THRILL
"A Russian track star gave me a doll," said tall, rugged Princeton basketball star Bill Bradley, "so I gave him a Russian New Testament." Why would this star forward of the U. S. A. Olympic basketball team present the New Testament as a gift? His answer: "It's the most important thing in the world to me."
As Bradley tells his story, "it all began" when his mother read in a Sunday supplement about the Fellowship of Christian Athletes. She encouraged him to attend the movement's annual summer conference. His counselor there was Fran Tarkenton, quarterback of the Minnesota Vikings and a dedicated Christian.
"I had an intellectual belief," Bradley continued, "but it had never filtered down to take possession of my heart and my emotions." "I don't mind telling you," he went on, "when God in Christ came into my heart, I got emotional. I knew it was real."
The Bible helped Bradley through spiritual frustration during freshman days at Princeton, where he "got into a small Bible study of concerned students and really began to grow."
What has been Bradley's greatest thrill in the Olympics thus far? Not the opening ceremonies, when 5,000 athletes from all nations saw the Olympic torch lighted. Not when Bradley won his first game, against Australia. "No, the greatest thrill of the Olympics for me has been meeting Christians from other nations," says the two-time All-American basketball player. "Yesterday I met the coach of the Nigerian track team. He is an outstanding believer, won to Christ by a faithful mother and father who had become Christians through some courageous missionaries. This is a great family we are in."
Ecumenism Afloat
Churchmen from twenty-one European countries, meeting aboard the 5,000-ton liner "Bornholm," voted to change the structure of the European Conference of Churches from an informal fellowship into an official ecumenical organization.
Following two hours of discussion, a draft constitution which brought into being the first pan-continental church organization ever formed in Europe was adopted by the approximately 250 delegates. There were no dissenting votes, according to Religious News Service, though five delegates were reported to have abstained.
The conference, which has been kept intentionally loose since its first meeting was held in 1957, includes representatives of nearly all Protestant, Anglican, Orthodox, and Old Catholic churches in Europe.
All three previous meetings of the conference were held at Nyborg, Denmark. The meeting last month convened aboard the privately owned Danish ship in the international waters of Kattegat Channel, between Denmark and Sweden, to allow participation by East German delegates.
Communist authorities would not grant East German delegates allied travel permits to visit Denmark, a NATO-member country, and Denmark would not allow the delegation to enter without the permits.
The constitution described the aim of the conference as "cooperation, by means of regular meetings, to discuss questions concerning the churches in Europe and to assist each other in that service which is laid upon the churches in the contemporary European situation."
The conference was described as "autonomous" but "closely related to the World Council of Churches in the common effort to promote Christian unity and service."
Key speakers for the floating conclave included Dr. W. A. Vissert Hooft, WCC general secretary, and Leslie E. Cooke, associate general secretary, both of whom hailed the action of the conference.
A first article of the constitution paralleled that of the World Council, stating that it is "an ecumenical fellowship of churches in Europe which confess the Lord Jesus Christ as God and Savior according to the Scriptures and therefore seek to fulfill together their common calling to the glory of the one God, Father, Son, and Holy Ghost."
The constitution established as organs of the conference an assembly, a presidium, an advisory committee, and a secretariat. Assemblies are to be held every two years.
Debate developed over the relation the conference is to maintain with various non-ecclesiastical ecumenical groups in Europe.
As adopted, the constitution authorizes the presidium and advisory committee to invite representatives "from Christian movements and organizations" who accept the conference aims to "participate in the work of and preparation for the Assembly in a consultative capacity."
The conference elected seven presidents: Russian Orthodox Archbishop Alexis of Tallin and Estonia; Dr. Egbert Emmen, general secretary of the Dutch Reformed Church; Anglican Bishop Leslie Hunter (retired of Sheffield, England; Metropolitan Justin of the Rumanian Orthodox Church; Archbishop Jaan Kiivit of the Evangelical Lutheran Church of Estonia; Bishop Hanns Lilje of the United Evangelical Church of Germany; and Methodist Bishop Ferdinand Sigg of Zürich, Switzerland.
Have something to add about this? See something we missed? Share your feedback here.
Our digital archives are a work in progress. Let us know if corrections need to be made.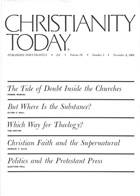 This article is from the November 6 1964 issue.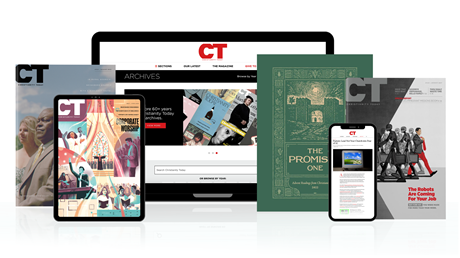 Subscribe to Christianity Today and get access to this article plus 65+ years of archives.
Home delivery of CT magazine
Complete access to articles on ChristianityToday.com
Over 120 years of magazine archives plus full access to all of CT's online archives
Subscribe Now
Politics and the Protestant Press
Politics and the Protestant Press