Baptist participation in serious theological and ethical dialogue with Roman Catholics can hardly be said to have antedated the pontificate of John XXIII. The two major postures of Baptists, in the United States at least, toward the Roman Catholics, whether devout or nominal, had previously been polemical and conversional.
In the nineteenth and twentieth centuries Baptist polemical writers in North America who have written about the Roman Catholic Church have tended to fit one or more of four basic patterns. There were rebuttalists, such as J. M. Cramp, William Cathcart, J. H. Eager, W. J. E. Cox, and E. Y. Mullins, who joined with other Protestant writers to answer or refute the most pertinent claims made by Roman Catholicism. There were exposurists, such as Richard Fuller and, of the more thoroughgoing type, J. D. Fulton and T. E. Watson, who alleged various ethical or moral perversities in the Roman Catholic Church, past or present. Others, such as J. R. Lamb and, more recently, W. H. Rone, sought to refute Roman Catholic succession by advocacy of a Baptist historical succession from the first century A.D.—an approach rejected by most professional historians of the Baptist movement since 1900. Other Baptist writers concentrated on religious liberty and church-state issues. Some of these, such as John T. Christian, T. W. Calloway, and Rufus W. Weaver, saw the church of Rome as the inevitable and irreconcilable enemy of American democracy. Other writers, notably George W. Truett, Joseph M. Dawson, and C. E. Carlson, articulated a firm but more irenic position.
With the development of Protestant missions in Latin America and southern Europe in the nineteenth century, Baptists among others began to articulate a theology of mission to peoples nominally Roman Catholic. William R. Williams and B. H. Carroll wrote in this vein in the nineteenth century, while William O. Carver was the leading missiologist among Baptists and Kenneth S. Latourette has been the leading historian of missions during the present century.
Speaking To Each Other
Baptist leaders in dialogue with Roman Catholics in the United States have included the late Conrad H. Moehlman, Stanley I. Stuber, Brooks Hays, and J. H. Jackson. As yet Baptist-Roman Catholic dialogue has not produced a very considerable body of literature from Baptist authors; yet the interest in dialogue is noteworthy in view of the wide gulf between Roman Catholic and Baptist theological positions. The Executive Committee of the Baptist World Alliance, meeting near Oslo, Norway, in August, 1962, discussed at length and with honest differences of opinion an inquiry from the Vatican Secretariat for Promotion of Christian Unity whether the alliance would favorably receive an invitation to send observers to Vatican Council II. The committee replied that it was not agreed that such an invitation should be encouraged but assured "the authorities of the Roman Catholic Church of its hopes and prayers that the forthcoming Council will contribute to an increasing understanding of the will of God and the unity of his people." Hence the Baptist World Alliance has had no official observers at Vatican II. However, certain individual Baptists have been present in Rome during sessions of the council. The Baptist Joint Committee on Public Affairs, representing eight Baptist bodies in North America and concerned primarily with religious liberty and church-state issues, has maintained a press representative in Rome during the second and third sessions of Vatican II.
Instances of dialogue may be found in academic settings, on the community level, and even in predominantly Roman Catholic nations. A Baptist seminary student and a Jesuit theological student were asked to prepare and read papers on their views of religious authority as groups of seminarians exchanged campus visits. Surprisingly, the Jesuit dealt primarily with texts in Acts and Galatians which he related to his concept of Petrine authority, and the Baptist gave a theological and philosophical statement without reference to specific biblical texts. In certain American cities both Baptist pastors and Catholic priests are participating in periodic pastor-priest study groups. In a city in north Brazil in which Baptists have since 1922 maintained a colégio, a Roman Catholic priest who is dean of the philosophical faculty of a large Brazilian university reportedly admonished his Catholic hearers from the pulpit of a local parish, "Fall on your knees and thank God for this Baptist colégio in your city." Later, the Baptist colégio invited this same priest-dean to deliver its commencement address, and, while his bishop was attending the first session of Vatican II, the priest did so.
Several important factors militate against more fruitful or extensive Baptist-Roman Catholic dialogue at present. One is the carry-over of strong and deeply rooted strains of anti-Catholicism and anti-Protestantism, including suspicions of the ulterior motives of others and the tendency to categorize all Roman Catholics or all Baptists in one unfavorable mold, as, for example, "opponents of democracy" or heretics." A second factor is the persistence of genuine differences on church-state issues facing the United States Congress or various state and local governments. The issue of tax support for parochial schools is the most acute of these issues. The participation of various Baptists in the leadership of Protestants and Other Americans United for Separation of Church and State and widespread Baptist support of POAU have led some Catholics to interpret such activity as motivated solely by "anti-Catholicism"; and certain Protestant writers in recent years have made such an interpretation seem more plausible by unqualified condemnations of POAU. Thirdly, not many Roman Catholics or Baptists have had widespread experience in the kind of dialogue now called for. Not until recently have Roman Catholics been permitted or encouraged to engage in dialogue with Protestants. American Baptists and British Baptists by participation in the ecumenical movement are generally more familiar with interconfessional dialogue than Southern Baptists, who have officially been non-participants. A fourth factor working against Baptist-Roman Catholic dialogue may be the thinking prevalent among many Baptists that Vatican II is bringing about non-dogmatic, and hence minor, changes within the Roman Catholic Church and that Pope Paul VI seemingly does not want the "windows" open so much as did Pope John XXIII. Therefore, since the Johannine interlude in papal history has passed, some tend to feel that the potential fruitfulness of dialogue is limited. Finally, the failure of certain more eager participants in Protestant-Catholic dialogue to deal realistically with continuing doctrinal and moral differences has tended to turn some away from interest in dialogue.
On the other hand, Baptists who are informed about the biblical, liturgical, critical-historical, theological, and lay movements within the Roman Catholic Church during recent years lean toward a more open posture regarding dialogue. Likewise, those Baptists who are sensitive to the need for church renewal today can read Professor Hans Küng's description of the dangers of the church's becoming too "worldly" and too "churchy" and know that such conditions are not peculiar to the Roman Catholic Church (The Council, Reform and Reunion, pp. 21–25). Southern Baptists, who face acutely the contemporary racial crisis, are unable to refute Reinhold Niebuhr's evaluation, written in 1958, that the Roman Catholic Church by its hierarchical structure and its sacramental rather than "chummy" fellowship is making more rapid strides in racial desegregation than Protestant churches (Pious and Secular America, pp. 82–84). Such conditions may make it evident to many that dialogue, not monologue, is in order.
Three Points Of Division
The era of dialogue has not erased the numerous theological and ethical differences between Baptists and the official teaching of the Roman Catholic Church. The average Baptist is more conscious of such differences in the areas of grace and merit, the sacraments, the priesthood, and purgatory than in the areas of faith and reason, the application of natural law, original sin, mortal and venial sins, and justification and sanctification. Three divisive issues are of special importance if future dialogue is to be realistic and meaningful.
Religious Liberty: Baptists, who for three and one-half centuries have advocated the right of all men to freedom in the exercise of religious faith and practice without interference from civil authority, have been especially sensitive to the failure of the Roman Catholic Church in modern times to abandon its historic policy of seeking civil restrictions upon the faith and practice of non-Catholics in predominantly Catholic nations and of teaching that Catholic acceptance of religious liberty for all citizens in other nations is only an expedient and temporary accommodation of principle. The writings of John Courtney Murray, S. J., in the United States and those of various European Catholic thinkers, as summarized in Roman Catholicism and Religious Liberty by A. F. Carrillo de Albornoz, have raised the hopes of all concerned with liberty of conscience. Yet, as the Baptist historian Winthrop S. Hudson wrote in 1959, "The voice that counts is the voice of Rome. The minimum assurance … would seem, therefore, to be a … declaration that it is at least permissible for a Roman Catholic to accept and defend, on the basis of principle … the fundamental guarantees embodied in the Bill of Rights" (Understanding Roman Catholicism, p. 160). No action of Vatican II would serve to remove a "stone of stumbling" between Baptists and Roman Catholics more readily than a clear, unambiguous conciliar declaration in behalf of religious liberty for all men, followed by implementation in southern Europe and Latin America. Baptists, no longer apprehensive that their fellow believers would endure discrimination in mixed marriages, suffer civil disabilities, have their church buildings closed, or even face death at the hands of a fanatical mob of Catholics, could then give attention to other issues both they and Roman Catholics face in today's world.
Mary versus Christ: The Marian dogmas and piety constitute another major gulf between Baptists and Roman Catholics. The concern of Baptists as to Marianism, shared with other Protestants, is that articulated in the writings of Presbyterian John A. Mackay, especially in his 1955 article, "The Marian Cult in Relation to the Lordship of Jesus Christ and the Unity of the Church." Not only are the Marian dogmas and piety without foundation in the New Testament: they constitute a distinct challenge to the mediatorial office and sovereign Lordship of Jesus Christ. Mariology, far from being a department of Christology, is a usurpation of the saving work of our Lord and a threat to the integrity of the Trinitarian self-manifestation of God.
Authority: The ultimate question of authority goes beyond the Tridentine issue of written Scriptures versus written Scriptures plus unwritten traditions. It involves the distinction between (1) a norm in apostolic Christianity that judges later and contemporary teaching and practice and (2) an evolving institutional church, which, having forsaken the fixity of dogma of Bossuet for the developmentalism of J. H. Newman and J. A. Möhler, sees in itself at present the ultimate judge of all religious and moral truth. Moreover, the locus of such ultimate authority is said to be the Petrine-papal primacy, which, since 1870, has been said to embody in itself the charism of infallibility. To freedom-loving, democratic Baptists the papal office still bears the authoritarian, autocratic marks of the Roman Caesar, even when occupied occasionally by a shepherding pope. Few Baptists would differ from Reinhold Niebuhr at the point of his indictment of the sinful pretensions of a human, historical ecclesiastical institution in its claims always to speak unerringly for Christ and to identify itself indistinguishably from the fulfilled Kingdom of God.
But in spite of such great differences as those discussed in this essay, Christians who are earnestly seeking to "speak the truth in love" may discover, while adhering to the truth they apprehend by faith, that the agape of Christ is able to cross barriers and bind men together by bonds that are real and strong.
Have something to add about this? See something we missed? Share your feedback here.
Our digital archives are a work in progress. Let us know if corrections need to be made.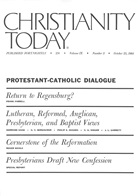 This article is from the October 23 1964 issue.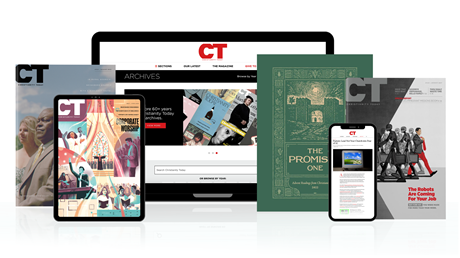 Subscribe to Christianity Today and get access to this article plus 65+ years of archives.
Home delivery of CT magazine
Complete access to articles on ChristianityToday.com
Over 120 years of magazine archives plus full access to all of CT's online archives
Subscribe Now
A Baptist View
A Baptist View