Many years ago we came under the influence of some enthusiastic men who convinced us that a business venture in which they were engaged was destined to become a sensational success. As a result we bought ten shares of stock—only to find the men had little more than enthusiasm and glib tongues. The enterprise ended as a complete failure.
As the saying goes, we had been "sold a bill of goods"; we had exercised poor judgment and lost our money.
We believe that many in the Church today, both ministers and laymen, have been "sold a bill of goods."
General hospitals exist to diagnose and treat disease. In them one finds labor and delivery rooms, laboratories, operating rooms, and various other facilities for relieving pain and healing sickness. People rightly look to their hospitals and those on their staffs to be competent and faithful.
Suppose then that one found in a hospital the following conditions:
No labor or delivery rooms, no babies born. In place of this there is a morgue where physicians spend their time making corpses attractive—with cosmetics, meticulously arranged coiffures, fashionable clothes, and "Chanel No. 5" or "My Sin."
When questioned, the physicians say frankly that they do not believe in delivery rooms, nor do they believe that people are born into the world. Rather, they believe that, given proper attention, corpses eventually come to life and become useful members of society.
In the wards and private rooms one finds doctors busy treating symptoms. For pain only a narcotic is given. When laboratory findings indicate a disordered metabolism, or dysfunction of an organ or system, some panacea is prescribed. When the patient's symptoms get worse, doctors and nurses become more frantic in their efforts. That many patients die indicates to the doctors and nurses that treatment of symptoms has not been carried on aggressively enough.
When some who have had their diseases cured in other hospitals visit relatives and see conditions in this hospital, they call the doctors in question. But the doctors reply that their calling is to treat symptoms, and some are even unwilling to admit the reality of disease. In fact, relatives are told that it is "old fashioned" to talk about disease; that such a viewpoint is not "relevant" to today's world; and that it is their duty to improve environment, further education, and help their sick to become adjusted to life.
But there is another important department of the hospital—the operating rooms. Here there is found the most modern equipment, gleaming stainless steel and enamel, and an array of instruments and solutions. Asepsis is rigidly observed; even the air is purified. But as one watches an "operation," he is amazed to see that the surgeon and his assistants are merely making gestures. There is no knife in the hand of the surgeon and no blood where the incision is supposed to have been made.
Is all of the above a foolish fantasy? Of course. Should such a situation be found in any hospital, doctors and local medical societies would take immediate action.
Nevertheless, the absurd conditions imagined for a hospital are a reality in many churches today. Ministers with high spiritual calling—to win men and women to a saving faith in Jesus Christ and then build them up in the Christian faith—have left this calling for a secular one.
Many ministers, through their training and reading, have come to the place where they are no longer fulfilling their ministerial functions and instead have become sociological and political workers. Because of this, parishioners are being neglected in areas where they desperately need help, or are being led astray be the notion that becoming a Christian and acting like one is a matter of reformation, not redemption.
The "New Birth," which our Lord says is an imperative, is not compatible with the new view. Man, we are told, is not a lost sinner but a misguided saint. He needs, not the regenerating power of the Holy Spirit, but the environmental and educational facilities to bring out what already exists in him by natural inheritance.
There is no difference between the folly of trying to make a corpse attractive and the folly of attempting to make unregenerate men into new creatures without the supernatural atoning and cleansing work of the Christ of Calvary.
Social maladjustments, economic and political injustices? Certainly they exist. But solutions that ignore the need for changed hearts are no solutions, only panaceas that add to the problem.
But what about that absurd picture of an operating room where the surgeon merely made gestures—where there was no knife and no blood?
There are many churches today where the edifice is an architectural masterpiece and the program meticulously arranged; where the singing is beautiful, the ritual an esthetic gem; and where the Sword of the Spirit, the Word of God, is used only as a gesture, while copious quotations from contemporary authors serve to demonstrate the erudition of the preacher. As for "blood"—we can hear the horrified chorus: "This is an offense to the esthetic senses of our twentieth-century man." And yet, the Bible repeatedly affirms that man's redemption centers in the shed blood of Calvary.
Yes, multitudes of ministers have been sold a bill of goods whereby they have been steered away from their spiritual calling into the secular world, not with a message of redemption from sin but with a program of social reform. Because of this diversion of calling and message, the Church is suffering. Men are being deluded; they are starved for spiritual truth. And the unbelieving world loses interest in the Church as a place to turn for salvation.
But there comes the rebuttal: "If the Church does not go out into the market place and become involved in the daily problems of mankind she loses her relevance to the day in which we live!"
The Church does not go into the market place as an organization. Rather she is to be found out in society in the persons of men and women who have had a saving experience with the living Saviour, and in no other legitimate way. Redeemed people are the "light" to lighten the dark places of the social order; they are the "salt" that by God's grace sweetens and preserves what is otherwise decaying and offensive.
That one should feel called upon to urge ministers to recognize and follow their spiritual calling is in itself a tragedy, but this is the greatest need of the Church in our time.
The words of our risen Lord speak to us today: "I counsel you to buy from me gold refined by fire, that you may be rich, and white garments to clothe you and to keep the shame of your nakedness from being seen, and salve to anoint your eyes, that you may see" (Rev. 3:18, RSV).
Have something to add about this? See something we missed? Share your feedback here.
Our digital archives are a work in progress. Let us know if corrections need to be made.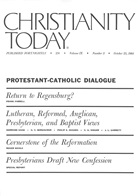 This article is from the October 23 1964 issue.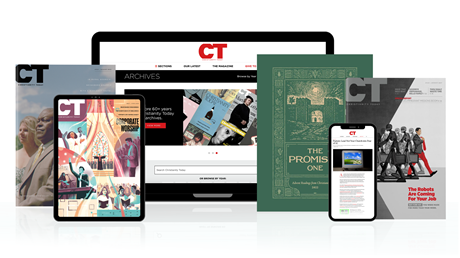 Subscribe to Christianity Today and get access to this article plus 65+ years of archives.
Home delivery of CT magazine
Complete access to articles on ChristianityToday.com
Over 120 years of magazine archives plus full access to all of CT's online archives
Subscribe Now
A Bill of Goods
A Bill of Goods