The name of God was invoked on many sides of the political issues at stake in this month's congressional and gubernatorial elections, and two pervasive issues—Viet Nam and white backlash—posed the kind of moral questions that invited greater church involvement in politics than is usually evident.
Viet Nam might logically have been the most viable political issue but it was not, because most candidates generally agreed with current policy. Only in Oregon did one of the "glamour" races spotlight that issue. Governor Mark O. Hatfield (an articulate evangelical Christian), in spite of his maintaining a "dove-ish" position on Viet Nam, defeated Representative Robert Duncan, a Democrat "hawk," to win a vacant Senate seat.
Backlash loomed larger and was vigorously enjoined by many churchmen. An example of this action was Maryland, where Democrat George Mahoney based his gubernatorial campaign entirely on opposition to open housing legislation. Most of the large denominations denounced Mahoney's platform, by official or quasi-official statements. A half-page advertisement in the Washington Post, headed "A Call to Maryland Voters of Religious Principle!" was cosponsored by Roman Catholic, Presbyterian, and Episcopal interracial councils. It admonished voters: "Your church or synagogue bans bigotry not only on your conscience, but also on your ballot! VOTE for AGNEW." Spiro T. Agnew was elected in spite of Mahoney's 3-to-1 Democratic registration advantage.
In Arkansas, where Little Rock had been one of the early civil rights battlefields, backlash also failed to be decisive. The moderate ex-Yankee Republican Winthrop Rockefeller won the governorship over segregationist Democrat James Johnson.
In Georgia, "God-fearing," Bible-quoting arch-segregationist Lester Maddox had been officially denounced by Roman Catholic Archbishop Paul J. Hallinan. Hallinan said that it was not the policy of his archdiocese to get into politics but "this is not politics, it is morality." Democrat Maddox ran a close race against Republican Howard H. Callaway, and write-in votes for former Democratic Governor Ellis Arnall threatened to keep either candidate from getting a clear majority and to put the election in the hands of the legislature or the courts.
Backlash didn't stop Massachusetts Attorney General Edward W. Brooke, a Negro and Republican, from winning a Senate seat against former Governor Endicott Peabody. Brooke, who will be the first Negro in the Senate since 1871, received strong support from Italian and Catholic precincts and was opposed in white, Anglo-Saxon Protestant areas (according to CBS Vote Profile Analysis).
The gubernatorial race in Pennsylvania had some religious overtones. Democratic candidate Milton Shapp (formerly Shapiro), the first Jew to run for the governorship, claimed some grass-roots anti-Semitism. Shapp also antagonized Catholics by urging "stronger" public birth control measures, and provoked some Protestant resistance by his pledge to legalize church bingo. The governorship went to Lieutenant Governor Raymond P. Shafer, son of a Protestant minister.
Voting On Issues
A number of state referenda, initiatives, and constitutional amendments drew church interest:
State lotteries. New York voted 2 to 1 to amend the state constitution to authorize a state lottery to raise education funds, and New Hampshire approved, almost 4 to 1, wider sale of its lottery tickets. A bid by a private company in Nevada to put a lottery initiative on the November ballot was barred by the Nevada Supreme Court and the U. S. Supreme Court refused to hear an appeal.
The New York lottery issue was the most crucial and many Protestant groups went on record against it. The candidate for lieutenant governor on Franklin D. Roosevelt, Jr.'s, Liberal Party ticket, the Rev. Donald S. Harrington, a Unitarian, opposed the lottery bid, which his running mate supported. Harrington said, "I take a very simplistic view on this—I believe you don't get something for nothing."
Capital punishment. In Colorado a referendum supported by a number of mainline church groups to abolish the death penalty was defeated.
Sunday blue laws. Washington approved, almost 2 to 1, an initiative to repeal Sunday blue laws. Seventh-day Adventists supported the initiative; other church groups opposed it.
Alcoholic beverages. South Carolina strongly defeated a liberalization of liquor laws which would have allowed sale of liquor by the drink. Massachusetts voted to place the regulation of alcoholic beverages in the hands of the towns rather than the state.
Aid to parochial schools. Nebraska knocked down a constitutional amendment proposal authorizing state bus service for parochial school students. The proposal carried in the cities but was defeated by the rural vote.
Horse racing. New Jersey will have night horse racing with the passage of a referendum, in spite of the protests of the New Jersey Council of Churches.
California: Smut Law Smitten
Californians this month turned down an initiative to toughen anti-obscenity laws by a vote of 3.2 to 2.5 million, after a battle with churchmen on both sides.
The constitutionality of the proposed law, questioned by chief legal counsels of Los Angeles County and San Diego city, was the key issue. Acknowledging that "this may not be a perfect legislative instrument," the Southwest Regional Board of the National Association of Evangelicals urged voters to use the opportunity "to give a mandate for decency in our society." Other supporters included Roman Catholic prelates of three major cities, the Southern Baptist Convention of California, and Governor-elect Ronald Reagan.
Against the initiative were the board of the Northern California Council of Churches, James Francis Cardinal McIntyre of Los Angeles, the council of the Episcopal Diocese of California, and the California Library Association.
The proposal, going beyond U. S. Supreme Court rulings, would have: Eliminated the "social importance" test for obscenity; judged a work obscene if it appeals to the "prurient interest" of a "specially suceptible audience" to whom it is distributed; expanded the definition of "knowingly" to include "recklessly failing to exercise reasonable inspection" of literature before distribution; and made conspiracy to violate obscenity laws a felony.
Have something to add about this? See something we missed? Share your feedback here.
Our digital archives are a work in progress. Let us know if corrections need to be made.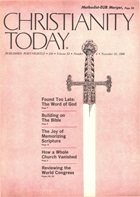 This article is from the November 25 1966 issue.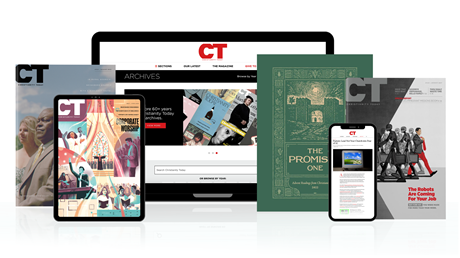 Annual & Monthly subscriptions available.
Print & Digital Issues of CT magazine
Complete access to every article on ChristianityToday.com
Unlimited access to 65+ years of CT's online archives
Member-only special issues
Subscribe
Churches Active in '66 Ballot Battles
Churches Active in '66 Ballot Battles