"Have you been born again?"
The questioner was a woman missionary from Australia who was traveling through China. I had been a missionary for some years, and a certain resentment welled up inside me at the question. But I answered, "Yes."
This woman asked the same question wherever she went, of pastors, elders, deacons, missionaries, and Chinese Christians alike. It often provoked the same resentment I felt.
A short time ago a Bible teacher and his wife from America worshipped in a large Pentecostal church in São Paulo, Brazil, one of sixty such churches in that city. The wife of this world-known teacher of the Word was asked, "Have you been born again?"
The visiting Americans were thrilled at the earnestness of these Christians and their putting of first things first. Such zeal and directness may well be part of the reason why Pentecostals in Chile and Brazil now outnumber all other Protestants there.
"Have you been born again?"
Why is it that the imperative of the new birth is hardly mentioned in church circles today? Can it be that "the god of this world has blinded the minds of the unbelievers, to keep them from seeing the light of the gospel of the glory of Christ, who is the likeness of God" (2 Cor. 4:4, RSV).
The necessity for the new birth—that is, for regeneration—lies in the very nature of unregenerate man. Jesus made it plain to Nicodemus that a Jew was of the seed of Abraham by natural birth but that only he who is born again of the Spirit of God is a son of God.
He told Nicodemus, and he tells us, that a man can neither "see" nor "enter" the Kingdom of God without this transformation of his nature; the Kingdom of God is that spiritual realm where God's holy will is done in the hearts of men, now and for all eternity.
This transformation can never be achieved by man himself. Just as he is not responsible for his physical birth, so he cannot be the agent of his spiritual rebirth. A dead man cannot give himself life.
God alone has the power to bring spiritual rebirth. It is his Spirit that operates in the hearts of men to bring new life.
The new birth is a theme found in both the Old and New Testaments. Ezekiel suggests the idea when he speaks of God's offering "a new heart and a new spirit" (18:31), and when he records the word of the Lord that came to him: "A new heart I will give you, and a new spirit I will put within you" (36:26a).
In the New Testament we are admonished to "put off the old nature" and to "put on the new nature"—a work of the Spirit.
We read of being "begotten … unto a lively hope" (1 Pet. 1:3), of being "born anew" (1 Pet. 1:23), of being begotten "by the word of truth" (Jas. 1:18), of the "washing of regeneration" (Titus 3:5), of the new birth as a "resurrection" (Rom. 6:1–11), of new Christians as being "babes in Christ" (1 Cor. 3:1, 2) and therefore needing the care a child needs (Heb. 5:12–14), of a "new creation" (2 Cor. 5:17 and Gal. 6:16).
In the new birth there is the mystery of a work of God in the human heart that makes us completely new and affects our tastes, habits, desires, appetites, judgments, opinions, hopes, and fears. This change takes place through the operation of God's Holy Spirit on the center of our hearts and wills. It is evidenced when we have died to self and this world and have been born anew to obedience to God by the Spirit. This produces a new creature with new outlook, desires, and destination. It involves a change in citizenship from this dying world to the eternity of heaven itself. It is a passing from death to life, from servitude to Satan to freedom in Christ, from darkness to light—all through the mercy and power of God.
Our Lord makes it clear that birth into this world is of the flesh and that the rebirth is of the Spirit. Paul tells us the fleshly, or carnal, mind is at enmity with Christ (Rom. 8:7) and that reconciliation to God (being born again) is a work of the Spirit that changes us from enemies of God to sons.
A right relationship with Jesus Christ may come into being without money, rank, or education, but not without the new birth. He who is not born again remains alien to the divine family.
Perhaps the most obvious argument for Christianity is a changed life. No one should dismiss a religion that makes bad men good. The world takes a dim view of Christianity because so few of us give evidence of having been born again. Regeneration—the new birth—is a lost or neglected emphasis in preaching today, and as a result many church members show no signs of having been converted. An imperative is being ignored, and the very heart of the Gospel is being neglected.
The new birth is not superficial; it is a deep and complete change in our natures. It is more than reformation. It is more than an amendment. It transcends any moral change. It does not bring just an outward alteration of life; it brings a new life in Jesus Christ.
This does not mean that the born-again person becomes sinless. This side of heaven no one becomes perfect—that is, completely sanctified. But it does mean that the direction and the willful intent of life is in and toward Christ, not in and toward this world.
Jesus told Nicodemus that a man must be born again, that he must have a completely new start. He must be born again the second time, not of flesh but by the Spirit. And he must be born from above, from God.
Many yearn for this change but find themselves helpless. "I know it is necessary," they say, "but I find it impossible." At this point they are close to the Kingdom of God. Christ did not come to call the righteous to repentance but lost sinners. He requires of us only the faith and attitude of little children, a faith in him and not in ourselves.
The new birth proceeds out of our willingness to receive Christ and experience his redeeming and regenerating work of grace. It is characterized by our obedience to him. It is prompted by his love and our response in simple faith.
The new birth involves cleansing. It involves power—the mightiest power of all, that of the Holy Spirit. It wipes out the past with all its rottenness. It gives peace and assurance with which to live in a tormented, turbulent, and dying world, and it gives power that goes on over into God's eternity.
Born again? Then we are content with God's will, whatever that may be. We are citizens of his Kingdom. We are sons of God.
Have you been born again?
Have something to add about this? See something we missed? Share your feedback here.
Our digital archives are a work in progress. Let us know if corrections need to be made.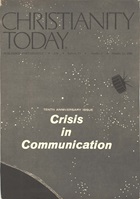 This article is from the October 14 1966 issue.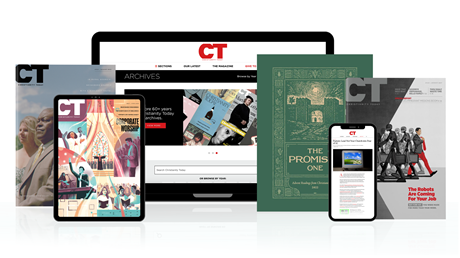 Annual & Monthly subscriptions available.
Print & Digital Issues of CT magazine
Complete access to every article on ChristianityToday.com
Unlimited access to 65+ years of CT's online archives
Member-only special issues
Subscribe
Have You?
Have You?