In 1960, John F. Kennedy proved you don't have to be Protestant to be President. Many said religious creed was irrelevant and mention of it was bigotry.
By 1964, Barry Goldwater had become a religious issue for many churchmen, particularly because of his laissezfaire stand on civil rights. Hardly anybody noticed that his running mate, William E. Miller, was Roman Catholic. Michigan's Governor George Romney was so opposed to Goldwater's racial policy that he never endorsed his party's presidential candidate.
In one of the great ironies of recent political history, a powerful religion-and-race issue now lurks in the background as Romney considers running for president himself. George Romney said he is the first serious presidential contender to belong to a cult, and his Church of Jesus Christ of Latter-day Saints (Mormon) practices racial discrimination.
Last month Romney went west on his first test of grass-roots support. Much of the 7,000 miles was in Mormon country, and the high point was a confrontation with Protestant and Catholic clergymen in the Mormon citadel, Salt Lake City, Utah. It was reminiscent of Kennedy's urbane deflation of the religious issue at a 1960 meeting with Houston's Protestant clergy.
The Utah questioners knew that in the Mormon church Negroes cannot enter the "Aaronic priesthood," first step to full church activity, which is routinely entered by white youths at age 12. Nor can Negroes enter Mormon temples, major ritual centers such as the famous one two miles from the Catholic mission hall where Romney met the ministers.
Questioned by the Rev. Louis Williams, a Baptist, Romney met the issue side-on: "I don't think I'm required as a public official to discuss the doctrine of my church. It would be wrong for me to do so." Taking a leaf from Kennedy, Romney asked to be judged on his politics, not his religion. He said that his liberal civil-rights views have their impetus in Mormonism, and that if the church had prevented him from working to end discrimination in society he would have left it. (In November, 1965, the National Conference of Christians and Jews honored Romney for his efforts toward racial equality.)
"I believe I'm entitled to be judged on the basis of my actions, not someone's ideas of what may be the precepts of my church," the governor said. But he is helped by the fact that few people know much about these racial precepts. His wife, Lenore, a Mormon Sunday school teacher for eighteen years, told Look magazine last month that "it makes me very cross when some commentators say we think Negroes inferior." This prompted the liberal Protestant weekly Christian Century to comment, "As a loyal member of a church with an indefensible tenet, Mrs. Romney has a burden to carry. Don't we all?"
After the Utah confrontation, the Rev. Palmer S. Ross of the African Methodist Episcopal Church said that "the right thing to do is to disown" Mormon theology on race. Presumably Romney could do just that but has no plans to. When Mormon leaders passed him to be president of the denomination's Detroit "stake" (equivalent of diocese), Romney vowed to obey the "accepted rules and doctrines of the church."
Current doctrine could be changed by a divine revelation to 93-year-old David O. McKay, church president. The next man in line for the LDS presidency, aging Joseph Fielding Smith, was quoted by Look in 1963: "Darkies are wonderful people, and they have their place in the church." Smith leads the Council of the Twelve Apostles, which includes Romney's cousin Marion.
Church leaders have said some pretty salty things about Negroes for better than a century. The latest definitive word came from the First Presidency (McKay and two advisers) in August, 1951. Their statement tied the Negroes' plight directly to performance in the "pre-mortal existence" the church believes in. Negroes were on God's side in the great heavenly battle with Satan but somehow didn't measure up. Since Mormons reject original sin, the statement said, the individual Negro "is punished or alloted to a certain position on this earth, not because of Cain's transgression, but came to earth through the loins of Cain because of his failure to achieve other stature in the spirit world."
This section refers to another element in Mormon racism—identification of black skin with the biblical "mark" given Cain and his descendants after he murdered Abel. Although the idea is still held by a few extreme fundamentalists, it has never gained the stature of doctrine within mainline Christianity. The "mark" is tied to the priesthood ban in the Pearl of Great Price, the last holy book translated by the LDS prophet Joseph Smith. The Pearl and the racial beliefs that go with it are rejected by the Reorganized LDS Church.
George Romney has stated, "I am completely the product of the Church of Jesus Christ of Latter-day Saints." His grandfather fled the Nauvoo, Illinois, settlement after a mob murdered Smith. Governor Romney was born in Chijuajua, Mexico, at a Mormon exile community formed when the U. S. government ordered an end to Mormon polygamy. (Granddad had four wives, but Romney's own parents were monogamous.)
After the family returned to the United States, Romney attended a church high school in Salt Lake City and then attended the University of Utah briefly. Like most Mormons, he spent two years as a missionary, and he considers this experience in Britain as a start toward the salesmanship that led him to the presidency of American Motors, followed by a meteoric political rise. Son Mitt is currently evangelizing in France.
Romney's belief in hard work, individual responsibility, religious faith, and the divine inspiration of the American republic is tied up with his Mormonism. His political speeches are laced with calls for a return to God and old-fashioned morality—a factor that turns off some Grand Old Party pros. The Romneys do not smoke or drink, although they serve alcohol to guests. At a visit to Nelson Rockefeller in Puerto Rico after last fall's elections, Romney told reporters, "I never talk politics on Sunday."
Wags call Romney's staff the "Dutch Mafia" because it includes several men from the conservative Dutch Protestant group. His key advisor—recently shifted to duties with the embryonic national campaign effort—is Walter B. De Vries, 37, a Ph.D. who taught political science at Calvin College, the Christian Reformed school in Grand Rapids.
During the 1962 campaign for governor, De Vries recruited one of his former students, Charles Orlebeke, 32, also a Ph.D. in political sience. Orlebeke and Robert Danhof—a graduate of Hope College of the Reformed Church of America—are two of Romney's four top executive assistants. Herbert De Young, another Calvin grad, recently left Romney to join the U. S. Department of Commerce. The Dutch duchy even includes Romney's bodyguard, state trooper Cornelius Bykerk, who went to Grand Rapids Christian High School with Orlebeke.
Orlebeke (who is actually Flemish, not Dutch) says that "we are close-knit socially, religiously, and in our political positions" but that the accumulation on Romney's staff is the result of "a chain of coincidence."
Strategist De Vries would have expected a significant anti-Mormon vote a decade ago, but "Kennedy broke that barrier." Asked how the Negro question would affect voting, he pointed out that Romney drew more than one-third of Michigan's Negro vote in winning re-election in November. Early this year, the Harris Poll showed that 84 per cent of Negroes and 88 per cent of the national sample don't care about Romney's religion.
De Vries, who has written for the Christian Reformed Banner, is not exactly a Mormon enthusiast, but he says, "any organized religion has certain irrational aspects, including Calvin's Geneva, and Roman Catholicism."
But a well-known Protestant writer who usually votes Republican made the following comment after being assured his name wouldn't be printed: He has grave doubts about handing the vast presidential powers to someone who so fully embraces Mormonism, "knowing what we do about the crudeness of its theology, its historically nonsensical account of U. S. prehistory in the Book of Mormon, and the like." On a different level, free-lance evangelist Harry McGimsey of Hemet, California, is mailing out cards which read: "Dear Friend: Mormonism is headed for the White House. If you can use more of our tracts to warn people, please write me."
Although Romney is the current Republican front-runner for 1968, there is much mention of Senator Charles Percy of Illinois, who is a Christian Scientist. His candidacy would raise similar objections from those who distrust his religion's denial of the material. If he becomes a serious candidate, Percy will someday have to vow full support of public-health programs despite church teachings.
Another interesting religious issue would develop if Senator Jacob Javits were nominated for vice-president and became the first Jew on a national ticket. Time magazine speculated last month that Senator Edward Brooke, as a Negro running mate, could neutralize Romney's Mormon problem. Another possibility is Senator Mark O. Hatfield, whose strong evangelical beliefs could create opposition.
Next to Romney, the most-mentioned nominee is hardy perennial Richard M. Nixon. As a Quaker, he is also outside the religious mainstream, but he has never let the customary pacifism of this faith affect his foreign-policy views.
The Powell Controversy
Here and there around the country religious groups rallied to support the preacher from Harlem. It was not enough. On March 1 the House of Representatives voted to bar Adam Clayton Powell from its membership for the remainder of the Ninetieth Congress.
The stunningly severe action against Powell may well produce an adverse effect on American race relations. Many considered him the most powerful Negro ever to come on the national scene. His arrogance and misconduct notwithstanding, they argue that he fell victim to a racial backlash. Historians for years to come will argue the extent of racial prejudice against Powell.
In Chicago last month, Powell got considerable support from members of the National Council of Churches General Board. The lone outspoken critic of Powell was Mrs. Jesse Jai McNeil of Dallas, an NCC vice president. Mrs. McNeil, widow of a well-known Negro Baptist minister and author, said Powell "should have known better.… Why whitewash this man's actions?"
Charisma In The Capital
Faith-healing evangelist Oral Roberts urged an audience of twenty diplomats, twelve U. S. congressmen, and more than 1,000 Full Gospel Business Men to find a "heavenly vision." And to Pentecostalist Roberts, this involves "the baptism of the Holy Spirit." He said that no one can present Christ with the success achieved by the Full Gospel Fellowship without this charismatic experience.
Roberts told of his own recovery from tuberculosis through faith and recounted other instances of spiritual healing. Another advocate of healing was Bonhomme Arthur, who has been Haiti's ambassador to the United States since December. Arthur is a Methodist lay preacher who had a vision of God and was convicted of his sins while in prison sentenced to death. He finally won his freedom and went on to become president of the Haitian Bible Society, a worker for Laubach Literacy, and a senator and public works minister.
Missal Mix-Up
A Roman Catholic missal—not a Bible—was inadvertently used by Lyndon Johnson when he was sworn in as President after the assassination of John F. Kennedy.
So said the Washington Post last month, corroborating a report in a forthcoming book, The Truth About the Assassination, by Newsweek correspondent Charles Roberts, who was aboard Air Force One at the time.
This new version contradicts the account of William Manchester in The Death of a President. Manchester said Kennedy's personal Bible was used.
The Heresy Of Ernest Harrison
The Rev. Ernest Harrison, 49, who headed the board that produced the Anglican Church of Canada's new curriculum last year, was removed from the staff of Toronto's Holy Trinity Church last month in the outcry over his new book, A Church Without God.
Outdoing Altizer, Harrison disbelieves not only in a present and future God but even in a past one. "I claim to be a Christian and an Anglican; yet I can say in all seriousness, that there is no God," wrote the Oxford-educated priest. Harrison now teaches English at the Ryerson Institute of Technology. When he was with the denomination's religious education department, he persuaded Pierre Berton to write his controversial outsider's view of the Church, called The Comfortable Pew.
Toronto's Bishop George Snell has barred Harrison from priestly work, but he still holds a license to preach in Quebec. There will be no heresy action in Toronto.
Harrison says the Bible "is not the last word on anything.… There are contexts in which Lord of the Flies is a more useful, perhaps a deeper witness than that of Genesis; in which Death of a Salesman shows more insight than Jonah; in which Martin Luther King presents a more dramatic plea for the triumph of grace over law than the neurotic Paul."
He speculates that Jesus probably got drunk, and experienced acute sexual excitement when the woman wiped his feet with her hair (Luke 7:37–39). On sex: "Conduct which is right between two married people does not necessarily become wrong because they are unmarried." As for life after death, "for myself it is a doctrine that has no meaning."
J. BERKLEY REYNOLDS
Have something to add about this? See something we missed? Share your feedback here.
Our digital archives are a work in progress. Let us know if corrections need to be made.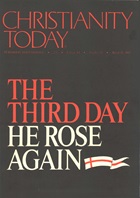 This article is from the March 17 1967 issue.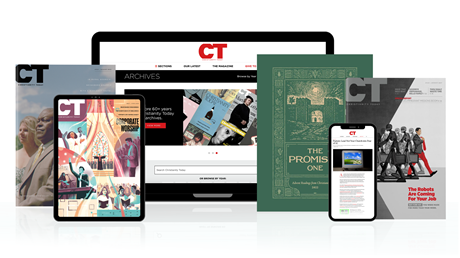 Annual & Monthly subscriptions available.
Print & Digital Issues of CT magazine
Complete access to every article on ChristianityToday.com
Unlimited access to 65+ years of CT's online archives
Member-only special issues
Subscribe
The Religious Issue—1968
The Religious Issue—1968