To circumvent the isolation and expense of Christian colleges, six evangelicals meeting in Wisconsin August 15 announced incorporation of Skyline Christian Institute, a satellite residential-study center for students attending secular colleges in San Diego, California. It plans to open next fall.
The idea originated with the Rev. Derric Johnson, college and music director of the Skyline Wesleyan Church in suburban San Diego, biggest in The Wesleyan Church. The head of the institute is the Rev. George Failing, 55, who has been editor of the Wesleyan Methodist and public-relations director of Houghton College.
A statement said most Christian colleges suffer from a "sterile, isolated atmosphere." Under the plan, students would take twelve hours a semester at San Diego State College, the University of California at San Diego, or one of the six other schools in the area. These schools have not yet been consulted on the plan. Students would live in apartment houses near the Skyline church and take four to six hours of work each semester in Christian thought and service. Completion of a B.A. program would take five years. The institute will offer no credit and give no grades. No tuition will be charged and Failing said interested laymen are expected to provide the financial backing. The design limits students to 200. The first-year faculty is seven or eight.
The institute's seven-part "Commitment of Faith" expresses evangelical doctrines while avoiding the Calvinist-Arminian controversy, though all six founders are from conservative Wesleyan circles. There are no student rules such as most Christian colleges apply, but Failing said students will be expected to behave like those preparing for Christian leadership.
As plans for 1969 proceed, these new colleges will open in September, 1968:
Palm Beach Atlantic College. Opens September 3 with an expected enrollment of 125. To be housed in what used to be the main building of the First Baptist Church in West Palm Beach, Florida. The Rev. Jess C. Moody, pastor of the 4,300-member church, is serving as college president on a $1-a-year salary.
The first-year budget of $480,000 includes $200,000 for renovation of the church educational facilities and purchase of 40,000 books. Six of the thirteen full-time faculty have earned doctorates.
College plans began nearly four years ago with offer of a campus tract outside West Palm Beach to the Florida Baptist Convention. The Palm Beach Baptist association began a $1.5 million fundraising campaign. Plans were held up temporarily last year when evangelist Billy Graham considered founding a school in the area. This year the "Florida Baptist College" got its new name, since it has only local sponsorship. But within four to ten years the school plans to move and to seek affiliation with the state convention.
Business Manager A. H. Phillips said he hopes the college will be out of debt by the end of its first year, including the cost of renovation. If not, he plans to catch up by the second year, and two banks have agreed to offer credit for any debt. One $90,000 gift came in this spring, and the locally-based Professional Golfers' Association gave $10,000.
The new college hopes to make the most of its unusual location, directly across from the Palm Beach yacht basin and a few blocks from the Atlantic Ocean. One of the prominent faculty members is oceanographer Riley Smith, who will cooperate with the Rebikoff Institute of Underwater Technology in Fort Lauderdale.
Atlanta Baptist College. Opens September 18 on a 562-acre campus twelve miles from downtown Atlanta valued at $7.5 million. By mid-August 125 students had signed up (including six Negroes), and the school was hoping for 200. In addition, a sizable enrollment is expected at evening classes. Most of the students are from the Atlanta area, since no dormitories will be available until next year. Of the faculty and staff of twenty-five, three-fourths hold earned doctorates.
The college, first proposed eighteen years ago, is affiliated with the 152-church metropolitan Baptist association, not the Georgia or Southern Baptist Conventions. The school has been approved for federal aid but—after heated controversy—is putting off applying for it. If the current $1.5 million drive for first-year operating funds is successful and support by Christians seems forthcoming, a spokesman said, the aid will not be necessary. During the first year the board will decide on whether to apply. Another task: finding a president. The Rev. Monroe Swilley, noted Atlanta Baptist pastor, is acting president for the first year.
Colorado Baptist Junior College. Plans a modest beginning September 22 with a faculty of ten and student body of about forty, all part-time. Classes will be held in the late afternoon and evening in the First Southern Baptist Church of Westminster, a Denver suburb. College president and spearhead of the project is Huitt Barfoot, Baptist layman who is a suburban school superintendent.
Eisenhower College. Ailing former President Dwight D. Eisenhower won't be at the opening of the $7 million college named in his honor. But at least 250 students and twenty-six faculty members will. The college in Seneca Falls, New York, was first sparked by a $ 100,000 grant from the First Presbyterian Church, and "spiritual insight" is one of its goals. A spokesman said a chapel building and chaplain are future "possibilities."
PERSONALIA
Sharon Terrill, 21, California's entry in next week's Miss America contest, said on statewide TV that the most important example parents can set for their children is "a personal relationship with Jesus Christ." Meanwhile, Episcopal priest Kenneth E. MacDonald of Atlantic City became the first Negro elected to the pageant's board.
William DuBay, 33, the Roman Catholic priest who was suspended for writing The Human Church and forming a clergy labor union, married Mrs. Mary Ellen Wall, 29, an Episcopal divorcee and mother of four. The Rev. D. D. Harvey, a Presbyterian, conducted the ceremony, after a rabbi withdrew.
The Rev. Edward R. Black of New Providence Baptist Church in Buckeye, Arkansas, dropped charges against nine parishioners he had accused of "beating and stomping" him in a dispute after a service last month.
Lieutenant Colonel James P. Smith, 34, will soon become the first man in 123 years to graduate from Mary Hardin-Baylor College, a Texas Baptist women's school.
A Trillion-Dollar Legacy
In a report that is of major interest to churches and other charitable agencies, the U.S. Internal Revenue Service estimates that more than five million Americans now living will leave estates large enough to be subject to federal inheritance tax. These estates will total more than one trillion dollars, the study indicates.
"Not only the very wealthy, but many individuals in the middle-income brackets, will leave a gross estate worth more than $60,000, the minimum amount for which an estate-tax return must be filed," the Internal Revenue Service said.
Federal inheritance tax is imposed directly on the estate, while state inheritance tax levies are made on individual beneficiaries.
The IRS has issued a new bulletin, "A Guide to Federal Estate and Gift Taxation," which reminds taxpayers that nearly all a person's assets, including his home, car, stocks, bonds, and life-insurance proceeds, are includable in his gross estate for tax purposes. It also advises taxpayers how to make charitable bequests that will be tax exempt.
Captain Charles E. Wolfe, first Southern Presbyterian chaplain wounded in the Viet Nam war, has been awarded the Bronze Star and Purple Heart.
Paul Gibson, a June Harvard graduate, is the first Negro staffer recruited by Inter-Varsity Christian Fellowship in several years. He will work in the Los Angeles area.
The Rev. Dr. Edwin H. Palmer, Christian Reformed pastor in Grand Rapids, was named full-time executive secretary of the Committee on Bible Translation, under which 100 scholars are working on a new evangelical version of the Bible. The project is sponsored by the New York Bible Society.
Vice-president Lawrence Schoenhals of Seattle Pacific College has been elected president of Roberts Wesleyan College in New York. He succeeds Ellwood A. Voller, new president of Spring Arbor College in Michigan, who replaced David L. McKenna, new president of Seattle Pacific. All are Free Methodist schools.
Frank L. Hieronymus, dean of faculty at Westmont College, California, was named acting president.
The Rev. Dr. Stanley D. Toussaint, New Testament professor at Dallas Theological Seminary, was named president of Western Bible Institute, Denver.
Colonel Chester R. Lindsey, former paratrooper and Baptist pastor, was named command chaplain of the U.S. Army, Pacific.
Bishop Philippos, former Orthodox leader in northern Greece, was sentenced to fifteen months in jail for charging that most of the leading Greek bishops are homosexuals. He was the first bishop ever tried by a military court. Also sentenced at the secret trial were two priests and an editor.
Three captured U. S. pilots were released by North Viet Nam and escorted back to America by Quaker Stewart Meacham and two other anti-war leaders.
PROTESTANT PANORAMA
No sooner had A Fellowship of Concern, liberal lobby in the Southern Presbyterian Church, disbanded than former members started an unnamed movement by getting more than 200 persons to sign a statement of purpose. It opposes such "idols" as "racism, nationalism, regionalism, capitalism, communism, and denominationalism."
The United Presbyterian Church is producing two TV spot advertisements promoting racial understanding.
New York City's Protestant Council urged ministers of its 1,700 member congregations to aid in registration of all rifles and shotguns with police before the August 13 deadline set by a new law.
After study of a report from a guild of Episcopal lawyers, the New York diocese stated that the "vague" right of a fugitive from justice to sanctuary in a church has never existed in American law and was rejected long ago in Europe.
The Sawyer EUB Church in Bradford. Pennsylvania, decided to stay outside the United Methodist merger and reports that fourteen other congregations in the region have similar feelings.
To beat those long summer weekends. Calvary Evangelical Lutheran Church (LCA) in Louisville is offering an 8 P.M. Thursday service identical to the Sunday one.
Annual assemblies of the Church of Ireland, Presbyterians, and Methodists declared intent to merge. An outline plan is expected by 1970.
The 100-member Anglican Church of the Holy Trinity, Toronto, has torn out ten pews and moved in bunk beds to handle U. S. draft-dodgers who come to the church, at the rate of about thirty a day, for help.
The triennial general assembly of the Greek Evangelical Church petitioned the government to reinstate the Rev. Argos Zodhiates, once pastor of the group's largest church and now in exile in America. The church will rewrite its constitution and consider a proposed draft at a special meeting next year. The Rev. Nicholas Landrou of Nicea was elected moderator.
MISCELLANY
Despite cutoff of War on Poverty funds after sensational Senate hearings (July 19 issue, page 54), the Rev. John Fry of Chicago's First Presbyterian Church vows his work with the Blackstone Rangers gang will continue, with private funds.
The Baptist Standard said a Texas convention committee will recommend outright sale of Howard Payne and Wayland Colleges to the state, self-determination for the University of Corpus Christi, and less drastic changes for the state's other five Baptist colleges. Debate on the proposals is intense.
Gideons International distributed 5.5 million Bibles and New Testaments in 1967.
Gus Hall, secretary of the U. S. Communist Party, said "our fight is not with God," since liberal churches have goals "almost identical" to those of the party: end to the Viet Nam war, elimination of poverty, and freedom for blacks.
Deaths
GRANT REYNARD, 80, devout Baptist artist whose paintings and etchings are represented in the Metropolitan Museum and other major collections; winner of the 1951 National Academy Prize; in New York, of cancer.
WILBUR E. HAMMAKER, 92, retired Methodist bishop of the Rocky Mountain states; in Denver, after a stroke.
DAVID E. NELSON, first trainee to die in the twenty-two years of Moody Bible Institute's missionary aid pilot program; two training planes collided in midair near Woodbine, Tennessee.
MR. AND MRS. WILLIAM JOINER, and CHERRIE JOY BLEDSOE, 21, Southern Baptist home missionaries; in a head-on car collision near Paducah, Kentucky.
THOMAS K. SHARP, 87, Presbyterian who in 1908 was elected executive secretary of the Student Volunteer Movement; in Black Mountain, North Carolina.
After his radical views were said to have a "Third World' " tone, Princeton Seminary Professor Richard Shaull, 48, was chosen chairman of the World Student Christian Federation over an Indian layman. There was a fuss at the Finland meeting when WSCF seated one delegate from secessionist Biafra and two from federal Nigeria.
Spurred by "our obligation to preach the Gospel," the Rev. Dean Ford and two others from the West Indies Mission reached the Wayarekule jungle tribe in Surinam, South America, last contacted in 1938 and thought to be extinct.
The Chicago Daily News said the Central Intelligence Agency has made systematic use of some U. S. missionaries for years. One recently refused an offer of $250 a month for regular reports on prospects of violence in Zambia.
Worldwide Evangelization Crusade hopes to open Indonesia's first evangelical radio station within six months.
South Korean orphan Chi Sun Ai is the 25,000th child cared for by World Vision. Her $12 monthly support is provided by Mr. and Mrs. C. W. Barber of Darlington, South Carolina.
A special thirteen-man panel at Harvard University recommended that death be defined by condition of the brain, even if the heart continues to beat. It noted the issue is vital in increasing use of organ transplants.
The U. S. Department of Transportation said use of alcohol by drivers and pedestrians leads to 25,000 deaths and 800,000 crashes in America each year. The 1 to 4 per cent of Americans who are heavy drinkers are said to be responsible for almost half the fatal accidents.
Ailing Muslim and Christian pilgrims are thronging to a Coptic church in Zeitoun—a suburb of Cairo in the United Arab Republic—where an appearance of the Virgin Mary was reported three months ago.
A Gallup Poll showed most Europeans believe in heaven but not in hell. In Sweden, the least orthodox nation, only 60 per cent believed in God. Other conclusions: morals, honesty, happiness, and peace of mind are all on the wane.
The new Greek constitution, which may be up for a vote next month, makes "insults" against the Orthodox Church a major offense.
Have something to add about this? See something we missed? Share your feedback here.
Our digital archives are a work in progress. Let us know if corrections need to be made.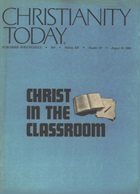 This article is from the August 30 1968 issue.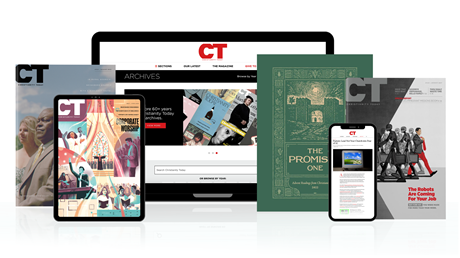 Subscribe to Christianity Today and get access to this article plus 65+ years of archives.
Home delivery of CT magazine
Complete access to articles on ChristianityToday.com
Over 120 years of magazine archives plus full access to all of CT's online archives
Subscribe Now
Evangelicals to Launch Satellite Campus
Evangelicals to Launch Satellite Campus