One hundred Christian artists took to the desert last month to discuss how they might achieve greater integrity in their art and use it for more effective Christian witness, as the Fellowship of Christians in the Arts, Media, and Entertainment held its first national conference in the lush oasis of Palm Springs, California.
Conference chairman Irvin "Shorty" Yeaworth, Jr., of Valley Forge Films called the new attempt at communication among Christian artists "an idea come of age." Producers, directors, writers, broadcasters, musicians, artists, performers, and mass-media specialists from across the nation grappled with the problems and possibilities of the arts from a Christian perspective. Their discussions gave promise of a great stride forward in the quality and effectiveness of the arts in pursuit of Christian goals.
A seminar on motion pictures, chaired by actor-producer Don Murray (The Hoodlum Priest), stressed the need for honesty in art. He stated, "Christian art often fails not because it is offensive but because it is boring. It is boring when it is dishonest. Our films can be as exciting positively as erotic films are negatively."
Participants recognized two problems inherent in making Christian films for the commercial market: people's hostility toward the person of Jesus Christ, "who cuts through make believe," and the necessity that such films make money. Discussants stressed that Christian film-makers must "resist using the financial yardstick as a measure of success" and depend on the Holy Spirit to use their efforts to achieve God's purposes.
Ray Robinson, associate director of Baltimore's Peabody Conservatory, led a discussion on new forms of expression that included the presentation of "The Day of Resurrection," a new work by California composer Fred Prentice. Incorporating alealoristic ("chance") music—a combination of crowd noise, bells, brass instruments, and choir—the enthusiastically received composition exemplified a modern style in which the conductor-performer becomes a creator by the way he combines the diverse elements.
Robinson called for the fellowship "to criticize, tear apart, and build up the works that are performed by us and then go back to Baltimore, Pasadena, or wherever and do our thing as creators—as Christian artists."
Ted Nichols, music director for Hanna-Barbera films ("The Flintstones") and California State College at Los Angeles, challenged conferees to uphold the highest standards in their arts: "Instead of giving the image that a Christian has to be a fuddy-duddy, why can't we be the best? We've got the best help in the world, so why not be the best? Some of us are good at reaching the old saints, some the new saints, some the young saints. Let's reach the ones we think we should reach."
Attention was focused on the "communications revolution" as journalist-missionary George Patterson of Hong Kong reported on new developments in satellite communication that soon will make possible transmission of signals "to any home in any country from any home in any other country." He told of an extensive training program already under way in Hong Kong that is preparing Christians for future service in international broadcasting. He urged Christians to seize new opportunities provided by the communications revolution, stressing that "if we are to have an impact on our times, it must be on the basis of a spiritual revolution. We must act as if God lived and let him speak through us."
Fellowship President Jerome Hines, Metropolitan Opera basso who is now appearing in the Lincoln Center production of La Boheme, was unable to attend. Instead, he addressed the conference by telephone from backstage at the Met. Conferees later viewed an excerpt from his highly acclaimed Christian opera, I Am the Way (see January 5 issue, page 41), which played to a packed house at Lincoln Center last Palm Sunday.
The production's director, Derek de Cambra, told how his own Christian conversion took place during an earlier presentation of the opera, when he sang the role of Andrew in the Last Supper scene. After the chalice was passed to him, he found himself somehow unable to raise it to his lips, so gripped was he by the message of the Gospel. Then Hines, playing the role of Christ, perceived his difficulty and departed from the script to say, "Drink, my son." De Cambra drank, and at that moment experienced "a dying to self and a rising to new life."
De Cambra told the fellowship: "Religious drama is not intended that you might amuse yourself with it and kindle a blaze which should only serve to attract and dazzle the eyes of man. Religious drama is intended to be the means of leading both performers and spectator to the Father of All Light." Of talent, he said, "Great powers and natural gifts do not bring privileges to their possessors so much as they bring duties. The talents granted to a single individual do not benefit himself alone but are gifts to the world; everyone shares them, for everyone suffers or benefits by his actions."
Other conference highlights included a preview of Tail of the Cock, a film by Murray that received mixed reactions; a warm personal greeting from Dale Evans Rogers; an open-air worship service in the desert; and distribution of the first issue of Expression, the fellowship's slick and provocative semi-annual journal, ably edited by Yeaworth. Among contributors are Melvin Lorentzen of Wheaton College and Bedford Center, John McCandlish Phillips of the New York Times, Asia expert Patterson, writer Elisabeth Elliot, RCA record producer Jim Fogleson, and Joseph V. Noble of the Metropolitan Museum of Art.
"Christians in the arts," said Yeaworth, "are like logs burning off in a swamp. It's time we got together and had a bonfire."
Miscellany
The U. S. Tax Court ruled a Roman Catholic couple could not deduct tuition payments to a parochial school as a charitable "contribution."
A Minneapolis Tribune poll of college students found these percentages of regular church attendance: among freshmen, 46; sophomores, 41; juniors, 32; seniors, 29; graduate students, 25.
West Coast mediums and spiritualists report tremendous interest in the wake of Bishop Pike's televised séance. Evangelicals are planning to distribute Scripture portions to every home in the Dominican Republic and Puerto Rico.
Inflation has hit even the Communisthunting Church League of America. Starting January 1, only $25-a-year supporters can get information from League files on individuals and organizations.
Morality
New York Mayor John Lindsay ordered special police surveillance of churches and synagogues after the eleventh in a series of desecrations of Jewish schools and synagogues in recent weeks. Lindsay said investigation indicates no one racial or religious group is responsible for the incidents, despite lingering animosities from the school strike.
The U. S. Court of Appeals in New York voted 2–1 to overrule a jury and permit distribution of a Swedish film, I Am Curious—Yellow. The decision admits the film has more explicit and "unusual" sexual content than any movie previously permitted.
An American Civil Liberties Union chapter, urging liberalized laws in New Jersey, said women have a "civil right" to end unwanted pregnancies by abortion.
Two women convicted of prostitution several times in St. Louis filed a suit claiming city laws are unconstitutional and limit their rights to "free travel and association."
The Swedish government's campaign to cut drinking of hard liquor reduced liquor sales 4 per cent and public drunkenness 7 per cent, with a sharp rise in beer and wine consumption. A parliamentary committee has recommended an end to all liquor advertising.
The International Narcotics Control Board said in Geneva that use of sedatives and such drugs as LSD has reached "epidemic proportions," particularly in the United States, Sweden, Britain, and Holland, and urged a draft treaty on controls.
The Pearl Buck Foundation estimates that U. S. servicemen in Thailand have fathered more than 2,000 illegitimate children in the past four years.
DEATHS
Q. BERNICE MATTHEWS, 41, teacher at a Sudan Interior Mission women's college in Omu Am, Nigeria; killed instantly with two students when a water heater exploded.
Pilot MAX MEYER and MRS. HARRISON GOODALL, Christian Church missionaries, and MRS. MARY HOYT, Catholic missionary nurse; in the crash of a plane missing since October 13, in dense rainforest 130 miles east of Mbandaka, the Congo.
MARY BORDEN, popular British novelist whose Mary of Nazareth and The King of the Jews gave a man's-eye view of New Testament stories.
NOBLE C. POWELL, 77, Episcopal bishop of Maryland for two decades; in Baltimore.
RUTH DADO, 21, accidentally shot to death by her Baptist father who was aiming at her Roman Catholic fiancé, during a quarrel over which church would perform the marriage; in San Jose, California.
Personalia
Herbert G. Klein, California editor named director of communications for the Nixon administration, is an elder (currently inactive) in La Jolla Presbyterian Church, whose minister is well-known evangelical Louis Evans, Jr.
Julie Nixon and David Eisenhower plan to be married by the Rev. Norman Vincent Peale December 22 at Marble Collegiate Church, New York. Evangelist Billy Graham could not accept an invitation to participate because he will be ministering to troops in Viet Nam over Christmas.
Minnesota Governor Harold LeVander named Methodist minister Emery Barrette, a council of churches juvenile-court chaplain, as executive director of the Governor's Crime Commission. Republican Barrette failed to unseat Congressman Joseph Karth in last month's election. Lutheran pastor J. Millard Ahlstrom will be a crime-prevention aide.
Governor Lester Maddox named Southern Baptist home-missions staffer T. Edwin Carter and other Baptist ministers last spring to a prison-reform commission, then called him a liar when Carter and company attacked operations at a Georgia public-works camp.
Episcopal priest Earl Neil, Jr., of St. Augustine's Episcopal Church, Oakland, California, is on the national advisory cabinet of the Black Panthers and says the militant group's membership is growing rapidly.
The Rev. David Poling attacked use of his late father Daniel Poling's name in a newspaper ad by the Clergymen's Committee on China, and called it a "calculated smear" against the National and World Council of Churches.
Father James Groppi, Catholic civil-rights leader in Milwaukee, cut ties with the NAACP but denied he had been spurned because he is white.
United Church of Christ layman Philip Stull, 23, was reduced to the lowest rank and sentenced to two months of hard labor by a court martial at Minot Air Force Base, North Dakota, because he insisted on wearing a small gold cross on his uniform.
Catholic priest and orphanage director Robert Nikliborc, who led a double life as an electronics executive, was sentenced to two years in prison for not filing two income-tax returns.
Anglican Bishop Robert Mize, Jr., evicted from South Africa last summer, has been reassigned to western Rhodesia. New Zealand's Anglican Bishop John Holland will take over the 11,500,-000-square-mile Diocese of Polynesia early next year.
Dean Jesse Trotter of Virginia Theological Seminary (Episcopal) has resigned his post to teach at the school.
Church Panorama
The American Church Union's monthly is asking Episcopal Church officials to guarantee property and pension safeguards if the denomination splits over the Consultation on Church Union. The Living Church, meanwhile, says "drastically shrunken" pledge income is reported in many areas.
Latter-Day Saints plan to build a lavish temple, their first in the eastern United States, on a fifty-seven-acre site in Maryland near Washington, D. C. The church has nine of the ceremonial centers in western states, and four overseas. Washington's best-known Mormon, J. Willard Marriott, said presidential inaugural plans will inclue a concert by the Mormon Tabernacle Choir.
The Lutheran Church-Missouri Synod plans to raise $1 million in a national drive to provide better housing for the poor. United Church of Christ congregations in Rhode Island rejected membership in Project Equality, preferring to emphasize job training.
Bankers Research reports that C. Edward Johnson of the Minneapolis Council of Churches thinks church loans—sometimes bad business in recessions—may be in danger despite projected future prosperity because of population mobility and young adult indifference.
New York City's Protestant Council will be renamed "The Council of Churches of the City of New York" on January 1, opening the door for Catholic membership. Louisville area clergy from eighteen denominations formed an Evangelical Fellowship distinguished from the "liberal" Christianity seen in the local council of churches.
Membership of the United Church of Canada's 152 congregations in the Toronto area has dropped 5 per cent, to 92,500, since 1963. In about the same period, Sunday-school enrollment dropped one-third, and area population increased 16.7 per cent.
A front-page editorial in the Vatican daily rebuked the lay-run U.S. weekly National Catholic Reporter for trying to "derail" traditional doctrine.
When the Assemblies of God enters French Guiana next year it will have works in all Latin American lands. The denomination hopes to get one million correspondence students of the Bible around the world by 1971.
Have something to add about this? See something we missed? Share your feedback here.
Our digital archives are a work in progress. Let us know if corrections need to be made.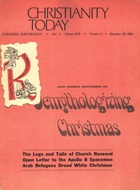 This article is from the December 20 1968 issue.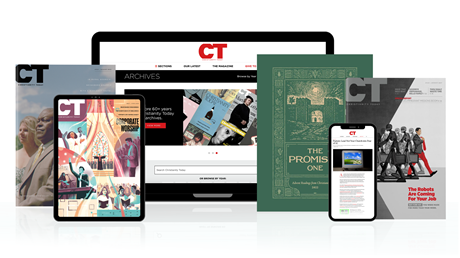 Subscribe to Christianity Today and get access to this article plus 65+ years of archives.
Home delivery of CT magazine
Complete access to articles on ChristianityToday.com
Over 120 years of magazine archives plus full access to all of CT's online archives
Subscribe Now
100 Artists in Search of a Bonfire
100 Artists in Search of a Bonfire