Residents of Baqa'a, largest displaced-persons camp in the Middle East, are praying it won't be a white Christmas. This upland valley camp twenty kilometers from Amman, Jordan, houses 32,000 people in tents. When winter rain and snow comes, the summer dust will turn to mud and Baqa'a will be a nightmare.
There are conical tents from Pakistan, pieced tents, pup tents, Ted Williams tents from Sears, tents that proclaim "Gift of the People of the United States of America." In them live representatives of 270,000 persons who fled during and after the June, 1967, Arab-Israeli war, which was smoldering still in commando raids and air strikes earlier this month.
The United Nations refugee agency counted 1,317,000 refugees before the 1967 war. Jordan had 96,400 refugees living in camps created by the 1948 conflict, and now 82,000 in 1967 camps. Thousands more squat around the old camps, live with relatives in Jordan, or sleep in caves, doorways, or wherever they can find shelter. East Jordan's population is now 40 per cent refugee.
But statistics do not convey the tragedy of underfed people separated from land, property, and relatives and largely from hope for the future.
Actually, the refugee is the middle-aged man in a 1948 camp who has seen his sons grow to manhood without a desire to work because they have never been able to learn how. Most refugees were small farmers who have moved to an area already glutted with men of their abilities.
The refugee is the desperate mother who finally brings her baby girl—a victim of gastroenteritis and camp life during Jordan's summer heat—to the rehydration center run by Norwegians at Baqa'a. The baby's skin hangs in folds on arms and legs; her features are pinched and ugly.
The refugee is the young man who says, "We know now that America is our true enemy," adding with Arab hospitality, "It wasn't you who sent weapons to Israel; it was your government." (The refugee frequently considers material help from the United States as "blood money," a payoff sent to him by guilt-ridden people who give much more to his enemies.)
The refugee is the Fedaiyeen (commando), one "who sacrifices his soul for his country." He is the poor farmer who thinks in generalizations and says, "We will send back all the foreign Jews who came after 1948."
And the refugee is—as many Christians have forgotten—the Arab Christian who also has lost all his possessions. Before 1948 Jordan's population was 5 per cent Christian; today over 10 per cent.
Tadeusz Paczkowski, Polish-Frenchman who heads a YMCA program training leaders for camp youth activities, says young men without work, education, or other outlets have nothing to do but sit in camps and scheme how to get Palestine back. Some are in commando organizations, and their military training sometimes interferes with government and YMCA programs. He says commandos are the only force some displaced persons believe in.
In Lebanon, a YMCA official said "the Arab governments don't want to resettle" the thousands of DPs in Jordan. "Their continued presence is a propaganda tool." Resettlement is also hampered because most refugees have no money and many have no passport.
Refugees themselves frequently prefer camps to life in another country. Who will resettle Palestine if we leave?, they ask. Nonetheless, many quietly emigrate to the United States, Australia, Europe, and other Middle Eastern countries, often feeling guilty for abandoning their homeland.
Return to homes in Israeli-held territories is a fervent wish of many. The U. N. reports that after the 1967 war, 100,000 to 150,000 in East Jordan applied to return to the Israeli-held West Bank of the Jordan. But by August 31, 1967, when the mass return scheme was brought to an end, only 14,000 persons had returned.
The strong belief in Palestine, a country that has ceased to exist, seems psychologically necessary for newly displaced persons. They long to avoid the extended exile and twenty-year welfare existence of the 1948 refugees.
But the desire to return to Palestine works a hardship on the new refugees, who—since they wish to think of themselves as displaced only temporarily—have refused to allow permanent shelters to be constructed in camp areas. It took months of debate for the U. N. to get permission to construct wooden supply centers, clinics, and schools.
Religious organizations working with the refugees include the Near Eastern Christian Council, affiliated with the World Council of Churches, and Roman Catholic relief groups. The Mennonite Central Committee recently distributed three shiploads of clothing and provides some recreational and educational facilities.
A large relief service is carried on by the Lutheran World Federation. According to Amman administrator Esa Uitto, the LWF's main work is not the $300,000-a-year distribution of goods but self-help and medical aid in communities. Eventually the Lutherans hope to help in building schools, roads, and irrigation plants.
Scores of voluntary agencies, religious organizations, and governments also furnish refugee aid. Although the Israelis were criticized for not contributing to support of the 1948 refugees, they made a large contribution to U. N. relief in 1967.
The controversy over Jewish rights to the Holy Land continues to call forth proclamations. A Presbyterian missionary in Beirut cites "identity crisis" and "the Palestine question" as the two major problems in work among Arab youth. Another missionary reports a tremendous increase in sale of Bibles to Muslims since June, 1967: "They want to know if the Jews are fulfilling prophecy."
Rabbi Elmer Berger, former president of the American Council for Judaism and an active anti-Zionist, said recently in Beirut that "only a twisted logic or a prostituted theology" can hold that present Israel is part of the divine plan.
But a missionary in Jordan reports that even some Arab Christians see the re-establishment of Israel as a sign of the end times and the imminent coming of Christ, "although they disagree with the methods of the Israelis. We feel the presence of so many Jews in Palestine must mean something."
But religious and political controversies dim for the family whose physical needs are unmet. Some refugees have moved four times since June, According to a U. N. worker, Israeli radio has several times threatened Baqa'a camp with air strikes unless it curtails commando activities.
Many of those in Baqa'a used to live in El Karameh, a 1948 refugee camp on the East Bank that had grown to a U. N. village of 30,000. In March, after repeated Israeli shellings, only about 1,000 persons were left there when twenty-one Israeli soldiers invaded and mined the village. They said it was a commando center. A hundred refugees died, and many others fled for the second time in their lives.
Now an empty town stands in the valley. Cracked mud walls extend countless reinforcing rods into the still air. The school and U. N. offices are flattened, the pavement ruptured by mortar shells. A few commandos walk by in their haphazard uniforms.
December is a bitter month for refugees. Most Christians by now have found shelter with friends or relatives in Jordan and other countries. But for Muslims in the camps, Christmas will probably be just another wet day. The YMCA is collecting books as Christmas presents for the pitiful library at Baqa'a, and local churches may provide food or gifts for their tent-dwelling countrymen. Leaders of all major churches in Jordan have asked believers to observe an austere Christmas and donate the savings to refugees and other poor.
For Christian refugees—to whom land has much more meaning than it does to mobile Americans—Christmas is different since 1967. This spring Arab Christians told a YMCA worker, "Jerusalem is gone. There is no Easter." For some, Christmas will be the same.
This is the Holy Land in December, 1968. The land of the Birth is a land of war. And there is "no room in the inn" for thousands living in misery near the birthplace of the Prince of Peace.
ISRAELI-JEWISH-ATHEIST
Israel's Supreme Court unanimously wants the government to eliminate listings of "nationality" that exclude Jews who are unbelievers, belong to another religion, or are sons of Gentile mothers who haven't accepted Judaism.
The court thereby sidestepped decision in the case of an Israeli Navy lieutenant who wants his two children registered as Jews in nationality, Israelis in citizenship, and non-believers in religion. Their mother is a non-Jew of Scottish background. Israeli citizenship, which is open to non-Jews, is not at issue.
The who-is-a-Jew issue has led to several cabinet crises in Israel, and the question this time may be pigeonholed until after next fall's elections. Welfare minister Joseph Burg, an Orthodox leader, said his Religious-National Party will quit the cabinet if the law is changed.
Meanwhile Rabbi Maurice Eisendrath, head of U. S. Reform Jews, appealed to the United Nations "covenant" in asking Israel to grant full freedom of religion to non-Orthodox Jews.
Christmas Unquenchable
The unquenchable spirit of Christmas has forced concessions from the atheistic regimes of Communist East Europe. Post-World War II efforts to stamp out the celebration of Christ's birthday have eased slightly in recent years as Christmas symbols and observances have hung on with irresistable persistence.
The Soviet Union's effort to change Santa Claus to "Father Frost" and Christmas to the "Winter Holiday" has crumpled in three countries, according to Religious News Service. In Poland he is once again Swiety Mikolaj, a fourth-century bishop whose gifts of gold helped a poor father save his daughters from disgrace. In Czechoslovakia and Yugoslavia the Child Jesus brings the gifts. Father Frost still holds on in Bulgaria, Rumania, and, of course, the Soviet Union.
Christmas caroling, gift-giving, and church attendance are still strong in most East European lands. The East German government, whose disciplinarian grip is strongest, last year made a significant concession to Christians by exempting the two-day Christmas holiday from its abolition of religious observances.
In addition, East Germany, Czechoslovakia, and Poland give some Christmas pay bonuses and extra pay to those who have to work on the holiday. Poland even gives an extra month's pay to workers in December.
Roman Catholics in Yugoslavia were hopeful that their government would grant the request of their bishops, made last month, to recognize Christmas as a legal holiday. Neither Bulgaria nor Rumania recognizes Christmas as a holiday.
Government accommodations to the spirit of Christmas are often mere tokens, however. Families split between East and West Germany remain separated by the "wall" at Christmas as at every other time of the year. Throughout East European lands, open allegiance to Christianity often means an end to career advancement. Government propaganda aimed at discrediting Christianity among young people has had noticeable effect.
Have something to add about this? See something we missed? Share your feedback here.
Our digital archives are a work in progress. Let us know if corrections need to be made.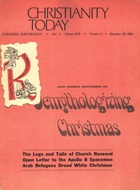 This article is from the December 20 1968 issue.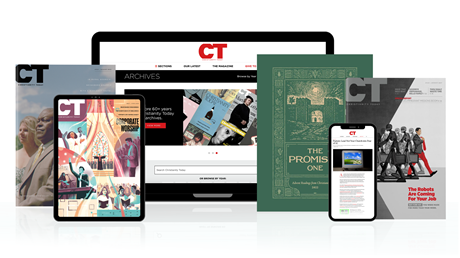 Annual & Monthly subscriptions available.
Print & Digital Issues of CT magazine
Complete access to every article on ChristianityToday.com
Unlimited access to 65+ years of CT's online archives
Member-only special issues
Subscribe
Arab Refugees Dread White Christmas
Arab Refugees Dread White Christmas