Rarely have a nation and its leader suffered such castigation as Haiti and François Duvalier in the current film The Comedians, which is anything but comic. Graham Greene's story teems with political corruption, paganism, and sadism drawn from real life—and death. To bring things up to date, the United Nations Commission on Human Rights is scheduling hearings this month on mistreatment of Haiti's numerous political prisoners.
The real-life Duvalier has more than public relations to worry about. After years of divisiveness and frustration, 40,000 anti-Duvalier exiles in the United States have forged a common front, the Haitian Coalition. Its affable, 36-year-old leader, Raymond Joseph, is hardly what doctrinaire liberal or conservative Protestants would expect. He's an anti-Communist lecturer, Bible translator, and graduate of Moody Bible Institute and Wheaton College—in short, an evangelical who has chosen the vocation of social revolution.
Why revolution? Besides being a mess politically, says Joseph, Haiti is the Western Hemisphere's most illiterate, most impoverished nation.
As is true in all Latin lands, Haiti's religion is largely Roman Catholic, but Joseph's father was a leading Baptist pastor who worked with the West Indies Mission. Joseph says that Catholicism traditionally has been identified with the urban mulatto elite and Protestantism has made a successful appeal to black rural peasants. He still recalls a Catholic forced-conversion drive in the 1940s, with government help. Since Vatican II the church has gotten interested in such things as literacy campaigns.
Although Duvalier is Catholic, priests form one bloc he can't control. He was excommunicated by the Vatican when he threw out the archbishop, but the feud was patched up in 1966. Voo-doo has proven more useful to the regime. Many accounts tell how it capitalizes on paganism to spread belief in its omnipotent power. People fear that even dogs and cats will eavesdrop and turn them in if their talk is disloyal.
Joseph's father kept him out of high school to avoid contact with Catholic priests. At the time this made Joseph so angry that he would hardly speak to his father; now he has a hunch father knew best. Joseph studied at home and taught himself English. He bucked missionary opposition and talked his way into conditional admittance to Moody, despite his lack of high-school education. His goal was to learn Greek and Hebrew so he could translate the Bible into Creole, the language of Haiti's masses.
Joseph leapt over his educational handicap and also turned out to be a student leader at Moody, and later at Wheaton. A tip-off to his personality is the humor and lack of bitterness he shows as he recounts how Wheaton asked him to withdraw during his last semester, when he married a white girl he had met at Moody. He went back to Haiti to finish a New Testament translation for the American Bible Society, and the college later mailed him final exams and granted a degree.
At that point Joseph thought education was the solution for Haiti (he still thinks it is, in the long run). Hoping to start a college with "a Christian foundation," he went to the University of Chicago and had nearly finished course work for a Ph.D. in social anthropology by November, 1964.
That was the turning point. He learned that Duvalier had paraded the young children of the capital city, Port-au-Prince, to where they could witness the firing-squad death of two young revolutionaries. "I was revolted. I thought, Duvalier just seems to enjoy slaughtering people." Two months later he was out of the ivory tower and setting up the Coalition, which now has offices in New York's Park Sheraton Hotel and pays him $750 a month.
Joseph's strategy was to shun the guns-first approach of previous exile movements, such as the comic-opera invasion attempt—complete with CBS camera crew—that U. S. Customs agents broke up a year ago. That group was led by Jean Baptiste Georges, a former priest who was supposed to be president until new elections were held.
Haiti's regime "uses rape, murder, and terror not so much to produce power as to generate despair," the Saturday Evening Post comments. To build a base for overthrowing Duvalier, the Coalition uses news and humor to inform the people, building contacts and confidence within Haiti. The media are a weekly paper and a daily short-wave "Six O'clock Mass" broadcast in Creole.
More than his fundamentalist background makes Joseph seem an unlikely revolutionary. He says he has no political ambitions. He doesn't know how to shoot a gun (100 exiled army officers in the New York area handle that side of things). He has little use for most revolutionaries, with their platitudes and unrealistic utopian schemes.
Joseph sometimes lectures for Fred Schwartz's Christian Anti-Communism Crusade, and he says Duvalier has made Haiti ripe for a Castro-induced "liberation." But he also fears a takeover by U. S. Marines, as happened from 1915 to 1934. The Coalition ideology, he says, is "left of center," with "a mixed economy, a government hand in many things, and great social reforms for the masses."
There was also hope for reforms when "Papa Doc" became president, since he was credited with significant aid work as a rural physician. But he soon outdid the terrorism of his predecessors. In the 1963 turmoil (during which 150 Protestant missionaries were evacuated), Duvalier uttered the poetic promise, "There will be a Himalaya of corpses."
Things now seem to be coming to a head. The economy is sagging. United States aid, which totaled $43 million up to 1963, has become a trickle of food and medicine, since Duvalier refuses supervision of the money. American journals abound with news of unrest: Last year Duvalier denounced his wife, son, and daughter, charged his son-in-law with treason, and fired half his cabinet. He held firing squads for members of his secret police, and for nineteen Army officers. Street protests broke out in the north. Foreign embassies were crowded with refugees, and at one period 1,000 exiles a week sneaked into the Bahamas, creating a touchy situation still under negotiation.
Estimates of Coalition success vary. The New Republic said last year that claims of an underground in Haiti are "nonsense." But U. S. Marine Colonel Robert D. Heinl, Jr.—who had a run-in with Duvalier when he tried to reform the Haitian army—says the Coalition "has deliberately limited its objectives, has behaved with self-discipline," and "gives promise at least of a base of leadership" for an interim regime.
In Haiti a poster has shown Jesus with his arm around Duvalier, saying, "I have chosen him." And the President for Life himself has said, "I shall keep the power. Only God can deprive me of it." Joseph says Duvalier will fall this year.
TWO VIEWS OF DUVALIER
When Raymond Joseph (story above) takes to the airwaves to belittle Haiti's Duvalier regime, one of his targets is a fellow Protestant, Arthur Bonhomme, who happens to be the ambassador to the United States. The satirical scripts often recount the latest atrocities, then twit Bonhomme with questions like, "Pastor Arthur, does the Bible teach you this?"
For Bonhomme is a lay preacher in a conservative Methodist group. He suffered persecution after he converted from Catholicism while in prison for joining a 1937 plot to assassinate Haiti's president. He occasionally speaks to Full Gospel Business Men's meetings about miraculous healings he has experienced.
Joseph remembers Bonhomme when he ran a gospel bookstore in Port-au-Prince. Bonhomme also heads an independent Bible society that sells a Creole translation in competition to the version Joseph completed for the American Bible Society.
Bonhomme says he and Joseph are "very good friends," and they had a two-hour chat in a Washington hotel lobby last summer. Joseph wondered how Bonhomme, as a Christian, could work with Duvalier. Bonhomme says he replied that Duvalier has broken the Roman Catholics' privileged position and has given Protestants state land, school aid, and freedom to preach the Gospel.
Just as Jehovah said the emperor Cyrus was his servant, "Duvalier is a tool of God. If he was so wrong, he would be an enemy of the Word of God," Bonhomme reasons. On the basis of the Bible, he argues, "Does God want democracy? No. He wants his Word to be preached. If men are changed, then we will have democracy."
Joseph has reacted against missionaries' view that "the people of God are called from" politics and other worldly pursuits. He was a counselor at Billy Graham's Chicago crusade and likes the evangelist because he "tries to relate the Christian message in the world of today." "I don't disagree with the message," he says, but he thinks Haiti needs "more than the Bible.… What we need is to get rid of a dictator, I don't see how more Gospel will help us with Duvalier." Prayer is seen by Haiti's evangelicals as one solution, he says, but they use it as an escape "so they don't have to tackle the problems."
Bonhomme and Joseph find each believes he is in the will of God. Bonhomme has told Joseph, "If God approves, you will succeed."
PROTESTANT PANORAMA
The Southern Baptist Convention, which just reported 11,142,726 members, apparently will remain the country's biggest Protestant group despite next month's addition of Evangelical United Brethren to the Methodist total. SBC mission churches also baptized 46,275 new members in 1967.
The Living Church and American Church News criticized absence of theological expertise on the new board that is to implement the major report on Episcopal seminaries.
The Ford Foundation gave the United Church of Christ $160,000 for its efforts against bias in radio-TV programming.
The foundation of the late Time Editor Henry R. Luce gave $500,000 to Princeton Seminary for the ecumenics chair in honor of Luce's father, a Presbyterian missionary to China.
The American Lutheran Church Council recommends further study and delay until 1970 for a decision on whether to join the National Council of Churches.
May approval is sought for a plan for full unification of the two American Baptist seminaries in California, involving possible sale of the Berkeley seminary's campus and full merger into the Graduate Theological Union. A statement said the schools affirm "the authority of the Bible" and both evangelical and ecumenical commitments.
The Djakarta Regional Council of Churches has invited evangelist John Haggai of Atlanta, Georgia, to conduct a crusade in May. Indonesians outside the council had previously invited Haggai.
A judge in Cameroun ruled against fifteen Presbyterian pastors who withdrew in protest against World Council of Churches ties and sought to retain mission property.
Government troops in the Portuguese colony of Angola have destroyed a Plymouth Brethren outstation, Christian Times reports. Some national Christians have been killed by terrorists, and missionaries have left the station.
MISCELLANY
The end to draft deferments of graduate students, except those in medical fields, will not affect the customary 4-D exemptions for seminary students and clergymen.
The Women's Christian Temperance Union joined a protest against renewing the National Press Club's liquor license, on the technicality that its vice-president is an alien.
Colombia finally issued visas to advisers for the 1968 Evangelism-in-Depth campaign, but warned that only the Catholic Church is permitted to "catechize" in "missions territories."
World Vision plans its sixty-sixth pastors' conference since 1953 for next month in Nairobi, Kenya. Some 2,000 persons attended two recent conferences in India led by the Rev. Paul S. Rees.
Soviet authorities closed an "underground" plant that produced 12,000 belts imprinted with Bible quotations.
The 1967 survey of the International Short-Wave Club shows Ecuador missionary station HCJB ranks twelfth in popularity, ahead of Radio Free Europe, Radio Moscow, and Vatican Radio.
PERSONALIA
Latin Americans who attended a recent audience with Pope Paul said he broke into tears after talking off the cuff about indiscipline and lack of obedience among "sons of the Church." The pontiff admitted bitterness in his heart, "especially at night," as he read reports of unrest from various Vatican offices.
Monica Baldwin, former nun who wrote I Leap Over the Wall, said God told her twenty-three years later it was a mistake to leave the convent. John Peifer, former philosophy chairman at a Catholic seminary in Milwaukee who turned Episcopal last July, has again become Catholic.
Pope Paul named Bishop John J. Carberry, of Columbus, Ohio, head of the U. S. bishops' ecumenical commission, to the pivotal archbishopric of St. Louis.
Ruben Esteban, a Seventh-day Adventist in the Spanish army, was given six years in prison for refusing Saturday duty.
Orthodox Archbishop Makarios Won another five-year term as president of Cyprus, with 95 per cent of the vote.
Lutheran Church in America President Franklin Clark Fry will receive this year's Upper Room citation.
Mrs. Charlotte Browne-Mayers of the Standard Oil Company education staff, first woman nominated to direct a division of the World Council of Churches staff, will handle aid and refugee work.
Gordon E. Michalson, president of MacMurray College, Illinois, will now head the Methodist-related School of Theology at Claremont, California.
New York University Vice-president George H. Williams was named new president of Methodist-related American University, in Washington, D. C., which marked its seventy-fifth anniversary February 24.
Dr. Stanley D. Walters, religion-philosophy chairman at Greenville College, Illinois, won a one-year $ 11,400 research grant—the first from the new Institute for Advanced Christian Studies—to begin a linguistic and historical commentary on First and Second Samuel.
Have something to add about this? See something we missed? Share your feedback here.
Our digital archives are a work in progress. Let us know if corrections need to be made.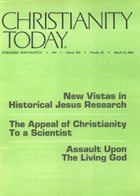 This article is from the March 15 1968 issue.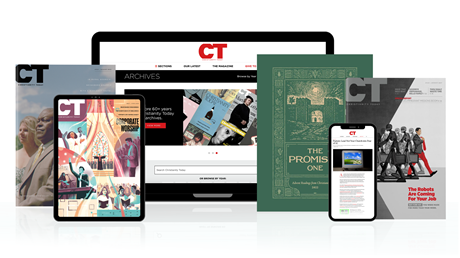 Subscribe to Christianity Today and get access to this article plus 65+ years of archives.
Home delivery of CT magazine
Complete access to articles on ChristianityToday.com
Over 120 years of magazine archives plus full access to all of CT's online archives
Subscribe Now
Haiti's Ills Prod Evangelical Activist
Haiti's Ills Prod Evangelical Activist