By refusing to eat California grapes, National Council of Churches leaders hope to help the state's allegedly exploited farm workers. A resolution adopted by the NCC General Board last month tacitly accuses California grape-growers of willfully perpetuating the farm workers' plight. In protest, the churchmen vow not to buy or use California table grapes.
Dubious strategy? The grape issue divided the board sharply. It produced the juiciest debate of a two-day meeting in Houston, and some amusing moments. Someone wanted to know how much of the forbidden fruit the council had previously budgeted.
"We can be laughed out of court," said the Rev. Alford Carleton of the United Church of Christ. "Terribly symbolic," countered another board member. Somewhere in between was the Rev. R. H. Edwin Espy, NCC general secretary, who questioned the efficacy of a reference-committee version of the resolution, terming the banning of grapes within the NCC "a very narrow application." A farmer from New Mexico who is a member of the Episcopal delegation to the board complained that the growers had not been given equal time to present their case.
The reference committee's recommendation was a resolution "that the General Board as a matter of Christian conscience and witness directs the administration of the National Council of Churches to refrain from the purchase or use of California table grapes.…" No one seemed to be quite sure exactly who constituted the NCC administration. So the resolution was amended. The final vote on the two-page document was 74 for, 23 against, and one abstention. For passage, 66 votes were needed (two-thirds of those present). The amended resolution reads:
"That the National Council of Churches, including its several units, refrain from the purchase or use of California table grapes until such time as union recognition and assurance of good faith collective bargaining are granted by the California growers."
By limiting the ban to "table grapes" the NCC excludes those growers and pickers involved in the culture and harvest of grapes for wine, juice, canning, and raisins. These sectors of the industry are apparently thought to have achieved an adequate level of social justice. Together they market more than 3,000,000 tons of California grapes each year.
The grape ban was the first implementation of a controversial new NCC methodology. A day earlier, after some two years of study, the board officially adopted a major policy statement that endorses the principle of economic boycott as a legitimate church instrument for effecting social change.
The NCC has been warned that it could run afoul of federal anti-trust laws and risk being sued by spurned businesses. But the language of the 400-word resolution has been carefully screened by New York lawyers to minimize the danger of litigation. The thrust is to encourage business with firms with wholesome policies rather than to call for withholding of patronage from undesirable dealers.
The policy statement marks a key step, because until now the NCC has relied primarily upon the political dynamic to bring about social progress. Political activity will continue, however, and doubtless will be stepped up. One report said church leaders are seriously considering establishment of a new interdenominational agency in Washington that would register officially as a church lobby. A number of denominations and church-related agencies now have offices in Washington, but their political activities are limited because they fear loss of tax exemption. The report of the proposed new lobby prompted NCC President Arthur S. Flemming to remark, "It's worth looking into."
The economic clout, meanwhile, can be expected to add support to the political efforts. In a positive way, the NCC is also investing small sums in various enterprises located in ghettos and economically depressed rural areas.
Selection of the grape industry for the first boycott will probably be a disputed decision for some time. The industry is one whose output cannot be easily regulated. Grapes continue to grow whether or not there is consumer demand; thus any measurable boycott will inevitably result not only in loss of employment and income but also in fruit decay and consequent waste. Moreover, because grapes are not an essential commodity, wage increases granted to the workers are not passed on to the consumer nearly as easily as they are in other industries.
How the NCC might enforce its grape edict was left hanging. Presumably, even secretaries at New York's Interchurch Center will not be allowed to put California grapes in their lunch bags. Procedures for determining the origin of the fruit were not spelled out. Neither were disciplinary measures for infractions.
The grape debate took so long that the board barely found time to consider the moral issues in the Soviet-led invasion of Czechoslovakia. After an impassioned "warning to the free world" by Czech-born Blahoslav Hruby, an NCC employee, the board passed a resolution condemning the Soviet military intervention. The same resolution, however, called for efforts "to increase trade" with the U. S. S. R. The strategy directly contradicts the approach in the grape matter, which seeks to penalize those held to be responsible for social injustice by withholding trade.
As usual, only half the board's 250 members were on hand for the meeting. And by the time they got around to a proposed resolution on justice, law, order, and freedom, they had lost a quorum. Flemming declared a seven-minute recess during which enough proxies were registered to make the last vote count. Without mentioning Chicago, the resolution charged that "some police seem on occasion to be out of control. There are instances where the police have provoked and even initiated violence, venting their fury on blacks, hippies, students, newsmen, passive bystanders, or unresisting arrestees." Other policemen were commended for "heroic service to the public."
Major policy statements also were adopted condemning capital punishment and calling for reduction in national defense spending. Neither aroused any substantial opposition, but a minor floor fight developed over the pro-Arab report of an NCC deputation to the Middle East. The NCC staff was described as "split right down the middle on this issue."
The lack of a quorum at the last session marked the second time in eighteen months that an NCC General Board meeting has ended on the perimeter of legality. This may suggest growing indifference toward NCC even on the part of its constituency. Financial support from denominations is as hard to get as ever. The council had asked its thirty-four member denominations for $300,000 for a summer "Crisis in the Nation" priority program. Fifteen—among them the one to which the program's coordinator belongs—gave nothing. The NCC's 1969 budget is being trimmed, another hint that the organization may be experiencing crisis fatigue.
Interchurch Circuit
Consultation on Church Union executive Paul Crow, Jr., who is setting up an office in Princeton, New Jersey, said the real opponents of the giant merger proposal may be not conservatives but radicals who think the Church is not on the frontier.
Southern Baptist Convention President W. A. Criswell said his group is deeply concerned about Christian unity but is unlikely to become involved in the National Council of Churches or the Consultation on Church Union because of their liberal-leaning leadership.
The first statewide Catholic-Protestant council is expected to form in Texas by January from a union of the Council of Churches and the state Catholic conference. Several denominations have yet to vote on the proposal.
Mutual recognition of clergy has been asked of their groups by the stated clerks of the United, Southern, Cumberland, and Associate Reformed Presbyterian Churches and the Reformed Church in America.
Church Panorama
The Fresno (California) Council of Churches, facing a $6,000 deficit on a $20,000 budget, dismissed its only two staff members. Economic and other pressures have followed council support of the area grape-pickers' strike.
Answering protests from a Southern Baptist Convention official, heads of the three TV networks promised they will try to cut down excessive violence in this year's programs. Denominational executives recently spent six hours discussing progress members are making in race relations and in implementing a landmark "Crisis in Our Nation" Statement the convention adopted in June.
The Evangelical Committee for Urban Ministries in Boston, with local church support, is giving scholarships to nine Negroes to attend four New England evangelical colleges. Buffalo concrete manufacturer Frederick Reinhold is giving Houghton College (Wesleyan Methodist) $250,000 to endow scholarships for poor minority students.
Approach, which served as the weekly newspaper of the National Council of Churches' urban-crisis program, reverts to United Presbyterian sponsorship this month. Another ecumenical venture. Edge, youth monthly put out by the three major Lutheran bodies, goes out of business October 10.
Starting salary for Lutheran Church in America missionaries was raised from $5,040 to $5,460—not counting housing or special allowances.
Personalia
By late September police in Granada Hills, California, had no clues after a month-long investigation of the disappearance from Hillcrest Christian Church of 20-year-old Dixie Arensen. bride of two months of its pastor, Jonathan Arensen. Mrs. Arensen was editor of the Westmont College paper last year. Her father, a missionary in Kenya who flew home to aid the search, said, "I'll bet 100,000 people are praying."
Los Angeles Methodist Bishop Gerald Kennedy, 60, plans to become senior minister of Pasadena's First Church while holding his bishopric—a first in the denomination's history. He is a noted preacher.
Episcopal Bishop Joseph Minnis of Colorado—recently beaten and robbed of $2,770 in cash and jewelry in a Denver parking lot—suffered at the hands of fellow bishops September 24. A panel tried him on misconduct charges, stripped him of church authority, and banished him from the state. Minnis, reportedly hospitalized, did not testify.
The Rev. A. D. King, brother of the late Rev. Martin Luther King, Jr., is moving from Louisville to his brother's Atlanta pulpit.
Disciples of Christ elder Marvin Osborn, former development director of Washington University, was named interim president of St. Xavier College, a Roman Catholic girls' school in Chicago.
Attorney Robert G. Mayfield, for sixteen years executive of the Methodist lay-activities board, will direct a $5 million development campaign for Asbury Theological Seminary in Kentucky.
United Methodist appointments: Tracey K. Jones, Jr., as general secretary of the missions board; President J. Lem Stokes III of Pfeiffer College, North Carolina, to run the special $20 million race-poverty "reconciliation" program; Iowa Bishop James S. Thomas to head a commission to write a new social-issues credo.
The Rev. W. Ernest Jackson, deputy executive of the Anglican Communion, will head the newly merged missionssocial service agency of the Anglican Church of Canada.
Gerhardt W. Hyatt has been named top chaplain of the U. S. Command in Viet Nam, and Henry C. Wolk, Jr., head chaplain at the U. S. Air Force Academy. Both are colonels and Missouri Synod Lutherans.
The Southern Baptist home-missions board is sponsoring the Rev. H. Wesley Wiley, a Negro, to help Washington, D. C., Baptists plot general strategy for ministering to the city.
Dr. Robert F. Crawford, science-math chairman at Biola College in California, was named college dean. He was formerly research-development manager of U. S. Borax.
Governor Winthrop Rockefeller named the Rev. Clyde Hart, Arkansas Baptist race-relations director, to head the state anti-poverty program.
United States Episcopal Presiding Bishop John E. Hines revealed that the recent meeting of the world's Anglican bishops considered a statement that Anglicans might accept the Pope's "primacy of love" in a reunited Church. The phrase was dropped, though a statement recognized the "historic reality" of the papacy.
Miscellany
The FBI reports crimes of violence rose 21 per cent during January–June, 1968, compared to the same period in 1967, and crimes against property rose 20 per cent.
A General Electric study shows the typical non-white American father with three children must spend $5,500 a year for basic housing, while a comparable white family pays $4,200. The difference is the restricted housing market for Negroes.
Wise County, Virginia, officials charged four members of a snake-handling cult with manslaughter after a member died of a rattlesnake bite in a service.
A bipartisan Ontario legislative committee recommends that churches pay taxes on 20 per cent of the assessed value of their property after taxes are gradually increased over ten years.
First replies to a poll show 850 of 1,200 evangelical Church of England clergymen oppose current proposals for union with England's Methodists.
A new edition of the Revised Standard Version of the Bible is in the works, with a target date of 1977. The project is under direction of a committee of the NCC's Division of Christian Education. Professor Herbert G. May is chairman.
DEATHS
J. B. LAWRENCE, 97, who became executive of the Southern Baptist Home Mission Board after a 1929 scandal, erased a $2.5 million debt, and led the board for twenty-five years; in Atlanta.
THOMAS C. RIGIA, 56, shot to death near the entrance of St. Dimitri Rumanian Orthodox Church, Bridgeport, Connecticut, after an argument with a Democratic leader over renting the church hall to the Republicans.
Have something to add about this? See something we missed? Share your feedback here.
Our digital archives are a work in progress. Let us know if corrections need to be made.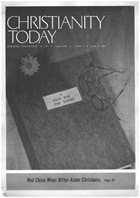 This article is from the October 11 1968 issue.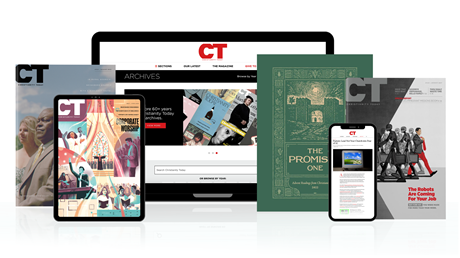 Subscribe to Christianity Today and get access to this article plus 65+ years of archives.
Home delivery of CT magazine
Complete access to articles on ChristianityToday.com
Over 120 years of magazine archives plus full access to all of CT's online archives
Subscribe Now
The Grape Debate
The Grape Debate