Does christian faith really make a difference in real life? Does it actually have the power to grab hold and set life on a new course? Or is the vocabulary of faith a mere set of pious phrases? Questions like this fill the air these days, and they need tending to. For they touch the vitals of sanctification; they call into question its possibility and its reality.
What sort of pretention does the Church make by calling itself the communion of the saints? Has it made good, at any time, on this title? Or has nothing really changed? Are we the same people we have always been, living our unchanged lives in an unchanged world? Was Martin Buber right when he said that the Messiah could not have come because human life has not yet been fundamentally changed?
The question of whether faith has really changed anything is also an important one within theology. The biblical picture of sanctification pointedly suggests a radical alteration of our real and concrete life. Sanctification entails a thorough-going rerouting of life, an about-face of human existence. There is talk about a new creature, remade after the pattern of God's will (Eph. 4:24). Over against lies, bitterness, and hostility, the new light has come—and whoever resists the new light grieves the Holy Spirit (Eph. 4:30).
The reality of change, in fact, implies a crisis for the future: without being sanctified, no one shall see the Lord (Heb. 12:14). We are therefore obliged to strive toward holiness, toward peace and sanctification. The Old Testament, too, puts the question: Who shall ascend the mountain of the Lord and who shall stand in his holy city? It gives its own answer: Only he who has clean hands and a pure heart, who pays no heed to falsehood, nor swears falsely (Psalm 24). Israel was not allowed to substitute cultic piety for real piety—there was to be no flight into feasts, holy days, and sacrifices. Nor is the Christian Church permitted by the New Testament to avoid the mandate for personal change of life. If life is not altered, if we do not progress toward a new life style, we are wide open to the Apostle's terribly serious indictment.
Nor can we take comfort in the idea that sanctification really happens after this life. The Christian walk has to be made on this earth (1 Pet. 1:15 f.), and it must here and now contradict the former way of life. Our new life must be public; Peter takes this so seriously that he talks of winning men "without words" (1 Pet. 3:1, 2). God intends a restoration and a renewal; for this Jesus died outside the gates of Jerusalem.
The Church's teachers have sometimes been too quick in their judgment of perfectionism. In doing so, they usually point to the obvious weaknesses in Christian people, and they recall what James said about all of us stumbling, in many ways (Jas. 3:2). But we should not forget that James meant this as a confession of guilt; he would be amazed if his words were quoted as an excuse. In fact, he meant to urge his readers on toward obedience to the perfect law of liberty and so to the achievement of active and practical holiness (Jas. 1:25).
Perhaps our own day is seeing a new awareness that God wills us to be actually sanctified, actually to change, and actually to be new creatures. We are impressed with our Lord's inescapable demands, and are less inclined to adjust them to our convenience. But along with this it is asked whether we must not be more serious about the human structures in which life is formed and shaped in our time. That is, we are told that obedience to the Lord cannot be a narrowly individualistic striving for inner piety. Helmut Thielicke wrote an article lately whose title asked: "Can structures be converted?" (Zeitschrift für Theologie und Kirche, 1969). Thielicke argues that our day is one in which life is shaped and directed by social structures, and that therefore our Christian duty can no longer be limited to the cultivation of individual piety. One may not hide behind John's word about the whole world lying in evil (1 John 5:19). Surely, the Bible recognizes the evil desires of the heart and the lusts of the eye that are often stimulated by the world; but we should not suppose that therefore the only proper subject for sanctification is the inner heart of man. Out of the heart are the issues of life, says the writer of Proverbs. And this is the biblical opening for talk about service.
Sanctification and service are married, and may not be divorced. And service is directed man-ward as well as God-ward. He who would be great, let him first be a servant, be first, let him be willing to be last, be the leader, let him be a follower (Matt. 20; Mark 10; Luke 22). Competition between service to God and service to men is unthinkable. The just commandment entails the second commandment; the vertical dimension of life assumes the horizontal.
Sometimes one gets the impression that service to man tends to displace personal piety. That it could do so is not surprising. For we are experiencing a reaction against a passive piety, an actionless holiness. And this reaction had biblical support (1 John 3:18; Jas. 1:23). But the dilemma is grotesquely untrue to biblical reality. God, out of love for the whole world, summons men to be sanctified for concrete service to the world. He calls for cups of cold water—a symbol of man's most survival-type needs. He calls for an abandonment of evil acts because the earth is going to be full of the knowledge of the Lord. In his environment, evil is out of place.
If we fail to be earnest with the reality of sanctification (the new life), we betray our own refusal to understand the basic meaning of faith. We shall be accepting a dead faith in place of the reality—and in this we are on a par only with the demons.
Quite possibly, the structures of society could be changed so that people are benefited materially while we live without love in our hearts (cf. 1 Cor. 13:1–3). But it need not be so. And it can also be possible for Christians to understand their call to service in the light of the Gospel, and recognize the origin of their duty: "For the Son of Man is come, not to be served, but to serve …" (Mark 10:45).
G. C. BERKOUWER
Have something to add about this? See something we missed? Share your feedback here.
Our digital archives are a work in progress. Let us know if corrections need to be made.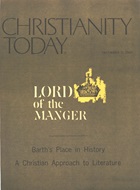 This article is from the December 5 1969 issue.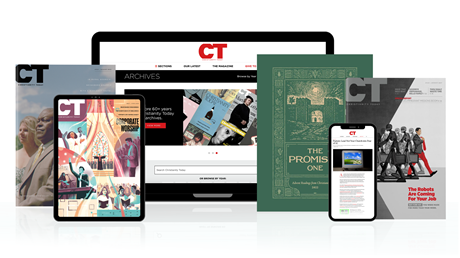 Annual & Monthly subscriptions available.
Print & Digital Issues of CT magazine
Complete access to every article on ChristianityToday.com
Unlimited access to 65+ years of CT's online archives
Member-only special issues
Subscribe
What Difference Does Faith Make?
What Difference Does Faith Make?