Lolling on his craggy throne, with thin fingers of smoke brushing his face, Satan turned his attention to his underling, Fireball.
"You bring a report?" he said.
"Affirmative, Majesty," said Fireball. "Things are not going too badly. Everybody on earth seems rather confused. At times they seem torn between trying to turn on and dropping out."
"I could do without some of your earth-jargon," growled Satan. "But continue."
"It's like one of their hippies says, 'Prometheus is reaching for the stars with a hollow grin on his face.' One of their philosophers has said, 'Man is standing hip-deep in garbage, shooting rockets at the moon!' "
"Hmmm," muttered the devil.
"One American newsman remarks that the solons in Washington wear grins to hide their gloom over climbing inflation. Newspapers report that men will run into more and more power shortages if they aren't careful—and, take it from me, few of them are careful at this point! They also fear a water shortage, and what water they have is fairly well polluted. The air is pretty awful, too. And, of course, there's the great food shortage."
"Proceed."
"The airlines are all fouled up. The cities are all messed up. Wars, big and little, keep coming on. Lots of riots. In fact, there are times when universal anarchy appears quite possible."
"Very good."
"Then there's this gap thing. Generation gap, racial gap, social gap, economic gap." Fireball chortled. "A kind of universal 'gapititis.' "
"Your slang does not enhance your communication. But go on."
"I'm sorry, Excellency. Perhaps I've attended too many gatherings of those who seek to erect a new social order without any order, who want to tear down the existing system though they have no system of their own, who scorn capitalism but accept what capitalism offers—as long as it's for free."
"Very interesting," muttered Satan. "And how are things with religion?"
"Fantastic! Great Brother, even you would be startled at what some preachers are preaching. Worshipers are playing the oddest games. Like some even hold prayer meetings in the nude! And the theologians! They make God impersonal, immature, unattainable, indifferent, a Nothingness. I assure you, Sir, religion is getting to be a real jungle!"
"You would say, then, that our cause is coming along rather well? What with everybody—how did you put it?—trying to turn on or drop out?"
Fireball nodded, then frowned, hesitated a moment, and said, "One thing bugs me, however."
"Yes?"
"The evangelicals may be at it again!"
"At it?"
"I hate to say this, Sir, but it appears they may be making a stab at doing their thing again. They may be attempting to turn on again!"
"Clarify that!" Satan ordered.
"Remember, Big Brother, how it once was with them? When they were the vanguard of political and social reform? They took a hard stand against slavery, child labor, vice of all kinds. But something happened. They got turned off somehow. You might say they dropped out. They talked big about personal salvation, but they seemed to try to keep it to themselves. They became, well, ingrown. They sat on their hands, singing 'Amazing Grace.' But now something else may be happening to them."
"In what way?" demanded the devil.
"Well, just for one thing, they had this big conclave in Minneapolis lately. Many of their big names were present—Graham, Hoffmann, Skinner, Ford, Ockenga, Rees. And they seemed to be sounding a new trumpet. They didn't look askance at the old idea of personal salvation, you understand; in fact, they underscored it. But they insisted, sometimes rather angrily, that saved people are supposed be out where the action is! Sounded a bit like some far-left folks—except they stuck to the idea that to have a new society you had to have some new men. It was all pretty impressive, take it from me. All the big news media gave them a hefty play."
Satan glowered. "This is disturbing. Once I thought the evangelicals were, as you might say, in the bag. They were brushed off by the intellectuals as obscurantists. In time they escaped that trap and got to where they could hold their own against the sophisticated liberals. But they still, in your words, sat on their hands. So I still wasn't disturbed. But this thing you're talking about—it bodes ill for us."
"I concur, Majesty. Don't forget, there are millions of them. Imagine what could happen if they all got turned on, if they all got as zealous for a redemptive mission as, say, for the authenticity of the Word."
"I am imagining!" Satan grimaced. "What we have to do is to see that they don't really get turned on. That world you've been describing to me would make a real field for them to operate in! Remember how it was with the early Church: once they set the Cross in that human situation, things took a dark turn for us! And that world was not too different from the one now."
"They turned it upside down, didn't they?" said Fireball.
"Look. Issue an all-out order. Get things moving. Concentrate on seeing that as many of these evangelicals as possible remain dropouts. Understand?"
"Understood, Majesty."
Satan muttered, "The early Church had only a handful. But this Church—millions of them!" Smoke curled gently about the devil's face. "That scares me a bit. For hell's sake, little brother, never let them get turned on all the way! That's an order!"
—LON WOODRUM, evangelist, Hastings, Michigan.
THE DUMBFOUNDING
For Margaret Avison
The song-seared tongue
can be dumb
with melody as bone
stretcht beyond breakage
drums the cadence.
The soul's Herder
sings us several into one,
His, as we gallop,
canter, trot, ramble,
a flesht and many
temple,
into the fold where
our tongues hold
song
as only leaves,
dumb with greenness,
hold spring.
F. EUGENE WARREN
Have something to add about this? See something we missed? Share your feedback here.
Our digital archives are a work in progress. Let us know if corrections need to be made.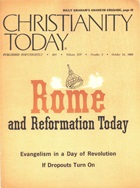 This article is from the October 24 1969 issue.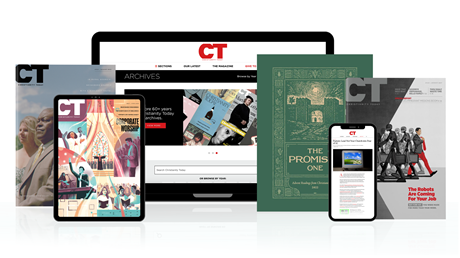 Subscribe to Christianity Today and get access to this article plus 65+ years of archives.
Home delivery of CT magazine
Complete access to articles on ChristianityToday.com
Over 120 years of magazine archives plus full access to all of CT's online archives
Subscribe Now
If Dropouts Turn On
If Dropouts Turn On