Remember when the stockholders' annual meeting was a placid, ho-hum, rubber-stamp affair? That, along with the irenic college campus scene, appears to be fast becoming a bit of American nostalgia. Social action is moving from the street to industrial board rooms.
And many church and religious groups, in the current round of confrontations, are in the front line of demonstrations against the nation's large corporations.
Anti-war and anti-pollution protests this spring have brought the annual meetings under fire, and more confrontations are planned by groups such as the Saul Alinsky-engineered Campaign Against Pollution (CAP) and the United Presbyterian Church.
For example, in recent weeks activists have sought a forum at stockholders' meetings of:
• Honeywell in Minneapolis, where a mob of about 200 militants broke up the annual meeting fourteen minutes after it started. Windows were broken, and Mace was used to control the crowd. The demonstration was led by two interconnected groups, the Honeywell Project and Alinsky's Proxies for People. The major grievance was Honeywell's production of a fragmentation bomb. Activist United Presbyterian minister William R. Grace, who is director of the Center for Urban Encounter in St. Paul, was a leader of the protest.
• Gulf Oil in Pittsburgh, where at least ten persons were arrested after a scuffle with police.
• Commonwealth Edison in Chicago, where several hundred demonstrators gained legal entrance through collection of proxy votes from Edison shareholders (see box below).
• Boeing aircraft in Seattle, where demonstrators chanted "Burn, baby, burn" in front of the company cafeteria after setting fire to a model airplane to protest Boeing's manufacture of bomber aircraft.
• American Telephone and Telegraph in Cleveland, United Aircraft in East Hartford, and meetings of the Columbia Broadcasting System and the Aluminum Company of America.
Community organizer Alinsky is a veteran of the 1967 "proxies for people" campaign used against Eastman Kodak, and has long been associated with liberal church involvement in economic and political causes. He helped organize CAP through his industrial Areas Foundation in Chicago months ago and "donated" the time and services of eleven community-organizer trainees to CAP in order to mobilize the drive for Commonwealth Edison proxies.
Alinsky tactics, which have been imitated by scores of church-community activists, are succeeding in welding picketers and proxy-holders on social issues of mutual concern. Although organized proxy power has yet to produce significant operational changes at companies disrupted, and despite the varied and unrelated nature of some demonstrations, the approach is expected to continue.
It's just the beginning of a nationwide trend, predicts Alinsky, who is organizing investors from coast to coast. By this fall, he claims, there will be chapters of Proxies for People "all over the place," and a national organization will be incorporated.
Meanwhile, in Washington, D. C., a newly formed research group announced last month it will monitor the "social responsibility" policies of big corporations and relay the information to consumers, employees, and investors. The Council on Economic Priorities will publish statistics on corporations' military production, environmental and employment practices, and overseas investments and their social and political impact.
Both General Motors and agencies of the United Presbyterian Church were gearing for what may turn out to be the biggest company confrontation of the season. Campaign GM, engineered by a Ralph Nader-associated group, is a plan to tackle GM corporate policy and structure on issues such as pollution and auto safety. The drive was a national scheme to garner proxy votes for GM's May 22 annual meeting in Detroit.
Presbyterians were being urged to use their votes as stockholders in favor of two resolutions ordered on the docket by the Securities and Exchange Commission. They call for enlargement of the GM board of directors to provide for the election of three members representing the public interest, and creation of a GM committee to produce safer, non-polluting automobiles. The Women's Division of the United Methodist Board of Missions also decided to vote its proxies on 7,857 shares of GM stock in favor of the two resolutions.
GM has an estimated 1.35 million stockholders; United Presbyterian agencies own 114,000 shares worth about $8 million (total shares of GM stock are about 285 million). Campaign GM also is seeking proxies from university holdings from coast to coast.
In his initial statement on the GM project, Nader said a basic thrust of the campaign would be "alerting and informing the public about their omnipresent neighbor … General Motors … and how it behaves.
"At its annual meeting on May 22," he added, "GM may be host for a great public debate on the giant corporation, rather than a wooden recital of aggregate financial data."
RUSSELL CHANDLER
Jolting Commonwealth Edison
Religious types played a major role in the Campaign Against Pollution (CAP) focused last month on Chicago's Commonwealth Edison Company, long said to be the city's major polluter.
Focal—and most vocal—point of the CAP convergence on the electric utility was Roman Catholic priest Leonard Dubi of St. Daniel the Prophet Church in South Chicago. The office manager of four-month-old CAP is a University of Chicago Divinity School student, 23-year-old Robert Creamer. Religious support ran nearly the spectrum, with least interest shown by evangelicals. The United Presbyterian Chicago Presbytery, Jewish day-school groups, Roman Catholic parishs, Unitarian churches, interdenominational ministerial associations, and major seminaries joined in the effort to dramatize their demands for stronger anti-pollution efforts by Edison at its annual stockholders' meeting April 27. But there were no immediate concrete results.
Reasons for religious support of CAP were both theological and practical, often humorously juxtaposed. "We are God's instruments," said Allan Rohlfs, a Lutheran School of Theology senior in the crowd of 500—mostly a middle-class, cleanly dressed group—outside the stockholders' meeting.
"My concern stems from a theological understanding of creation," said the Illinois Circle Campus Lutheran chaplain, Robert Shaner. "We have not been good stewards," Father Dubi added. "My church is in a lovely community on the southwest side. But it is directly in line with a highly toxic Edison plant that is smoking all the time." Dubi, who is CAP co-chairman, praised involvement in CAP by individual churchmen and congregations but criticized the religious power structure for non-involvement.
After various student-faculty stratagems, the boards of Garrett (Methodist) Seminary in Evanston, Lutheran School of Theology, and Chicago Theological Seminary all voted their proxies over to the CAP effort. McCormick sent a board member to speak at the stockholders' meeting.
At Garrett, faculty and students used the "pollution issue as a vehicle to raise broader questions of institutional authority," according to Joel Davis, Garrett's director of information services. A three-day student fast in January led to agreement to turn over Garrett proxies. In all, CAP gained about one-fourth of the proxies for some 170,000 Edison shares owned by churches, seminaries, and other groups.
CAP has decided to watchdog Edison plans to build a nuclear-powered electric generating plant in nearby Zion and six or seven similar facilities in future years. CAP wants assurance of public safety from radiation, water pollution, and poisoning from the plant.
BARBARA H. KUEHN
Lifting The Veil On Mixed Matches
Love doesn't always know its place—a fact that in the past has meant excommunication for Roman Catholics who marry outside their church, or subjected non-Catholics to an authority they don't care to recognize. This spring Pope Paul VI finally relaxed some marriage restrictions applying to a Catholic and a non-Catholic of another faith or of no faith.
When a Roman Catholic marries a non-Catholic, the Pope said in his letter on mixed marriages, the ceremony should be performed by a Catholic priest in a Catholic church. But when "serious difficulties stand in the way," the diocesan bishop may grant a dispensation for the marriage to take place elsewhere with a non-Catholic officiant as long as there is "some public form of marriage service." The letter forbids ceremonies performed jointly by a priest and a clergyman of another faith.
The definition of "serious difficulties" seems left to the bishop's discretion. Some valid "difficulties" might be the Catholic partner's close relationship with a Protestant minister or the non-Catholic partner's serious objection to marriage in a Catholic church.
In relaxing ecclesiastical restrictions, the Pope did not sanction interfaith marriages as a step to Christian unity. In fact, he said the church discourages such marriages because of the "difficult questions inherent" in them. But by issuing the letter "on his own initiative" the pontiff did show he realized that mixed marriages are becoming increasingly common. Perhaps 30 per cent of the American Catholics who marry each year have non-Catholic spouses.
Other changes, effective October 1 for the Catholic partner:
• Allow him to request permission for the marriage from his bishop rather than from the Pope.
• Ask him to promise to "do all in his power" to rear his children in the Catholic Church instead of vowing to do so.
• Let him inform his prospective mate of that desire rather than require a similar promise from the non-Catholic partner.
JANET ROHLER GREISCH
Preachers In The Political Ring
Clerical collars are beginning to pile up in the political ring. Six more have been added to those already tossed (see April 10 issue, page 49, and May 8 issue, page 44).
Rhode Island Jesuit John J. McLaughlin, an associate editor of the weekly America, and John C. Danforth, an Episcopal "worker-priest" who has been a Wall Street lawyer and since 1968 Missouri's attorney general, are both Republican candidates for the U. S. Senate. McLaughlin is probably the first Roman Catholic priest to run for the office.
The rest are from New York State. Harvey M. Bates, chaplain of the United Christian Fellowship at Syracuse University, and Hugh C. Carmichael, a Buffalo Episcopalian, are after Democratic nominations for House seats. A Methodist anti-war protestor from Staten Island, George D. McClain, will run for the House on the Liberal party ticket, and Donald S. Harrington, rector of the Community Church in Manhattan, is that party's candidate for governor.
Have something to add about this? See something we missed? Share your feedback here.
Our digital archives are a work in progress. Let us know if corrections need to be made.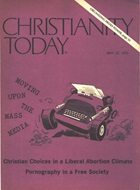 This article is from the May 22 1970 issue.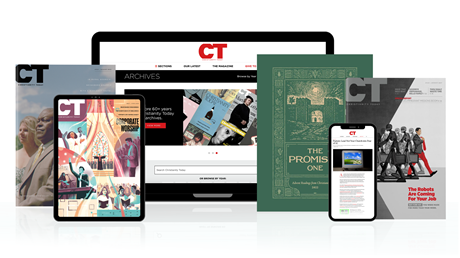 Subscribe to Christianity Today and get access to this article plus 65+ years of archives.
Home delivery of CT magazine
Complete access to articles on ChristianityToday.com
Over 120 years of magazine archives plus full access to all of CT's online archives
Subscribe Now
Churches and Stock: Organizing Proxy Power
Churches and Stock: Organizing Proxy Power