This column by the late Executive Editor ofCHRISTIANITY TODAYis reprinted from the October 8, 1965, issue.
"The just shall live by his faith." Thank God for that one condition laid down for our salvation. But the seal of that faith, the evidence of its genuineness, is love and compassion for others. There is no such thing as a Christian with a right vertical relationship to God but without a right horizontal relationship to his fellow men.
One day a man asked our Lord which was the great commandment of the law, and Jesus replied: "Thou shalt love the Lord thy God with all thy heart, and with all thy soul, and with all thy mind. This is the first and great commandment. And the second is like unto it, Thou shalt love thy neighbor as thyself" (Matt. 22:37–39).
For some of us this is very strong meat. We think we love God deeply because we have an unquestioning faith in the Father, Son, and Holy Spirit. But we look around us and find it exceedingly difficult to love some of the unlovely, cantankerous, unwashed people with whom we come in contact.
Yet it is precisely at this point that we exhibit the validating seal of our faith. When the Apostle James wrote, "As the body without the spirit is dead, so faith without works is dead also" (Jas. 2:26), he was in no way contradicting the Apostle Paul's affirmation, "By grace are ye saved through faith; and that not of yourselves: it is the gift of God: not of works, lest any man should boast" (Eph. 2:8, 9).
It is clear as crystal that a faith content with mere affirmations is spurious. True faith has a seal of its genuineness—love, concern, and action for others.
The story is told of a German church destroyed during World War II. Later, when the rubble was being cleared away, a statue of Christ was found with only the hands missing. A famous sculptor offered to restore the hands, but the officers of the church declined, saying that here was a symbol of our Lord's dependence on the hands of his followers to serve him in loving concern and compassion for others.
How does this concern differ from that associated with the so-called social gospel? The difference is this: The latter can be an end in itself, but true Christian love and compassion is a by-product of the Gospel and a fruit of the Holy Spirit.
Our Lord illustrated our need of compassion by the story of the Good Samaritan. A man was beaten, robbed, and left wounded, unable to walk. One religious leader came along and, seeing the victim, passed by as far as possible from where he lay. Another came close, took a look, and also left the man unattended. But a despised Samaritan came, sensed the situation and the need, and did something about it; he bound up the man's wounds, carried him to an inn on his own animal, and made full provision for the days of recovery.
"Which of these three, thinkest thou," Jesus asked, "was neighbor unto him that fell among the thieves? And he said, He that showed mercy on him. Then said Jesus unto him, Go and do thou likewise."
Does this make some of us uncomfortable? It should. We all too often wrap around ourselves the robes of orthodoxy while failing to exhibit love and compassion where it is so desperately needed.
The twenty-fifth chapter of Matthew gives us our Lord's prophetic account of a coming judgment. What rivets our attention is the basis of the judgment: how men have responded to the needs of others. Here what matters is not what men have professed but how they have practiced it. The genuineness of faith is exhibited by love and compassion. Here in its stark nakedness one sees faith without works—dead, useless, spurious faith. Our Lord will recognize then—as he does now—the extent to which men are nothing more than pious frauds.
Our Lord's depiction of this judgment scene makes plain the humility of those who serve him through their acts of mercy and the self-satisfaction of those who deny him by inaction.
The necessity of validating faith by actions of love in no way detracts from the prime necessity of faith, nor does it bypass the basic role of preaching in the ministry of the Church. Furthermore, social concerns can become distorted into a humanism that has no relation to Christianity. It seems that today the Church is often more concerned about making the prodigal comfortable and happy in the far country than about bringing him back to his Father through faith in Jesus Christ.
Where then is the dividing line between a faith validated by Christian action and social works centered in physical rather than spiritual welfare? Is not this division clearly found at the Cross? True Christian love and compassion should be a by-product of our love for the One who died for us.
It is possible to engage in all kinds of social action, not only without any Christian motive, but even to the detriment of the recipients of the action. It is also possible to call ourselves Christians but show neither love nor compassion to those who so desperately need both. Yet faith without works is dead, and social concern without spiritual concern is just as dead. Both are insidiously dangerous because they generate within us a satisfaction with ourselves that is wholly unjustified.
For twenty-five years the writer shared in the work of a large mission hospital in China. We had good buildings, good equipment, and well-trained doctors and nurses, and we tried to practice the best medicine and surgery possible in those days. But this humanitarian work was not an end in itself. In every way possible—by example, by word of mouth, by the printed page—we endeavored to preach and teach Christ as men's basic and ultimate need. The cup of cold water was accompanied by the message of the saving Gospel. This long experience in "social work" has convinced the writer both that Christian love and compassion are an integral part of the Christian faith and that humanitarianism as an end in itself is a denial of that faith.
This is an area where Christians should search their own hearts and motives. Too often we pass by on the other side. And too often we look at human need without thinking of the need of the soul that Christ died to save. A hard orthodoxy without love and compassion is a travesty of the Christian faith. A sentimental humanism is likewise a travesty.
As Christians we must beware lest we belittle the efforts of some with whom we do not agree. After all, God is their judge. At the same time let us beware lest we deny our Lord by failing to love those about us with a love expressed in action.
Have something to add about this? See something we missed? Share your feedback here.
Our digital archives are a work in progress. Let us know if corrections need to be made.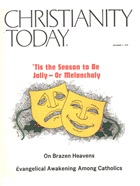 This article is from the December 7 1973 issue.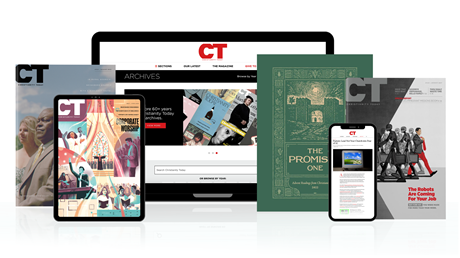 Annual & Monthly subscriptions available.
Print & Digital Issues of CT magazine
Complete access to every article on ChristianityToday.com
Unlimited access to 65+ years of CT's online archives
Member-only special issues
Subscribe
The Seal of Faith
The Seal of Faith