As yet no statistics reveal how many have died from being thrust into the damning combination of physical sluggishness and a schedule that would make a honeybee quiver. It seems clear, however, that being out of physical condition, perhaps overweight and stagnant, is no way for a pastor to live, much less work. Some have found that jogging meets a much neglected need in their lives.
Here are seven reasons why a pastor (or anyone else) should jog, if his health permits (be sure to get your doctor's approval).
1. Jogging gives the maximum benefit for time spent. Other sports cannot even approach the cardiovascular benefit, to mention only one item. A slow jogger can run three miles in thirty minutes; every moment of that thirty minutes is workout. Other sports take as long as four hours and do not require this beneficial exertion.
2. Jogging exercises the part of the body that a pastor needs most in his work—the legs and the lungs. After jogging for two months you can dash to an emergency sickbed and up flights of stairs and arrive serene, not gasping for breath.
3. Jogging is a tonic to the nerves and a releaser of psychological tension. You go to the track or field worried or even tired, and through oxygen intake and exertion the troubles seem to melt with the fat. Your mental outlook is improved; the troubles seem smaller and you are stronger to tackle them.
You will have to experience this marvelous benefit to believe it. One theologian pointed out that at given points in their lives some persons do not need prayer and Bible reading as much as they need exercise and proper sleep. Great are the beneficial effects of jogging on the mind as well as the body.
4. Jogging may well make your ministry quantitatively longer and qualitatively better. Perhaps you read the National Geographic article that told of people active after the age of one hundred who daily used their bodies in jogging motions. Many joggers have lived long; it is surprising more have not shared their secret. Perhaps they thought few would listen—it seemed so outlandish, until medical research verified the benefits. A notable example is Harry Lewis, a 105-year-old man in San Francisco, who still runs six miles daily.
5. Jogging can be the key to successful weight-reduction. Jogging burns calories like fury and, more important, readjusts the metabolism. After much jogging, one is more inclined to consume food only as it is needed. Jogging is psychologically satisfying: one finds small amounts of food tasting better.
Jogging is a form of mastery of the body. When the body is used for long running periods it becomes more tractable; you start giving orders to the body and not vice versa. Even minimally reduced food intake plus jogging will take off weight and keep it off. Have you ever seen a person who jogged daily for a year and stayed obese? Of course not.
For a jogger it is either live thin or give up. The act of running becomes more important than food. Food also loses its dominance over other aspects of life.
Jog every day for four weeks and you'll be hooked. Look back after a year and you will want to run as long as you are able, and that will probably be a long time.
6. Jogging prepares you for other sports and for long hours of work. Why fool around with the other sports, even the best ones, if you are out of shape? For example, it is harder to get in shape by swimming, because you give out too soon and cannot keep moving into your tiredness (an aspect of jogging-conditioning).
After running three miles daily for nearly a year I was able to do the three-mile run, in summer heat, and after a shower go to a pool and swim vigorously for half an hour. I left feeling relaxed and vibrant, calm and yet strong.
After two years of faithful jogging, one summer day I cut the grass, ran three miles, and then played eighteen holes of golf with a neighbor. I was hitting stronger than ever by the eighteenth tee, beat my neighbor's score, and was not tired. (I golf once a year for old time's sake. My neighbor practices every day; it helps keep his pot-belly in tone.)
I know this: jogging carried me through a full load of post-graduate work with four churches and 120 miles between. Before jogging I couldn't have done it. Many times I enjoyed this experience: four sermons on Sunday, home to run three miles, a snack, a 120-mile drive, an hour's work, to bed, and up to a nine o'clock class with no martyr-feeling. It was routine. I trace it to jogging, not prayer. Many pastors have not neglected their spirits, but they have failed their bodies.
7. Lastly, jogging offers the best athletic analogy to the Christian life. I speak advisedly. Jogging is not glamorous; it is often boring drudgery broken with moments of high delight. However, nothing exceeds the joy and delicious feeling that comes over a runner after each substantial run.
To run requires persistent, step-by-step, day-by-day patience. For this long-drawn-out courage, the rewards are great; you will notice the striking results yourself. Others will, too, and this will tend to create a hearing ahead of time for what you have to say. (These comments apply to both running and the Christian life.)
Men of God, I call attention to the fact that God's most widely used evangelist is a jogger! You know his name. I hope you add your name to the list.
Run, pastor, run. The life you save may be your own—to the saving of others as well.—HAYDN GILMORE, pastor and journalist, Tunkhannock, Pennsylvania.
Have something to add about this? See something we missed? Share your feedback here.
Our digital archives are a work in progress. Let us know if corrections need to be made.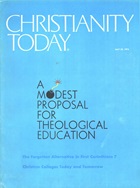 This article is from the May 25 1973 issue.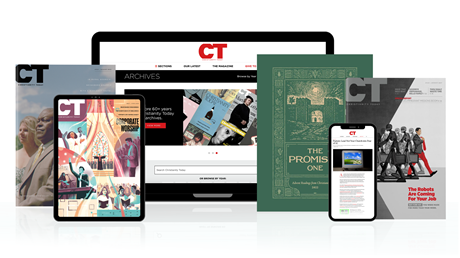 Annual & Monthly subscriptions available.
Print & Digital Issues of CT magazine
Complete access to every article on ChristianityToday.com
Unlimited access to 65+ years of CT's online archives
Member-only special issues
Subscribe
The Minister's Workshop: Run, Pastor, Run
The Minister's Workshop: Run, Pastor, Run