Just over two years ago more than 100 Christian leaders from all over the world were asked by Billy Graham whether they felt there was a need for a congress of Christian leaders on world evangelization. Almost all said yes. In a similar poll almost four years ago, a smaller group had expressed the view that the time was not yet right. The hearty 1971 response set the wheels in motion for Lausanne—the International Congress on World Evangelization, to be held in Lausanne, Switzerland, July 16–25, 1974. The tide is in for evangelical witness around the world, and the consensus was we should move on that tide toward the goal of world evangelization in this century.
There was a unanimous conviction, however, that this should not be just another congress. We know we should evangelize; there is no need to spend time, energy, and money to travel halfway around the world to be told that. This congress is to be a working one, dealing with practical issues and strategies, focusing on the how after clearly understanding the what and the why of world evangelization.
Dr. Billy Graham is serving as honorary chairman. However, the base for staffing, planning, and financing the congress is far wider than Billy Graham or any particular church or organization. The executive chairman is the Right Reverend A. Jack Dain, assistant bishop of the Anglican Diocese of Sydney, Australia. Dr. Donald E. Hoke, on leave as president of Tokyo Christian College, is the director.
A planning committee of twenty-seven has been drawn from the six continents. Speakers from all parts of the world and many denominations have been invited. Some already announced are the Reverend Gottfried Osei-Mensah, Kenya; Dr. Susuma Uda, Japan; Dr. Rene Padilla, Argentina; Dr. J. R. W. Stott, England; Dr. Peter Beyerhaus, Germany; Bishop Festo Kivengere, Uganda; Dr. Donald McGavran, United States; Canon Michael Green, England; Professor Henri Blocher, France; Mr. Samuel Escobar, Canada; Dr. Francis Schaeffer, Switzerland; Dr. George W. Peters, United States; and Dr. Howard A. Snyder, Brazil.
Two-thirds of the financing will come from contributions from Christians and churches around the world and the fees participants will pay to cover their expenses. Subsidies will be available to participants who need them, but even they are being encouraged to contribute the equivalent of two weeks' salary, whatever that may be.
Participants (the term was preferred over delegate, since each is expected to participate actively but will not officially represent any church or group) are being invited by the planning committee after consultation with regional and national advisory committees. This is to guarantee, so far as is humanly possible, representation from every part of the worldwide evangelical church and all its evangelistic agencies. Each participant is to be a committed evangelical. The planners are carefully seeking representation of old and young, clergy and laity, men and women, church and para-church organizations.
The purposes of the congress will be:
1. To draw an up-to-date picture of who and where the two billion people are who have never been reached with the Gospel.
2. To make plain the resources, manpower, technology, materials, and approaches available to get the job done.
3. To develop cooperative strategies to finish the job.
4. To state clearly the biblical answer to questions being raised about world evangelization both inside and outside the Church.
5. To seek new power from the Holy Spirit, in whose strength alone world evangelization is possible.
6. To inspire churches and evangelistic agencies all over the world to make a new all-out thrust for world evangelization in our century.
Bishop Dain has said to the Planning Committee:
In the mass of letters which I have been pleased to receive, I have sensed two areas of divided opinion. While some have pleaded that in a day of theological confusion we should again restate the biblical message of evangelism, the "what" and the "why," many others have pleaded for new insight into the methods which the Spirit of God is blessing around the world—the "how." Similarly, while some have stressed the absolute need for prayer that the Spirit of God might move in his sovereign power, others have urged the necessity of our human response to that divine initiative. Surely in both of these we face no either/or situation, but the constant recognition that the truth lies in holding both in creative tension.
From the start, this congress has been viewed as a part of a process rather than as an event. What happens before and after the congress is considered to be as important as what happens during the ten-day gathering. Participants will be required to prepare in advance. And it is to be a working congress.
Participants are being invited to tell planners what questions they would like to have answered at the congress and the kinds of information they would like to obtain. Papers to be dealt with at most of the plenary sessions and at the smaller study and strategy groups will be sent in advance. The participant is to react to these, and his comments and questions will be sent to the speaker. Rather than read his paper at the plenary session, the speaker will summarize it and then respond to the comments he has received from the participants.
Each participant will also receive in advance a survey of the unreached peoples of the whole world; intensive research is being done for this now. Along with this will be an interpretative essay indicating why some have been reached more readily than others and suggesting how those yet unreached can be given the Gospel. Each participant will get an in-depth study of his own part of the world. It is hoped that thinking, praying, and planning will be done with the "big picture in mind," and that the participants will develop more cooperative strategies than ever before.
The planning committee feels so strongly about the need for active participation that it will consider inviting others in the place of those who do not participate actively in pre-congress preparation.
In their pre-congress preparation participants will be encouraged to draw together a wide circle of people to study the material sent to them. Where it is geographically and financially feasible, some delegations may meet in advance of the congress.
Each participant will be urged to set specific post-congress goals and objectives for himself and his church or organization.
To encourage individual participation, plenary sessions have been limited to one a day. Each morning after the one plenary session, participants will meet by nation and language groups to discuss the implications of the morning session for their particular part of the world. They will plan strategies to evangelize their own countries, and they will think through the particular contribution they could make to cross-cultural world evangelization. These groups at times will break down to five persons each.
Participants will vary greatly in interest, experience, and cultural background. For this reason each will be able to plan his own afternoon program, choosing from a variety of options. Afternoons will be spent in smaller groups. One of the reasons for selecting Lausanne was the large number of small meeting rooms available in the modern congress center there.
The first part of the afternoon will be given to practical demonstrations of different kinds of evangelistic activity from each of the six continents. Everyone at the congress will be able to get materials and instruction that would enable him to initiate the same kind of activity back home or in a cross-cultural situation. Each of these demonstrations will be repeated every day. An Evangelization Resource Center in the display area will show participants the many evangelistic tools available in different parts of the world.
The latter part of the afternoon will be spent in study groups and strategy consultations on the theology of evangelization. During the first three days there will be approximately twenty-five study commissions to deal with the crucial questions being raised both inside and outside the Church about world evangelization. After an initial meeting of the study commission as a whole, the second day will be given to national and linguistic groups, and the third day to reporting and preparing materials to submit to the whole congress and later make available to the Church worldwide.
In the strategy consultations, specialists in various phases of evangelistic activity will share ideas, solve problems, and think through how they can most effectively work to achieve the goal of world evangelization. For instance, those involved in evangelism among people of other languages and culture will meet together, as will those in evangelism among Muslims, among secondary students, through the mass media, and so on. These strategy consultations will be open to all. Findings will be shared with the whole congress.
Several of these groups will meet for all six days. The section on cross-cultural evangelism or foreign missions will bring together all the foreign missionaries, who will make up 20 percent of each national group. (Foreign missionaries are nominated by national advisory committees from the country in which they are serving.) One of the dramatic new factors in the world evangelization picture is the emergence of some 300 non-North American, non-European, non-Caucasian foreign-missionary sending agencies. Representatives of these will be present to share their insights and to wrestle with problems that are common to any cross-cultural communication of the Good News.
Most of the other strategy groups will meet for the last three days.
A number of the evening meetings will be given to inspiration, praise, worship, and the testimonies of those who have come to Christ from a variety of religious and pagan backgrounds.
Free time is being scheduled into the program to allow opportunity for the informal fellowship that is so valuable in a gathering like this. It will also offer a chance for special ad hoc groups to deal with particular interests without disrupting the schedule.
Strenuous efforts will be made to follow up the congress and to make its materials available to the Church worldwide. It is hoped that the material will be so clear and practical that it will be of help to concerned laymen all over the world. Participants will be helped and encouraged in every way to spread the message of the congress to their own constituencies and as widely as possible on their return home. Materials are being developed to aid them in doing this.
What could this congress produce for the Church around the world?
1. An up-to-date awareness of the job remaining to be done.
2. Practical information, guidelines, and tools from Christians around the world to help get the job done.
3. A clear biblical foundation for world evangelization, declared not by east or west, north or south, but by representatives of evangelical Christians worldwide.
4. A new sense of cooperation in strategic planning to meet current opportunities.
5. The lighting of an evangelistic flame that could make a reality in our time the slogan of an earlier generation of students, "Evangelize to a finish to bring back the King."
Only 3,000 persons will be able to come to Lausanne. Many thousands more will have available to them materials that will enable them to share in the congress by study, prayer, and action toward world evangelization.
Prayer is central to the congress. All over the world prayer groups are being formed to intercede for God's direction and power in the congress preparation, program, and results. Christians everywhere are urged to make the congress a matter of daily prayer and to encourage others to do the same. At the congress itself, groups of ten will meet daily in the residences to pray. The daily national and language group meetings will have a period of prayer for their parts of the world.
All those involved are deeply aware of the truth of Psalm 27:1, 2: "Except the Lord build the house, they labor in vain who build it. Except the Lord keep the city, the watchman waketh but in vain."
Have something to add about this? See something we missed? Share your feedback here.
Our digital archives are a work in progress. Let us know if corrections need to be made.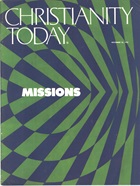 This article is from the November 23 1973 issue.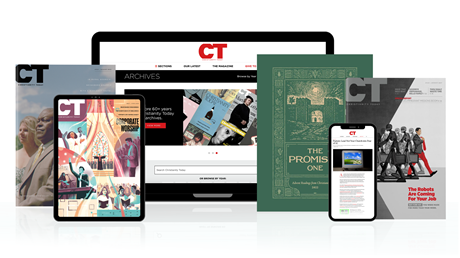 Subscribe to Christianity Today and get access to this article plus 65+ years of archives.
Home delivery of CT magazine
Complete access to articles on ChristianityToday.com
Over 120 years of magazine archives plus full access to all of CT's online archives
Subscribe Now
Looking Ahead to Lausanne
Looking Ahead to Lausanne