Second of Two Parts
In Part One the author discussed two of the categories into which he has divided religious cassettes (1) Dead Men Who Still Speak, and (2) Living Men Worth Listening To.
3. Mini-Packages. These are cassettes designed to be used in groups and come accompanied by one or more aids, usually a leader's guide. Thesis (P.O. Box 11724, Pittsburgh, Pa., 15228) markets an unusually fine selection covering a wide theological and interest spectrum. The Episcopal Radio-TV Foundation (15 16th St. NE, Atlanta, Ga. 30309) offers many evangelicals of note as well as non-evangelicals. Here you will find the new Archbishop of Canterbury, F. Donald Coggan, and the late C. S. Lewis on the Four Loves. No doubt other denominations have similar ministries. Billy Graham's Decision Tape Library (1313 Hennepin Ave., Minneapolis, Min. 55403) has a very good "Christian Life and Witness Course" taught by one of the Graham team members. The additional aids for studious evangelism are excellent, and many evangelicals can use these to train people to nurture new believers.
Musically, Word (Waco, Texas 76703) innovatively packages cassettes, words, and music all together for children's musicals of high caliber. One of my former churches did Sam, a folk musical for juniors, and the package encouraged conductor and kids alike.
In the area of prophecy and the Holy Spirit, the Decision Tape Library has the "Four-Fold Miracle of Israel," and Bethany Fellowship's Dimension Tapes (6820 Auto Club Rd., Minneapolis, Minn. 55438) prepare for the coming worldwide calamities envisioned by David Wilkerson. Dimension also offers Larry Christenson's "Fulness of Life in the Holy Spirit"—an album of ten cassettes. Dennis Benson is always provocatively interesting—a resourceful bundle of dynamism under the labels of Word and Audio-Graphics, and in print with the book Electric Love (John Knox, 1973). He is just ambiguous enough that an evangelical can "save" his cassettes for the saving of souls.
4. Maxi-Packages. Some productions are very ambitious and successfully so. Word's "The Edge of Adventure" by Keith Miller and Bruce Larson has a text, leader's guide, activities manual, and three cassettes. Winston House (25 Grove Terrace, Minneapolis, Minn. 55403) creatively puts together filmstrips, a leader's guide chock full of suggestions, and three cassettes for its "Springboards to Awareness" series on personal growth for all ages; however, evangelicals will want to "redeem" some aspects of this fine Roman Catholic production. Step 2 (1921 N. Harlem, Chicago, Ill. 60635) pulls out all stops with slides, manuals, cassettes, and a subscription cassette service.
5. The Pastor as Teacher. Evangelical pastors traditionally have a hand in every department of a church's educational outreach. Little children will like Bethany Fellowship's "Stories That Live" series, which comes complete with story book and coloring book. The series is a trifle simplistic and tinny. Augsburg's "Tell Me a Story" series is outstanding (426 S. 5th St., Minneapolis, Minn. 55415).
Most of the independent publishers of evangelical curricula produce cassettes that complement their Sunday-school materials (David C. Cook, Gospel Light, Standard, and Scripture Press). David C. Cook has two albums: "Eight Successful Youth Workers Tell You How." However, with sixteen speakers, some are bound to be duds—on tape, anyway. A truly worthy program is that of Success With Youth (P.O. Box 27028, Tempe, Ariz. 85282). Its Whirlybird, Jet Cadet, Alpha and Omega Teen materials are well known to evangelicals. On tape, Success With Youth is superb. "Youth Education Service" is its training album for adults who want to sponsor youth groups. Larry Richards is the consultant. The several albums of Bible-study cassettes are remarkably fine.
6. The Pastor as Counselor. Increasingly, the pastor is called to counsel, and in these days of financial squeeze he will be less able to refer counselees to expensive psychologists, psychiatrists, and marriage and family counselors. The pastor will simply be called on more in the months and perhaps years ahead. All that he can acquire by way of preventive and counseling skills will be to his advantage.
I have successfully used Howard and Charlotte Clinebell's book and study guide, Intimate Marriage (Harper, 1970), with couples interested in enhancing good marriages. Evangelicals must use Clinebell judiciously; he is theologically vague while humanistically insightful. Abingdon's Audio-Graphics has several Clinebell albums on such topics as marriage enrichment. Evangelical women's libbers will not be happy with the conservative "The Christian Family" series by Larry Christenson (Bethany Fellowship). A happy medium, though lacking significant scriptural support, is the "Toward Marriage" series narrated by U. G. Steinmetz (Family Enrichment Bureau, Escanaba, Michigan 49829).
7. The Pastor's Professional Enrichment. David C. Cook has a series called "Eight Successful Pastors Tell You How," but two of them have been in the news lately more for "how not" (Charles Blair of Calvary Temple in Denver and Rex Humbard of Cathedral of Tomorrow in Akron). Ministers Life Resources (3100 W. Lake St., Minneapolis, Minn. 55416) has a very fine continuing series of pastoral aids including tapes on "A Better Pay Package" and "The Minister's Housing Allowance." A second continuing series by the same company is the excellent "talking magazines" under the name Ministers Cassette Service. Just about everything you would find in a newsy professional magazine is here. The theological range is wide and fair, from CHRISTIANITY TODAY editor Harold Lindsell to left-of-center types with nary a hint of the outrageous right or left. Other companies are doing much the same. Word puts out "Catalyst" with a theological mix much like that of the previously mentioned Ministers Cassette Service. Thesis (P.O. Box 11724, Pittsburgh, Pa. 15228) produces another theological spectrum called "Thesis" accompanied by "Update," a little prompter for groups of theologically literate laymen or pastors. Two more talking magazines are Lutheran ventures. "Compendium/Concordia" (Concordia Publishing House, 3558 S. Jefferson, St. Louis, Mo. 63118) is a series of first-rate, lengthy, graduate-level albums. Recent topics include the concept of revelation in biblical and contemporary theology, and the art of exegesis. The American Lutheran Church is the creator of "Resource" (Augsburg Publishing House, 426 S. 5th St., Minneapolis, Minn. 55415), which covers a wide territory but focuses on preaching.
Cassettes are coming in big, and as the days grow bleaker and people look to the churches for consolation, the possibilities for a creative pastor grow brighter.—DALE SANDERS, pastor, Riverside United Methodist Church, Fort Dodge, Iowa.
Have something to add about this? See something we missed? Share your feedback here.
Our digital archives are a work in progress. Let us know if corrections need to be made.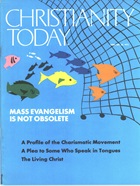 This article is from the February 28 1975 issue.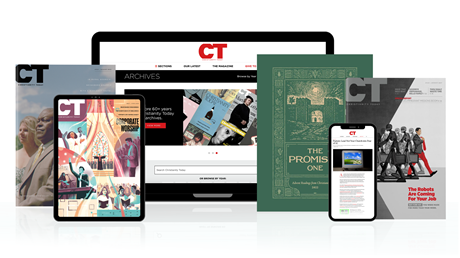 Subscribe to Christianity Today and get access to this article plus 65+ years of archives.
Home delivery of CT magazine
Complete access to articles on ChristianityToday.com
Over 120 years of magazine archives plus full access to all of CT's online archives
Subscribe Now
Cassettes for Christians
Cassettes for Christians