Another View Of Salvation
God's Strategy in Human History, by Roger Forster and V. Paul Marston (Tyndale, 1974, 296 pp., $5.95, $3.95 pb), is reviewed by Clark Pinnock, associate professor of theology, Regent College, Vancouver, British Columbia.
For some time evangelicals have had easy access to persuasive books that present a Calvinistic understanding of salvation (J. I. Packer, G. C. Berkouwer, J. Daane) but have not been able to turn so readily, especially if they are not part of the Wesleyan-Holiness tradition, to soundly biblical but non-Calvinistic treatments of this subject. Fortunately this onesidedness in evangelical literature is now being corrected, and people will be better able to assess the issues for themselves. God's Strategy in Human History, whose authors are British, is a well-documented and scholarly book worth careful reading in the light of the Scriptures.
Forster and Marston agree with Karl Barth that traditional Calvinism was mistaken to limit the saving grace of God to a select group of people. On the contrary, the grace of God revealed in Jesus Christ is universal in its scope though not in its efficacy. However, the thesis the authors choose to pursue is more Arminian than Barthian. It is their concern to uphold significant human freedom in the face of divine predestination, and to deny the predestinarian conviction that God's will is always done, maintaining the view that God's plan can be opposed and rejected by men; that is, the writers are more concerned with the predestinarian view of history than with the restriction of grace implicit in Calvinistic theology. In pursuing their theme they conduct an extensive study of biblical terms and texts that deal with this matter, and conclude that history should be viewed as a struggle between God and his rebellious creatures. Since the fall of Adam, the finite purposes of mankind have been in conflict with the divine plan; as a result, the previously harmonious movement of history has become increasingly chaotic, a warfare of purposes.
This theme, set forth in part one, is then developed along two lines. First, we are given a survey of biblical history in which the thesis is elaborated and considerable attention devoted to Paul's theological essay in Romans 9–11. Second, a number of word studies are presented (chosen and elect, righteousness, harden, foreknowledge) that bear on this subject. Of particular interest is the treatment given to the biblical concept of election: emphasis is placed on corporate election and election for service, to the exclusion of any individual election unto eternal life. Undoubtedly the authors are right to try to correct a severe imbalance in the Calvinistic doctrine which usually overemphasizes the latter. But soteric election when it is interpreted as a corporate concept leaves the individual very much on his own. The only election that concerns his salvation is one that he himself decrees when he chooses Christ. This conclusion to which the book points can be circumvented if we consider the proposal that God has chosen all mankind in Christ before the foundation of the world for salvation, a concept that preserves both a soteric election and the universal salvific will of God, yet without necessitating universalism.
One particularly valuable feature of the book is a final appendix on the Patristic teaching concerning predestination where it is argued that Augustine's view that God's will is always done represents a "new theology" in the Church, and a shift from earlier Christian teaching. This excursus is welcome; there is a scarcity of historical studies of the enormous effect of Augustine's theology upon the soteriology of the Reformation and of the existence of non-Augustinian thinking before it and alongside it.
In the foreword to the book Professor F. F. Bruce, though "an impenitent Augustinian and Calvinist" by his own description, states his approval of the exegesis of the writers, and admits to his own belief that God's election is meant to exclude no one. It is a healthy sign to see a questioning and a loosening up of the Calvinistic assumptions that have exercised too great a dominance over evangelical thinking recently. The Forster/Marston volume show us that there is another quite different way of looking at the whole subject.
A Notable Commentary
Commentary on First and Second Thessalonians, by Ronald A. Ward (Word, 1973, 178 pp., $5.95), is reviewed by John W. Drane, lecturer in religious studies, University of Stirling, Stirling, Scotland.
The dust jacket of this commentary boldly declares that in it "Bible students of every kind will find valuable help"—a claim that is often made but seldom justified. A striking thing about this book by Ronald Ward is that it comes very close to achieving this aim.
The well informed preacher or theological teacher need only look at the extensive bibliography at the end of the book to realize that Ward has taken account of almost everything of any significance written on the Thessalonian epistles in recent years (the only commentary of any importance that is absent from his list is the French work of B. Rigaux). The commentary itself takes full account of the Greek text, often dealing with variant readings and other problems of critical interpretation. Yet at the same time, the Christian who has never given himself to serious study of the Bible need not think this book is only for scholars. The first page of the introduction to First Thessalonians sets the tone of much of the book, as it places the city of Thessalonica in its context in modern as well as ancient history, and compares Paul's evangelistic strategy with that of the twentieth-century Christian businessman "gossiping the Gospel" in the course of his travels.
The way the teaching of the epistles is related to the life of the modern church is, in fact, one of the most helpful features of Ward's work. Yet it is never done in the superficial way often found in books that claim to show the relevance of the New Testament to the twentieth century. Ward always works on the basis of a careful analysis of the biblical text, illustrated from contemporary life as well as the ancient world, and he sets the teaching of First and Second Thessalonians firmly within the context of the Pauline letters as a whole. Frivolous enterprises, like trying to identify the "man of lawlessness" of Second Thessalonians 2:6, are avoided; yet Ward is in no doubt that the eschatological teaching of these epistles has its message for the modern Christian.
There are only two points at which I felt the presentation of the material, and hence the reader's enjoyment of it, could have been improved.
First of all, the absence of any kind of index is, I think, a definite disadvantage. Comments on individual passages are not confined to the major issues of the Thessalonian epistles but often contain wide-ranging and helpful discussions on Pauline theology in general. It is unfortunate that much of this will remain hidden from any reader who does not take the trouble to read the whole volume through from start to finish. An index of subjects would have been a great help to those who like to dip into a commentary rather than read it from cover to cover.
Secondly, it seems odd that there should be so extensive a bibliography when Ward does not usually refer to other commentaries in the course of his own exposition. In some instances, this is a disadvantage. For example, concerning "the restrainer" in Second Thessalonians 2:6, two possible interpretations are compared, but there is no indication of their origin or of which commentators now support them. Readers who are interested in further study of such issues would have found it easier had specific guidance of this kind been given, if only in a footnote.
Having said all this, however, I can warmly recommend this commentary, especially for the preacher who wishes to see how the New Testament is relevant for his own Christian experience and for his congregation. For this purpose, Ward's commentary is probably more useful than the most recent comparable work on First and Second Thessalonians, that by A. L. Moore in the "New Century Bible" series. Any interested Christian who wants a readable, relevant, yet scholarly and reliable commentary on these New Testament books could not go far wrong in purchasing this volume. To get the most benefit from it, one should read it in its entirety along with the text of the epistles (the commentary is based on the RSV). It will prove to be a stimulating and thought-provoking book, and one that will undoubtedly whet the appetite of many a reader for more commentaries of this kind.
Neutral Study Of Religion?
The Science of Religion and the Sociology of Knowledge: Some Methodological Questions, by Ninian Smart (Princeton, 1973, 164 pp., $8.50), is reviewed by Robert Brow, Anglican rector of Cavan, Millbrook, Ontario.
Departments of Religion have not been impressive in their claim to scientific impartiality. A few have been mere outgrowths of Christian theology. Most have become a hodgepodge in which each professor promotes his own religious or irreligious bias.
Ninian Smart defends methodological neutralism in the religious sciences. First, there is a clear distinction between doing theology, or say "buddhology," and studying religion. Karl Barth was clearly a theologian. He spoke within a particular faith commitment. The study of religions must be pluralistic. Even in the West, religion can no longer be identified with Christian theism. Wittgenstein has also forced us to see that words like "religion" and "faith" cannot be defined with clear boundaries. Maoism and Nazism are ideologies, but how would we exclude them from religion? The allegedly secular status of Transcendental Meditation would be another case in point.
Secondly, the correct description of a particular religious grouping must capture the full force of its "organic web of doctrines," sentiments, and practices. How then can an observer, who denies the truth of some of the claims made, still be neutral? Smart argues for a method of "bracketing" or leaving aside. Since every religion has objects of faith or focuses such as gods and states of nirvana, the observer must bracket them by neither affirming nor denying their existence.
To do this successfully he must reject the methods of Otto and Wach, because they assume some objective reality behind the experience of the numinous. And Peter Berger's approach in The Sacred Canopy is faulted for reductionism. Smart holds that one must describe the sacredness of Mount Fuji without introducing the positivist assumption that nothing can be sacred. As an illustration of the method in practice, chapter six offers a sparkling, immensely learned account of the relation of bhakti to contemplation in the main schools of Buddhism.
There is a useful summary of the long debate on religion and rationality. Smart rejects the arguments that religious assertions are meaningless, unscientific, or pre-scientific. If I have understood him correctly he now accepts the autonomy of each religion in the tradition of Wittsgenstein, Peter Winch, and D. Z. Phillips. Whether the extreme Wittgensteinians (and I don't include Wittgenstein himself) would grant that Smart's "bracketing" is compatible with correctly learning a religious form of life is very doubtful. Incidentally, from Wittgenstein's point of view it is quite wrong to call a complex form of life like Theravada Buddhism a "language-game." Numerous language-games would be used to elucidate what is going on in even one area of a particular religion.
The book should be required reading for theologians involved in apologetics. It helps to show why we need to go out and demonstrate the need for commitment to Christian theism as a total organic system, as opposed to the many alternative religions and ideologies. There is so far very little to help us in that very difficult direction.
NEWLY PUBLISHED
Concise Dictionary of Religious Quotations, edited by William Neil (Eerdmans, 214 pp., $7.95). Collection of over 2,500 quotes from Scripture and literature, arranged alphabetically by topics and thoroughly indexed. Handy reference tool.
Memoirs, by Jozsef Cardinal Mindszenty (Macmillan, 341 pp., $10). The former Catholic leader in Hungary tells of his ordeals and why compromise with Communism is futile.
The Urban Mission, edited by Craig Ellison (Eerdmans, 230 pp., $3.95 pb). Twenty-three essays by evangelicals presenting biblical and historical bases, contemporary examples, and practical proposals for involvement with the centers of our cities. Highly recommended.
How to Build an Evangelistic Church Music Program, by Lindsay Terry (Nelson, 198 pp., $3.95 pb). Practical suggestions for the music director in structuring a complete program for all ages. Highly recommended, especially for non-professionals.
No Little People, by Francis Schaeffer (InterVarsity, 271 pp., $3.50 pb). Sixteen sermons on various topics that will be appreciated by an even wider audience than have liked his books.
Reasons For the Faith, by Oliver Barclay (InterVarsity, 143 pp., $2.25). A concise apologetical defense for the faith, designed for the questioning non-believer. Highly recommended.
Historical Atlas of the Religions of the World, edited by Ismail Faruqi (Macmillan, 346 pp., $12.50). Maps, graphs, and illustrations supplement the essays, which trace the major religions throughout history. Contributors come from diverse backgrounds and offer relatively objective reporting. Excellent library reference tool.
The Monastic World, by Christopher Brooke, photographs by Wim Swaan (Random House, 272 pp., $35). Pictorial and textual survey of European monastic structures and the art they contained. Focuses on A.D. 1000–1300. Impressive photography.
Have something to add about this? See something we missed? Share your feedback here.
Our digital archives are a work in progress. Let us know if corrections need to be made.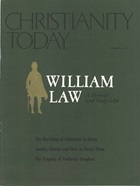 This article is from the January 31 1975 issue.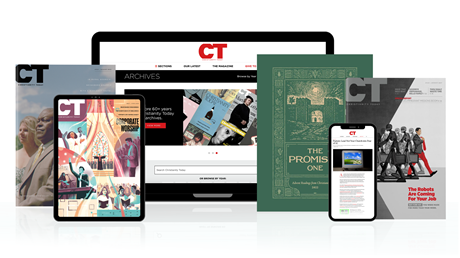 Subscribe to Christianity Today and get access to this article plus 65+ years of archives.
Home delivery of CT magazine
Complete access to articles on ChristianityToday.com
Over 120 years of magazine archives plus full access to all of CT's online archives
Subscribe Now
Book Briefs: January 31, 1975
Book Briefs: January 31, 1975