In this issue you will notice a few masthead changes. It is always delightful to see people grow, and we're very pleased to announce the promotions of Keith Stonehocker to vice-president of marketing, and Roy Coffman to vice-president of sales; John Chilson has just joined us as circulation manager. All of this is part of our strategy for facing the tough challenges of publishing in the 1980s.
An additional marketing strength is our new "rep" program. We now have over 100 people across the country representing CHRISTIANITY TODAY and LEADERSHIP to churches, bookstores, and advertisers. This month Clemence N. Butts will take over the fledgling but already productive program as its manager.
We are often asked, "How's LEADERSHIP doing?" The new publication continues to far exceed expectations; we printed 60,000 of the last issue. It's obvious there is a great need in our churches for this kind of practical help, and we are right now wrapping up issue number four.
It seems strange to be making these announcements and not sharing them with Maxey Jarman, who was so heavily involved with C.T. (since its inception) and gave us so much encouragement to launch LEADERSHIP. Maxey died September 9 (see page 13). For so vital and so element force to be gone from us is to leave a strange vacuum.
Maxey was a man of great vision, building the Jarman Shoe Company into Genesco-which Time magazine termed in Maxey's obituary "the world's largest apparel conglomerate." Yet he could show concern for the smallest details. Five years ago, when CHRISTIANITY TODAY ran into financial difficulties, he pored over ledgers and met for hours with staff members. Later, as we searched out a building for C.T" he would willingly hop on an airplane to Washington or Chicago and tramp through various properties, always cheerful and optimistic—even when nothing materialized. When we finally had two good options he said, "Oh, definitely, this one" (Carol Stream, Ill.). And he was right!
Maxey usually was. He was decisive and candid. His candor could smart, and of course, he could also be wrong. But there was never anything personal in his statements. He held no grudge. None! I was personally amazed to see how his prayer life lifted him above bitterness in what most of us would consider devastating events.
Paul Robbins asked Maxey after a C.T. board meeting not long ago, "What are the most important lessons you've learned over the past 35 years?" Maxey thought long and hard, then responded. "Number one, I've learned how to suffer; you can only grow through pain." Then he said, "Number two, I've learned to love the Word. Ever since I was 11 years old, I've read the Bible through each year; but in these last years I've learned to love the Word." This was richly evident in Maxey's funeral at First Baptist in Nashville. He had chosen extensive passages full of hope and resurrection promise, and his pastor read them with conviction from Maxey's well-marked NIV. This tremendously uplifting reading of Scripture was the center of his memorial service, as it had been the center of his life.
Maxey was also a learned man. Most people never heard about his honorary doctorates. His reading encompassed an unusually broad spectrum of writers. Stopping with him in a bookstore one day, I was amazed at all the Jewish history he had read. He had a breadth of interests—his office was decorated with his own abstract paintings. Some thought all this contradictory: the man of "simple faith" and broad insights. But as Fred Smith, his friend of 43 years, has pointed out, once you understood his commitments and perspective, his actions were always completely logical.
Maxey loved to work. Golf? Why waste time when you could be pursuing the joy of working? Though 76, he looked like a man of 60 at our last board meetings. His red hair was still full, his handshake firm, and his involvement vigorous. Even near the end, as he drifted in and out of a coma with Fred at his side, his intense curiosity was intact: "What do you know about the black holes in space?" he asked. Fred had just read his files on the subject and told him everything he knew about them. Maxey's next question was, "What do you consider the greatest problems facing the world today?" His focus was on the future, not the past.
Maxey still has a future! He expressed it so eloquently in his selections of Scripture for his memorial service: 1 Corinthians 15:20–26, 35–49, 57, 58; Ephesians 2:4–10; 3:14–19; Psalm 34:3–5, 8–10; 1 Thessalonians 4:13–18; 1 Peter 1:3–9; 1 John 4:7–21. The ringing convictions of those verses resonate perfectly with Maxey Jarman's life.
President, Christianity Today, Inc.
Have something to add about this? See something we missed? Share your feedback here.
Our digital archives are a work in progress. Let us know if corrections need to be made.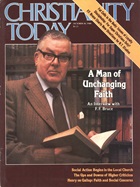 This article is from the October 10 1980 issue.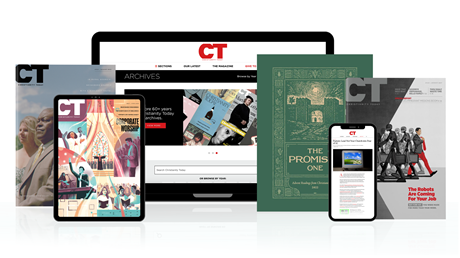 Subscribe to Christianity Today and get access to this article plus 65+ years of archives.
Home delivery of CT magazine
Complete access to articles on ChristianityToday.com
Over 120 years of magazine archives plus full access to all of CT's online archives
Subscribe Now
A Message from the Publisher: October 10, 1980
A Message from the Publisher: October 10, 1980