Last month, on the night Catholics call Holy Saturday evening, Thomas Howard formally joined the Roman Catholic Church. A widely published evangelical author and professor of English at Gordon College in Wenham, Massachusetts, Howard grew up in a staunchly evangelical family. Of the six Howard children, one became a pastor and four others became missionaries.
Because it is rare for an evangelical of such stature to become a Catholic, CHRISTIANITY TODAY is publishing a three-part special report. In Part I, some of Howard's friends, peers, and siblings respond to his conversion. In Part II, beginning on page 48, Howard explains his conversion in an interview with church historian John D. Woodbridge. In Part III, beginning on page 58, Woodbridge assesses Howard's conversion in light of church history.
Two days after becoming a Catholic, Thomas Howard tendered his resignation from the faculty of Gordon College. The evangelical college did not ask for his resignation. However, it requires professors to sign a creedal statement that reflects Protestant Reformational doctrine.
"Many believe this statement is incongruous with traditional Catholic teaching," said Judson Carlberg, Gordon's dean of faculty. He emphasized that "everyone here [at Gordon College] greeted Tom's announcement of his resignation with sadness." Carlberg said an effort is under way to determine how Howard's beliefs square with the college's creedal statement. He did not rule out the possibility that Howard would someday return to teach at Gordon, perhaps as an adjunct professor.
Howard's formal step into the Roman Catholic Church last month was the culmination of a spiritual pilgrimage lasting more than 20 years. Peers and two siblings contacted by CHRISTIANITY TODAY said his conversion came as no surprise.
Author and former missionary Elisabeth Elliot called her brother Thomas a "very honest, humble, and godly man.… [He was] fully aware of what this move might cost him and was prepared to pay the price."
Said David Howard, general director of the World Evangelical Fellowship, about his brother Thomas, "For several years I could see it coming. I'm disappointed because I have some grave reservations about some fundamental teachings of the Catholic church." However, David Howard said this would not affect his close relationship with his brother.
Thomas Howard first became interested in a liturgical style of worship as a student at Wheaton (Ill.) College in the late 1950s. During his college years, he says, he began attending an Episcopal church "and feeling guilty about it."
Howard credits Catholic authors as tutors in his extensive reading of church history and spirituality over the last two decades. He outlines the progression of his thinking in his book Evangelical Is Not Enough (Thomas Nelson). In the book, he addresses some common criticisms of the Catholic church while paying tribute to his evangelical heritage.
In a telephone interview with CHRISTIANITY TODAY, Howard affirmed his belief in the Bible as the Word of God, stating, "I'm a fundamentalist when it comes to the Scriptures." But he also said that the Catholic church is the "appointed guardian of the Scriptures." He said he knows of other Christians on the verge of converting to Catholicism, including some people "well known to evangelicals." However, he declined to name anyone.
Evangelical theologian J. I. Packer, who recently coauthored a book with Howard, said, "I don't think becoming a Catholic is anything like the tragedy of a person becoming a [theological] liberal and losing touch with objective authority altogether.… Catholics are among the most loyal and [spiritually] virile brothers evangelicals can find these days."
However, Packer distinguished between individual Catholics and the Roman Catholic Church, which he said "is simply wrong on some key issues," including the belief that its teachings are infallible. "I believe the church of God is capable of error," Packer said, "and sometimes needs reform."
He said there is no scriptural support for the perception that the Catholic church is the one true church. He added that "the Vatican bureaucracy, … which has engaged in all kinds of skullduggery within Christendom, doesn't even look like a reliable spiritual authority in all matters."
Conservative theologian Harold O. J. Brown, a former Catholic, suggested that Howard is pursuing an "idealized version of Catholicism that never existed." He noted that it was not until the Middle Ages that Catholics adopted the claim that the apostle Peter was the first pope. Brown dismissed the claim to papal infallibility, stating that "popes have contradicted each other and the Bible."
While it is uncommon for evangelicals to convert to Catholicism, many are joining the Episcopal Church. Robert Webber, a theology professor at Wheaton College, examines this trend in the soon-to-be-published book Evangelicals on the Canterbury Trail (Word). Webber, a graduate of Bob Jones University, was reared a fundamentalist, but today he is an Episcopalian. He says, however, that he never will become a Catholic, citing disagreement with several of the church's teachings.
Nathan Hatch, associate professor of history at the University of Notre Dame, said there is "clearly a trend in the last 10 years [among evangelicals] to take liturgy more seriously." At the same time, he said, many Catholics are moving in a more evangelical direction. Catholics as a whole are moving away from the Catholic doctrine of papal infallibility, Hatch said, and toward a more evangelical view on such crucial issues as salvation and the accessibility of Scripture.
Have something to add about this? See something we missed? Share your feedback here.
Our digital archives are a work in progress. Let us know if corrections need to be made.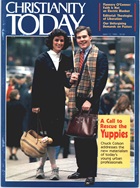 This article is from the May 17 1985 issue.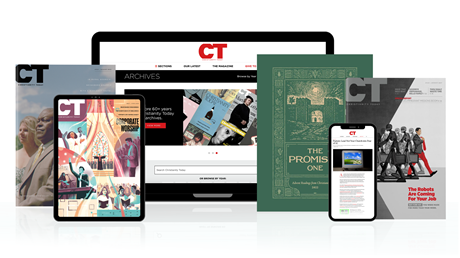 Annual & Monthly subscriptions available.
Print & Digital Issues of CT magazine
Complete access to every article on ChristianityToday.com
Unlimited access to 65+ years of CT's online archives
Member-only special issues
Subscribe
Part I: Well-Known Evangelical Author Thomas Howard Converts to Catholicism
Part I: Well-Known Evangelical Author Thomas ...