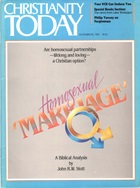 This article is from the November 22 1985 issue. Subscribers can read all of CT's digital archives.
Public radio's small town has a spiritual dimension.
Lake Wobegon Days, by Garrison Keillor (Viking Penguin, 1985, xi + 337 pp.; $17.95, cloth). Reviewed by J. Alan Youngren, a communications consultant for Christian organizations and coauthor of Your Money, Their Ministry.
Garrison Keillor recently told the Wittenburg Door he was "semi-famous." But I've known for a long time that he is more than that.
I first knew he was famous when I saw ABC-TV's Ted Koppel—the same Ted Koppel who handles notables like Henry Kissinger the way Clyde Beatty handled the big cats—earnestly court his favor.
But Garrison Keillor is not famous because he is a great writer (which he is). Keillor earned his celebrity as the creator and host of public radio's most popular program, "A Prairie Home Companion." Thus B. Dalton was able to advertise Lake Wobegon Days as a best seller before the book's release date.
Keillor's blend of music, humor, and social comment is broadcast live on over 250 public radio stations in the unlikely time slot of 5:00 to 7:00 P.M. (CST) Saturdays. But about 15 minutes into the program's second hour, the nation hears the heartbeat of "Prairie Home." Keillor tells his audience, "It's been a quiet week in Lake Wobegon, my hometown." And for the next 20 minutes, he relates the past week's goings-on in this mythical (and archetypical) rural Minnesota settlement.
Keillor speaks softly in a remarkably compelling delivery punctuated by silences and audible inhalations during which one can feel the audience anticipating the next words.
He does not deal in mere events during his weekly monologue, but in people and their internal ...
1
Our digital archives are a work in progress. Let us know if corrections need to be made.
THe News from Lake Wobegon
THe News from Lake Wobegon