Classic and contemporary excerpts.
Wise Questioning
It is astonishing that any man can forbear enquiring seriously whether there is a God; whether God is just; whether this life is the only state of existence. These are the questions which every reasonable being ought undoubtedly to consider with an attention suitable to their importance.
—Samuel Johnson in Johnson's Sermons (ed. James Gray)
Sacrificing Leftovers
When men grow virtuous in their old age, they only make a sacrifice to God of the devil's leavings.
—Alexander Pope in Thoughts on Various Subjects
The Unkindest Cut
"Good to have you back, son," the old man said.
"Nice to be back."
"You've had a rough time." The eyes clouded with guilt. "Hope you don't think I let you down."
The younger shook his head—"You warned me, dad. But it wasn't the nails. It was the kiss."
—Roger Woddis, quoted in The Book of Mini Sagas
Commanding Attention
It may take a crucified church to bring a crucified Christ before the eyes of the world.
—W. E. Orchard in The Temple
Jesus' "About Face!"
Quite unlike Hitler or the Stones or Hefner—who also changed the world, simply by intuiting which way the parade was heading and getting in front of it, Jesus did not give us a message we wanted to hear. He came to turn the parade in precisely the opposite direction; he spoke words hard for our canny hearts even to give credence to, much less heed: take the last place (the real parade is heading the other way), forget yourself (even your shortcomings), take up your cross, heal the hateful.
—William J. O'Malley in America (Nov. 18, 1989)
Peaceable Kingdom
Give me the courage to show the dove in a world so full of serpents.
—Henri Nouwen in A Cry for Mercy
The "Me" Generation
In the modern social order, the person is sacrificed to the individual. The individual is given universal suffrage, equality of rights, freedom of opinion; while the person, isolated, naked, with no social armor to sustain and protect him, is left to the mercy of all the devouring forces which threaten the life of the soul exposed to relentless actions and reactions of conflicting interests and appetites.…
It is a homicidal civilization.
—Jacques Maritain in Three Reformers
Famine Of Soul
The world will never starve for wonders; but only for want of wonder.
—G. K. Chesterton in an inscription on the GM Building, Century of Progress Exhibition
Seldom-Heard Truth
That hardship can actually be a blessing—or "a severe mercy," to recall Sheldon Vanauken's book of that title—is a profoundly Christian insight seldom heard these days, even from the clergy, who so often seem preoccupied with being "pastoral" or superficially popular.
—Editorial in the New Oxford Review (July–Aug. 1988)
Line Of Demarcation
Jesus now has many lovers of his heavenly kingdom, but few bearers of his cross.
—Thomas à Kempis in The Imitation of Christ
A PSALM FOR Easter
Let's celebrate Easter with the rite of laughter. Christ died and rose and lives.
Laugh like a woman who holds her first baby. Our enemy death will soon be destroyed. Laugh like a man who finds he doesn't have cancer or he does but now there's a cure. Christ opened wide the door of heaven. Laugh like children at Disneyland's gates. This world is owned by God and He'll return to rule. Laugh like a man who walks away uninjured from a wreck in which his car was totaled. Laugh as if all the people in the whole world were invited to a picnic and then invite them.
—Joseph Bayly in Psalms of My Life; calligraphy by Tim Botts
Have something to add about this? See something we missed? Share your feedback here.
Our digital archives are a work in progress. Let us know if corrections need to be made.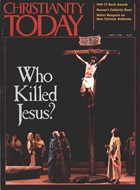 This article is from the April 9 1990 issue.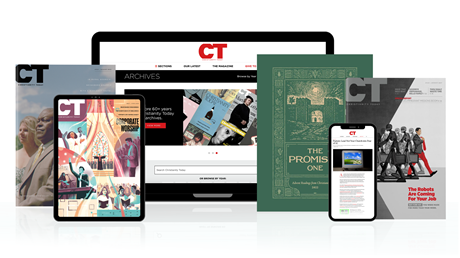 Subscribe to Christianity Today and get access to this article plus 65+ years of archives.
Home delivery of CT magazine
Complete access to articles on ChristianityToday.com
Over 120 years of magazine archives plus full access to all of CT's online archives
Subscribe Now
Classic & Contemporary Excerpts from April 09, 1990
Classic & Contemporary Excerpts from April 09, 1990